How Tracee Ellis Ross Channels Her Mom, Diana Ross, in The High Note Trailer
References to Mahogany, Lady Sings the Blues, and the Supremes are written all over this rom-com.
---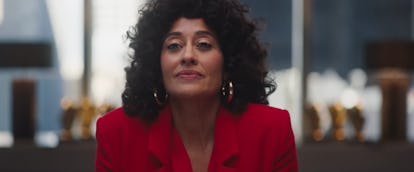 The trailer for The High Note, which stars Tracee Ellis Ross as Grace, an aging musician who is tired of touring the same show every night, has finally been released.
Watching the teaser, it's clear that Ross (or at least her character, the musician) is in part an homage to her mother Diana Ross, the Motown icon—and not just because she spends the movie lending her own vocals to the songs and obviously looks a lot like her mother.
In fact, The High Note stars not just one but two scions of entertainment royalty. Dakota Johnson—the daughter of Don Johnson and Melanie Griffith, and granddaughter of Tippi Hedren—plays Maggie, Grace's assistant, who has secret aspirations of being a producer and composer.
Supporting roles played by Ice Cube, Kelvin Harrison Jr., Zoe Chao, and June Diane Raphael round out the cast of this rom-com, whixh is helmed by Nisha Ganatra (who also directed Late Night, starring Mindy Kaling and Emma Thompson).
References to Ross's mother's Motown and film career appear to be written all over this movie. And it makes sense, considering the actress has admitted that her mom is her style icon, and that she used to steal her clothes as a teen.
Lady Sings the Blues
Diana Ross received her first (and only) Oscar nomination in 1973, for appearing in the 1972 Billie Holiday biopic Lady Sings the Blues. In the trailer, Johnson's character can be seen tapping a Billie Holiday poster in the halls of a recording studio (for good luck, it seems).
Though this is not directly a reference to Diana via Tracee, it's still a pretty obvious nod to Holiday, Lady Sings the Blues, and chart-topping black female vocalists.
Mahogany
In 1975, Ross appeared in Mahogany, a romantic drama, directed by her then-boyfriend the Motown founder Berry Gordy, about an aspiring fashion-design student who falls for a fashion photographer (Anthony Perkins) and becomes a runway model in Rome.
Mahogany was critically panned (it's best viewed through the lens of camp) but Ross's "Theme from Mahogany (Do You Know Where You're Going To)," became a number one Billboard hit. Also, the wardrobe in the film was designed by Ross herself.
There is also an iconic photoshoot montage that occurs during Mahogany (and is also referenced in Dreamgirls). In the scene, Ross wears a cream-colored chapeau similar to the one her daughter wears as she steps off a jet in The High Note.
Bonus points for anyone who remembers that Ross's character in Mahogany was named Tracy.
The Supremes
You can't have a movie starring Tracee Ellis Ross as a musician and not reference the Supremes, the chart-topping girl group that made Motown Records (and Berry Gordy) a fortune in the 1960s, and inspired the Tony Award–winning musical Dreamgirls.
The shimmering red dresses are a clear homage to Dreamgirls too, particularly the 2006 film adaptation starring Beyoncé, Anika Noni Rose, Eddie Murphy, and Jennifer Hudson.
Interview Cover
Maybe it's a stretch, but a peek at one of Grace's album covers appears to channel the August 1981 Interview magazine cover that featured Diana Ross photographed by Peter Strongwater and interviewed by none other than Andy Warhol. Just after she released "Endless Love," her duet with Lionel Richie, she spilled some tea on what went down with Motown Records in the '60s and not going clubbing after Studio 54 shut down.
Related: Tracee Ellis Ross Launches New Beauty Line for Natural Hair