The Irishman Costume Designer Sandy Powell on Her Career in Drama
Sandy Powell uses the power of clothes to bring to life some of Hollywood's most unforgettable roles. Her own sense of style is just as memorable.
---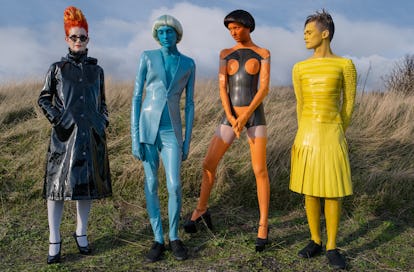 Photographed by Tim Walker; Styled by Sara Moonves.
There is a crucial scene in The Irishman that vividly demonstrates the brilliance of Sandy Powell, who has won three Academy Awards for costume design, and codesigned with Christopher Peterson the costumes for Martin Scorsese's latest feature. The film spans five decades and details the life of Frank Sheeran, a mob hitman (Robert De Niro), and his affiliation with Jimmy Hoffa (Al Pacino), the powerful head of the Teamsters union from 1957 to 1971. After a few years in jail, Hoffa, in order to restore his power, needs to have a meeting with his nemesis, a brash, newly powerful upstart known as Tony Pro (Stephen Graham). Flamboyant and arrogant, Tony Pro shows up late for the meeting dressed in a colorful short-sleeve shirt, flashy loafers, and white shorts. Hoffa is incensed, especially about the shorts, which he views as a sign of extreme disrespect. The meeting collapses instantly and, at that moment, Hoffa's fate is sealed: Either he adapts or he dies.
"Yes! The shorts!" Powell exclaimed over breakfast in Los Angeles, where she was beginning work on her next project, Killers of the Flower Moon, her eighth collaboration with Scorsese. "I was looking for real, but annoying," she said. "It shows you the power of clothes: I had a pile of shorts and tops, and we tried on combinations until we found shorts that were believable for the character, but still totally inappropriate." Powell paused. "The clothes are always made for characters. The job is not making actors look nice in clothes. It's about making actors believable as their characters, about making the story work."
Of course, that doesn't mean the clothes (and the characters who wear them) can't be spectacular. Throughout her career, Powell, 59, has created stunning period gowns for The Young Victoria and Shakespeare in Love; bright waistcoats and trousers for Gangs of New York; chic 1950s ensembles for Carol; and glam-rock extravaganzas for Velvet Goldmine. Her range is remarkable: A couple of years ago, she worked simultaneously on the candy-colored 1930s costumes for Mary Poppins Returns, and the black, white, and gray getups for The Favourite, which tells the story of Queen Anne's court in the early 18th century.
"I had both workrooms in the same studio in London," Powell said, as she took a small whisk out of her bag. Powell, it turns out, is a bit like Mary Poppins herself—if Mary Poppins wore a black Comme des Garçons suit with cropped pants, patent-leather lace-up shoes, and white socks, and had bright red hair styled in a striking swoop across her forehead. She is engaging but precise: The whisk, for instance, was for her own matcha, because she doesn't trust the contents (there might be sugar!) of those served in restaurants. Her exacting standards are evident in every aspect of her work. "For The Favourite," she continued, "we didn't have the budget to re-create a royal court, so monochrome was where I started. I wanted to do completely accurate period details, but in cheap fabrics. I love color, but I wasn't wasting time on that." In a small shop near her home in the Brixton area of London, Powell found laser-cut stretch leather and African wax prints. Somehow, in those contrasting worlds, she saw gowns worthy of Queen Anne. "We made the dresses for 40 pounds each," Powell said proudly.
The results were magnificent: The Favourite was nominated for an Academy Award for Best Costume Design. Powell was competing against herself—her work on Mary Poppins Returns was also in the running. In fact, that has happened on two other occasions: in 2016, when Carol, a story of forbidden love, competed with Cinderella, in which Powell reimagined Cinderella's ball gown as a blue, purple, and blue-green shimmering Monet "Water Lilies"–like creation; and in 1999, when her Velvet Goldmine designs evoking the crazy glory of Ziggy Stardust–era London were up against her opulent ensembles for Shakespeare in Love.
Clothes have always been crucial to moviemaking. In the early days of powerful Hollywood studios, costume designers not only created looks for film characters; they dressed the stars themselves. Perhaps the most famous of all was Edith Head, who has been immortalized as Edna Mode, the designer of superhero suits in The Incredibles. Like Powell, Head wore large round black glasses and had a severe but imaginative nature. Her creations won eight Oscars, and she had a big impact on American fashion. After Bette Davis wore an Edith Head cocktail dress that slipped off her shoulder in All About Eve, many women adopted the style. At that time, American designers didn't really have much clout, so costume designers like Head, Adrian, and Orry-Kelly exerted profound influence through the films they worked on. In the 1950s, designers like Pauline Trigère and Claire McCardell ruled American fashion, and French fashion stars like Hubert de Givenchy started dressing actresses like Audrey Hepburn. Today, designers routinely use movies as a source of inspiration, but, for the most part, the actual costumes remain in their own universe.
"After I finish a film," Powell said, as she ate a small piece of croissant with meticulously applied jam, "I do get inspired and want to make a wearable fashion collection from the clothes I've designed. I think that would be fun. But I'd never want to be a proper fashion designer and keep churning out four or more shows a year. That would be impossible for me. You can't be great every time!"
Even as a child, Powell had a kind of certainty about her creativity. She drew pictures of clothes and, having learned to sew from her mother, would then design and make outfits for her dolls. One of the earliest ensembles she made for herself consisted of a matching skirt and jacket constructed from white cotton that had images of Mickey Mouse printed on it. "Kind of embarrassing now," she said. "But I still have it. And it still fits."
Powell attended London's Central School for Art and Design, now Central Saint Martins, but was distracted by other, more theatrical worlds. "I loved the dancer Lindsay Kemp, who had taught Bowie," she recalled. Powell signed up for a dance class taught by Kemp and, afterward, he invited her out for tea. "Back then, I had dark purple hair cut in a Louise Brooks bob, and I wore purple pants. I think Lindsay liked my hair." Whatever the reason, within months, he employed her to design costumes for a show of his at La Scala, in Milan. "God knows how I did it," Powell said. "That was in 1981. After some more productions with Lindsay, I started to think about film. I phoned up Derek Jarman, whom I greatly admired, and he also invited me to tea."
Jarman was legendary in London. Not unlike Andy Warhol and his Factory, the director presided over a family-like group of actors and craftspeople who worked on his films. Tilda Swinton was a Jarman discovery—he favored unique, spirited, and hardworking people. It also didn't hurt if they were unusual-looking and beautiful. "Jarman was a director like no one else," Swinton told me. "Completely inspiring. Everything was ramshackle, but then we'd pull together. It was like a party every day. We'd finish all this intense work and then go out clubbing until 3 a.m. We'd sleep for a few hours and then get up and work again. Everybody was friends or lovers or both, and the work was thrilling."
In 1992, Swinton and Powell joined forces on Orlando, a film directed by Sally Potter and based on the Virginia Woolf novel. Powell was 32, and Hollywood immediately took notice. "Orlando was about Tilda Swinton in lots of different periods and different genders," Powell said in her matter-of-fact way. "There weren't that many costumes, so each one had to be exactly right. As a costume designer, you really can't ask for more: The audience was not blinded by too many things to look at. And Tilda was the one wearing the clothes!"
Powell is extremely mindful of who wears her designs and how they're worn. She sang the praises of Cate Blanchett ("She can wear anything") and Jude Law ("Everything works on him"), but was equally invested in every extra in The Irishman. De Niro alone has 102 costume changes in the film, and his fittings would often take up to four hours. Because De Niro's character ages, Powell created elasticized undershirts for scenes depicting his younger self. (According to his contract, De Niro owns all of his costumes. He archives everything he wears in every film.)
Unlike most epics, The Irishman is remarkably intimate. "There's not much color," Powell explained. "It's not like The Aviator, which I did with Marty. There, I had a chance to do wonderful combinations: turquoise and red; mustard and cobalt. I did try to differentiate between decades in The Irishman: the '50s are gray and blue, the '60s have more yellows and greens, and the '70s are burgundy and brown. I hope that shows."
As she finished her whisked matcha, I asked Powell what her all-time favorite film was. Ironically, it's Don't Look Now, a neo-Gothic mystery set in Venice and directed by Nicolas Roeg that does not owe much to the costume design. The clothes are lovely, but modest and contemporary. "Not everything has to be extravagant to be impactful," Powell said. "Perfection comes in many forms. The hard part—and the fun part—is trying to get there."
The Irishman, 2019: Jesse Plemons (from left), Ray Romano, Robert De Niro, and Al Pacino.
The Favourite, 2018: Olivia Colman (center) and Rachel Weisz (far right).
Velvet Goldmine, 1998: Toni Collette.
Cinderella, 2015: Richard Madden (in white) and Lily James (center).
Orlando, 1992: Tilda Swinton (left) and Quentin Crisp.
Carol, 2015: Cate Blanchett.