The Met Gala Is Actually About the Exhibition For Once
The exhibition skirts around the pandemic, but the accompanying products—face masks designed by Bode, Balmain, and Off-White—embrace this time.
---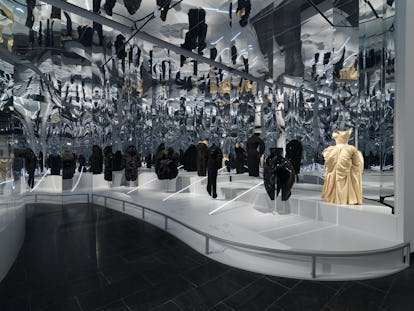 © The Metropolitan Museum of Art
It's easy to forget, but the annual Met Gala isn't just an excuse to fill a red carpet with as many celebrities as possible; the event is actually a kick-off to each year's Costume Institute exhibition at the Metropolitan Museum of Art. And for once, the exhibition is finally getting its due. The 2020 Met Gala may have been canceled, but "About Time: Fashion and Duration" has managed to weather the pandemic. (Thanks in no small part to sponsor Louis Vuitton.) It opens on Thursday, and runs through February of 2021.
This year's theme is regrettably fitting; no one wants to think about time more than they've had to over the past eight months. But from the moment I approached the museum's front steps on Monday, it was all I could think about. Even reuniting with my friends in the industry felt somber—like when I had to try to stop someone I've missed for months getting close enough to touch my hand.
Just like the exhibition will be, the preview was at limited capacity, with timed entry and temperature checks. Even so, I was uncomfortable. To maintain my distance, I had to miss out on some of the exhibition. And the persistent, amplified ticking noise that filled the first room, timed to the swing of a sizable pendulum at its center, didn't exactly help with my anxiety. It also overshadowed the show's most soothing element: a loop of Nicole Kidman, Meryl Streep, and Julianne Moore reading excerpts from Virginia Woolf's 1928 novel Orlando. (Woolf is credited as the show's "ghost narrator"; the Met has compiled a reading list of her writings on time.)
Even if you're similarly cautious, the exhibition is expansive enough for you to get the gist. "About Time" traces a century and a half's worth of parallels and associations in fashion, from the 1870s to the present. To do so, the Costume Institute arranged 60 pairings (aka "minutes"). The pieces on the left represent fashion's linear nature, while those on the right nod to its cyclical character through recurring shapes, materials, patterns, decorations, and motifs.
Sometimes, the pairings are unexpected—think Alexander McQueen's infamous Bumster bottoms with a 19th-century gown. And sometimes, pieces simply stand out on their own. The puff-shouldered raincoat that's paired with a J.W. Anderson design might as well be Comme des Garçons, but it's actually from 1895.
Nearly every piece is black, in an effort to highlight the changes in silhouette. Unfortunately, that also means it hard to photograph some of the past few decades' greatest hits, like the safety-pin Versace dress Elizabeth Hurley memorably wore in 1994. I waited several minutes as two people struggled to capture an Iris van Herpen creation before giving up on getting close. The same went for the show's grand finale: a dramatically displayed white dress from Viktor & Rolf's spring 2020 couture collection, with patchwork from upcycled fabric. It's meant to symbolize fashion's hopefully sustainable future, but ends up feeling a bit more like spon-con.
If you're one of those museumgoers who never misses the gift shop, you're in for a treat. The exhibition skirts around the pandemic—one wall text asserts that, thanks in part to fast fashion, time in the 21st century feels sped up—but its capsule collection embraces it. Bode, Balmain, Erdem, Gypsy Sport, and Off-White all designed face masks, which range from practical (your classic fabric) to purely decorative (made of beads and safety pins).
Apart from being fun souvenirs, for me, the masks were the only part of the exhibition that made me really reflect. Trends come and go, and any @dietprada follower knows that fashion repeats itself. But sometimes, there really is a first. Designer face masks are scattered throughout history, as recently as Billie Eilish's pre-pandemic Gucci accessories. It's only now, though, that they've existed to such a degree—in an institution, no less. They're also relatively affordable—at least compared to Bode's other contribution, a $1,554 jacket made of antique quilts.
Of all of the gift shop's offerings, there was just which one in which I had no interest. The catalogues were all shrink-wrapped, and at the tail end of the preview, I wasn't too keen on rifling through the same display copy that who-knows-how-many others had.