The Most Resourceful Directors of 2020
During the coronavirus pandemic, directors adapted their filmmaking practices but their creativity was not stifled.
---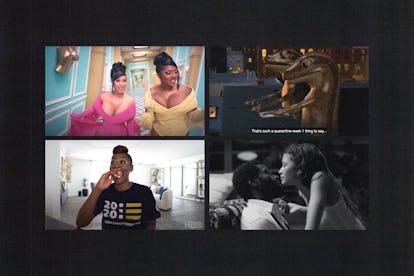 W is doing something a little different for our "Best of…" lists this year. It seems fitting that such an atypical 12 months deserves a new kind of recap. Instead of ranking our favorite songs, albums, movies, and television shows, we've assembled a list of moments in arts and culture that defined 2020. We're calling them "Silver Linings"—the most exciting creative feats that brought us joy during an otherwise tough year. We're also listing our favorite live performances, collaborations, and production stunts that seemed impossible to execute during the pandemic, carried out by creatives who saw limitations as an opportunity to innovate.
During the coronavirus pandemic, artists were hit hard. Broadway shut down, Hollywood stopped filming, and concerts went virtual. Still, creativity could not be stifled. Around the world, creators scrapped together whatever was possible, and innovated their filmmaking practices as best they could to still bring us entertainment during an isolating year.
Some directors took the limitations of self-isolation and produced work that excited us in new ways. Feature-length movies, art films, and of course, some of the year's best music videos were made during the pandemic. Some of those projects were ostensibly filmed on closed sets with Covid-safe protocols, while other artists opted for filming from their own homes. All of them were incredibly resourceful, given the circumstances, and ended up showing out during a tough 12 months.
Colin Tilley, Cardi B and Megan Thee Stallion's "WAP"
The out-there costumes and CGI house were impressive enough—but the cameos (from Rosalía to Kylie Jenner) brought the "WAP" video to the next level. Did director Colin Tilley bring talent in one at a time? Did they all sign Covid-19 waivers? We would not want to be the producers on this set, but applaud them for their efforts nonetheless.
Sam Levinson, Euphoria and Malcolm & Marie
Euphoria creator Sam Levinson filmed the Rue-centric special Christmas episode of the series during the pandemic, making one of this year's most emotionally stirring hours of television. But he also made an entire secret movie in quarantine, with some of the strictest Covid-19 protocols Hollywood has seen to date. Zendaya stars in the project, of course. John David Washington also joined the actress for Malcolm & Marie, which will premiere on Netflix in January.
Saturday Night Live at Home
In April, when the future seemed so incredibly bleak, the cast of Saturday Night Live (and host Tom Hanks) came through with some much-needed humor.
Orian Barki and Meriem Bennani, 2 Lizards
While self-isolating this spring, Orian Barki and Meriem Bennani made the weirdest art film centering on two anthropomorphic lizards excited "in a fucked up way" about quarantine and how it gives you an excuse to cancel plans (which clearly has "quarantine week one" vibes). "Beautiful moment of communion through sound waves in Brooklyn despite social distancing—the virus's protective membrane is very sensitive to soap and heat but also bass," Bennani wrote in the film's description on Vimeo. "These two lizards are lucky they work from home and can afford to stay inside. This is the first collaboration between Yani and me; we made it over the weekend to take a break from editing and animating for work."
Jay Roach, Coastal Elites
During one of Hollywood's first forays in an attempt to capture life during the pandemic, Jay Roach directed Coastal Elites, an HBO movie told in five satirical vignettes starring Bette Midler, Kaitlyn Dever, Dan Levy, Sarah Paulson, and Issa Rae.
Related: The Wildest Collaborations of 2020