The World According To Karl?
In case you missed it, here are the top style stories from the week leading up to June 7th.
---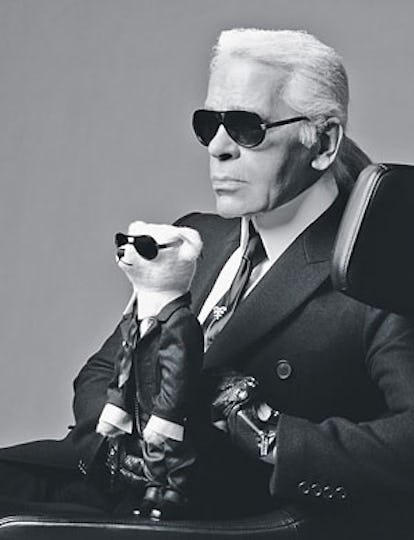 Cavalli, Roberto Dropped a cigarette on the ground; discovered it had later been [sold on eBay for £250](<a href=). Will continue smoking to secure his financial future.
Cleveland, Pat The 60-something-year-old supermodel posed alongside her daughter Anna for Zac Posen's Resort 2014 lookbook. Halston would approve.
Conrad, Lauren Launching a bedding collection; continues to capitalize on her many "talents."
Galliano, John Finally explains his anti-Semitic rant in an interview with Vanity Fair.
Givenchy Designer Riccardo Tisci will not do a couture presentation this season but he will be debuting a new watch line (and carry on designing coordinating glove-gown ensembles for Kim Kardashian).
Gucci Rumored to be developing a makeup line; we're tickled pink at the idea!
Lagerfeld, Karl Reveals that he thinks he helped Adele lose weight and that he would like to marry his cat Choupette; no explanation needed for an upcoming book of his most outrageous quotes.
J. Crew Opening up shop in Brooklyn; makes the Jenna Lyons Look slightly more attainable.
Jolie, Angelina Wore custom Saint Laurent for her first red carpet appearance since revealing her double mastectomy; worked it like no other.
Menswear Viktor & Rolf will not show in Paris this season, but have no fear: Haider Ackermann will for the first time. You go, boys.
Middleton, Kate Named the top beauty icon in the UK. Well, duh.
Moss, Kate Is disarmingly charming in a prank call; acts genuinely distressed at the idea she has lost a friend's High School Musical DVD. No joke needed.
Nabi, Youcef The president of Lancome steps down; goes out on top.
Parker, Sarah Jessica Announced that she is working on a shoe collection. Why did this take her so long?
Poshitis A condition caused by carrying a large handbag in the crook of one's elbow; named after Mrs. Beckham, herself.
Proenza Schouler Jack and Lazaro recreate their first collection for a Barneys capsule collection—with modern updates, of course.
Revenge The television show inspires a clothing line; stay tuned for Scandal's attempt to one-up.
One Direction The boy band unveiled its debut fragrance for women called Our Moment. And by "women" we mean tweenage girls (and Taylor Swift).
Tollman, Annabel The British stylist – known for dressing Mary Kate Olsen and Scarlett Johansson – passed away in New York City at the age of 36.
Vena Cava Accuses Alice & Olivia of ripping off one of its designs via Instagram.
Weisberger, Lauren The author of The Devil Wears Prada comes out with the sequel: Revenge Wears Prada. No word on whether Hathaway and Streep will reprise their roles.
Williams, Esther The swimsuit icon passed away at age 91.
Zilin, Luo Naomi Campbell's protégée from The Face was spotted with the supermodel's ex-boyfriend, Russian billionaire Vladimir Doronin. Was subsequently fired from her modeling agency; but is lucky that she has not (yet) been hit with a flying blackberry.
Photo: courtesy of Karl Lagerfeld