Tinashe on Leaving Her Label, Uprooting Her Life, and Starting Over
The Songs for You musician, newly independent and paving her own way, discusses the inspiration she's gleaned from her trip to New York for Fashion Week.
---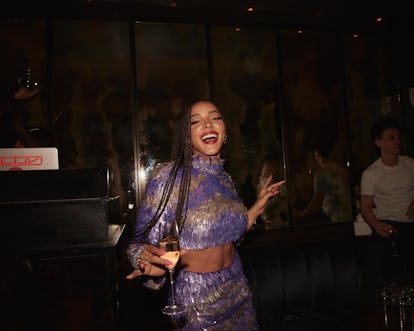 Photographed by Lea Winkler for W magazine
In early 2019, the musical artist Tinashe Jorgensen Kachingwe tore apart her professional and personal life and rebuilt all of it from the ground up. The 27-year-old severed ties with her former record label, RCA, citing creative differences; got rid of her entire team, including lawyers, business managers, stylists, hair, and makeup; and split with her boyfriend Ben Simmons.
"It was kind of poetic," she says, sitting on a bed inside the Times Square Edition hotel on the last night of New York Fashion Week. "It was hard, but definitely worth it."
The impetus for the shake-up stemmed from her previous album, Joyride. She'd originally wanted to put it out in 2016, but the label delayed the release by two more years. RCA, she says, wanted her to pump out hit after pop hit, even though she got her start as an independent artist making soulful R&B with the likes of Blood Orange.
"It's the classic story," she says. "The artist wants to put out one thing, and the record label doesn't necessarily understand or believe in that vision."
So, these days, she's pursuing a creative vision all her own. She signed with Roc Nation for management and reverted to her roots as a free agent. She put a studio in her home and invited her friends and collaborators over to make music. The dust settled, and she put out her first independent record, Songs for You, in November.
Three months later, she spent Fashion Week in New York going to all the shows she could possibly stuff into her schedule: Area, Laquan Smith, and, on this evening, Christian Cowan, where she sat front row, then met the designer—who dressed her in a sequined crop top and matching skirt. It was just one of her looks that day; she did a full change-up between every event. "It's more fun that way," she laughs. "It's kind of the point. The dress-up element is the good part. It's where the fantasy comes in. Otherwise, it's just a regular day."
Tinashe came to NYFW on the back of releasing Songs for You, and after announcing her upcoming Tour for You last week—so there's a press element involved. But being independent means making her own decisions, so she also came to get some inspiration for the tour: the lighting, the outfits, the set design, the theatrical elements—of which there were many this year.
"For example, in the Area show, there was this…I wanna say it was like a prayer, these phrases that were happening over and over. They were reverberating throughout the room," she says. "I like the idea of using that for transitional elements. I think that could be cool."
For her last night at Fashion Week, she went backstage at Christian Cowan; flashes popped when she hugged the designer, and fans asked for photos. She soon hustled out to a party at the Blond, in SoHo, where Naked Cashmere was hosting an event. Tinashe especially wanted to go, she said, because one of her best friends, who recently got engaged, would be there and she wanted to congratulate her (and check out the ring ). The singer stayed for a quick 10 minutes, dancing with DJ Lindsay Luv and having a quick glass of champagne.
Back in the car, Tinashe rewatches her own Instagram story, which is filled with pictures from Fashion Week, then scrolls through a couple of fan accounts.
At the hotel, she says, "My feet hurt!" and when she gets into her room, Tinashe takes her high heels off immediately. Her frame is petite, and she's got small hands and tiny feet—but her presence suggests she's actually got a much larger stature. She's polite, honest, and a good sport—as the clock ticks past 11 p.m., she still maintains a positive attitude, despite admitting the energy at all the shows—the bright lights, throbbing music, all the people—is a bit draining. "Sometimes it's nice to be in the quiet, in your own space," Tinashe says. "I can't wait to order some food and watch Netflix."
What is possibly the most refreshing thing about Tinashe is her openness to discussing topics that might be off-limits for other artists, providing a look behind her sparkly exterior. At the end of the night, she opens up about her struggles of the past few years. "I had a lot of self-doubt," she admits. "I never really felt that before. I felt like the stuff that I would make obviously wasn't good enough. So then you start fucking with your own head, and you're like, 'I suck.' You have to go through the process again of being like, No, I'm actually not terrible."