Knitwear Brand Tricot Wants to Become the Kleenex of Sweaters
The French-American company founded by software developer Tom Lehman and creative director Rémi de Laquintaine focuses on timeless knits and seamless tech.
---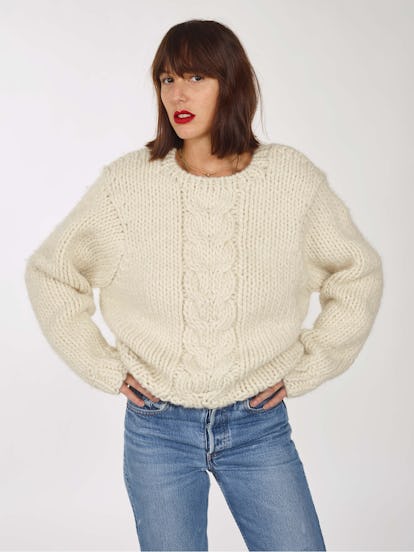 Courtesy of Tricot.
"What is the cultural crossover between knitwear and tech?" wondered Tom Lehman, one of the developers behind the music annotation website Genius, and a co-founder of the sweater company Tricot. "Obviously, there's Steve Jobs in the turtleneck, but what else is there?"
The answer came to him as part of the mood board his business partner in Tricot, Rémi de Laquintane, put together while workshopping their brand's look: A photograph of Bill Gates in the 1980s, from a promotional campaign for Microsoft's Windows 1.0. In the image, Gates wears a chunky white fisherman's knit over a pair of grey trousers, draping himself across a desk while brandishing a trio of floppy disks.
There's something inherently funny about the photograph—Google "Bill Gates sweater floppy disk" and you'll ask yourself, Is he trying to make computer hardware look…seductive?—but Lehman was inspired by it. Because as dated as the rest of the picture looks, the sweater Gates wears is totally timeless. It's well-cut, unadorned, trendless—a straightforward shape in a straightforward color.
Timelessness is central to the identity of Tricot (the word, pronounced TREE-coh, means sweater in French), which launched in 2019 with five recycled cashmere products and has been quietly picking up speed since, expanding their lineup to include virgin wool cable knits, alpaca Fair Isle jumpers and ribbed organic cotton tank tops. Their mission is simple: to make great, long-lasting knitwear at a fair price that you can buy online in the most seamless way possible.
"It's important to have people like Jacquemus being on the edge and playing with fashion because there is a creative side of fashion. We need that, but it is not the mission of Tricot," said de Laquintane, speaking on a Zoom call earlier this month. "The sweater itself doesn't affect your style, it's more like you pick a piece and you wear it and boom—it fits perfectly with your identity."
Lehman, a New York-based software developer, and de Laquintane, a French photographer, creative director, and designer who splits his time between Paris and Shanghai, make an unexpected but complementary pair. They met on a tennis court in Los Angeles 10 years ago, became friends, and began working on Tricot during Lehman's visits to Paris in the past two years. Since the pandemic, like so many others, they've mostly been collaborating during early morning/late evening calls between New York and Shanghai, Lehman focusing on evolving the website's functionality while de Laquintane works on the aesthetic component.
De Laquintane cites Éric Rohmer's new wave classic La Collectionneuse, 1980s United Colors of Benetton ads, traditional Bretagne fishing garb, and Moroccan rugs as inspiration for Tricot's pieces, noting what's most important is that each style be something that will look as good in 20 years as it does today. While they'll release new products every couple of months, there will be no distinct collections, no seasons, and no sales.
The bulk of their business is in 50 percent recycled cashmere, 50 percent virgin cashmere three-ply sweaters, produced in a factory in Venice. While finding the balance between durability and quality when using reclaimed materials can be tricky, the recycled element was a no-brainer: "Launching a new brand without being sustainable, that will not make sense," de Laquintaine said. "We don't believe that being sustainable is like, 'We're good, we are sustainable, it's amazing.' We just believe that's normal. In 2020, if you are not sustainable, what are you doing here?"
Another innovative element: their website doesn't have a shopping cart. "I've always been interested in figuring out a better way to do the basic things in e-commerce, this is something I've been obsessed with," Lehman said. "I wanted to create an experience that was the literal fastest way to buy a product." Instead of taking customers to a clunky form that requires reams of unnecessary information, a sleek little box with a "complete purchase" button appears and asks for the bare minimum (name, email, phone, shipping address, card number and expiration). Shoppers enter their information for the first item only, and any additional same-day purchases are combined on the back end and shipped to you in one box.
In the past year, Lehman and de Laquintane have seen sales triple organically, building up a presence on social media with unfussy photographs of chic Parisiennes in red lipstick and jewel-toned sweaters. Soon, they'll ramp things up with Instagram and search ads, and this week, they'll introduce a customization tool, allowing you to mix and match different color combinations for certain styles' sleeves and torso, as well as embroider monograms and pictograms onto the chest or cuffs. The digital experience should be playful, de Laquintaine said: "When you're buying something online, you don't feel it, you don't touch it—at least you need to get emotions doing it."
As for the brand's future, the founders have ambitious plans for Tricot to be to the knitwear industry what Kleenex is to facial tissues, a proprietary eponym that becomes interchangeable with the entire category. "The idea behind Tricot was that one day people will say, 'Oh, I need to buy a Tricot,'" de Laquintaine mused. "Not a sweater, a Tricot—it would have the same meaning."