Jeremy Pope Wants His Work to Spark Tough Conversations
The Emmy-nominated actor reflects on the joy of '90s sitcoms, challenging history in Hollywood, and joining the third season of Pose.
---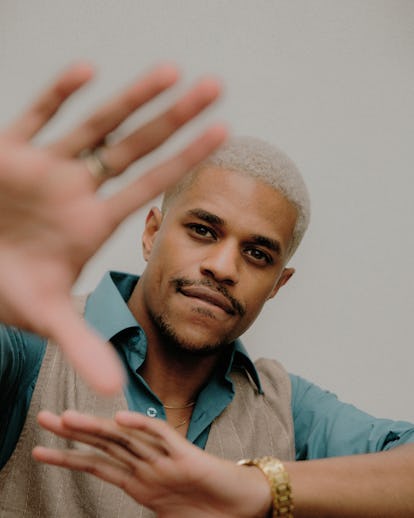 Jeremy Pope photographed by Sophie Andreassend for W magazine, September 2020.
For W's 2020 TV Portfolio, we asked 21 of the most sought-after names in television to embody their favorite characters from their favorite shows of the past few months—and to explain why we should all be (re-)watching The Sopranos, Ozark, Schitt's Creek, and, yes, Floor Is Lava. To see all the images and discover their picks, click here.
This year, the Academy of Television Arts & Sciences broke a record: More Black actors have been nominated for Emmys in 2020 than ever before. One of those actors is Jeremy Pope, who portrays the fictional screenwriter (and boyfriend of Rock Hudson) Archie Coleman in Hollywood, the speculative semi-alternative history series about Tinseltown's golden age. The 28-year-old actor has been spending lockdown in Los Angeles, thinking about the questions a period piece like Hollywood dares to ask—while also bringing himself moments of joy by rewatching '90s sitcoms like Martin, which he grew up watching with his father.
How did you put together the visual homage to Martin for these photos?
I've been watching a lot of reruns of shows from the '90s that I grew up on. The thing about Martin is, it's all laughs and fun and a good time. A friend of mine is a photographer, and he came by my place in L.A., and we put some loud music on and tried not to think too much, and I think we got some fun shots. That's the thing with quarantine—with these shoots we're doing ourselves, we're trying to find ways to create some fun and cool content.
What is it about Martin that you've enjoyed most during this quarantine rewatch?
I feel like most of us have our own quarantine journey that we've been on, and we're still in the thick of it all. I was filming something right when quarantine happened, so I felt like a lot of my life had been put on pause for a little bit—which was fine and necessary, and I was able to take time away that I needed. But Martin has always been a source of joy for me. It's a show I grew up watching with my dad. To have time to purchase all seasons of it and watch it top to bottom—episodes I had seen before somehow got funnier. I was very grateful to have his show during this time of uncertainty and unrest in the world. I think it is a journey of highs and lows, but whenever I'm watching a 30-minute episode of Martin, it's a moment of stillness, it's a moment of happiness. Martin Lawrence is one of my favorite actors and comedians, and I hope someday to work with him on something. I think I've said this before—I would love to do a movie with him and Meryl Streep. I don't know how that would work, but I want to be in that film! [Laughs] He's just brought me so much joy and laughter. I needed those moments crucially during this season of my own personal growth and journey.
I think a movie with you, Martin Lawrence, and Meryl Streep all together really would be iconic, not to overuse the term. But it really would be.
I would hope! I can be "Butler No. 1 or 2," and they can do all the work and heavy lifting; I just want to be in that room. Whatever energy is in that room, I want to be a part of it.
It seems like there's a Black '90s sitcom resurgence happening, with Netflix recently adding Sister, Sister and now Girlfriends. Have you been rewatching any other '90s sitcoms during this time?
I think a big one in the past couple of weeks was Moesha. I didn't watch that show a lot when I was growing up. I remember it existing, but now being a fan of Brandy and her music, and after watching the Brandy vs. Monica Verzuz battle—that was a big thing that a lot of my friends were watching—I went down the rabbit hole of watching Brandy and how much of a star she has been. That's been my vibe. When it came to this W shoot, I wanted to play in some '90s clothing—some big jeans, bright patterns and colors—and just have a good time. We turned on '90s music and vibed out. [In] a lot of the takes I'm smiling heavily and I'm laughing too loud, but I think ultimately, that is what these shows have brought me during this time.
I did the same thing with Moesha. I started rewatching it because as a kid, I had only seen the tail end of the series. Rewatching it from the beginning is interesting, and I have noticed that the style and fashion really does hold up.
It does! It's so different because we don't see a lot of sitcoms like that. To watch it—the acting and the conversations they were having at the time, it's cool. I know more now, so I'm able to watch it and pick up on things. I was born in '92, so I caught the tail end of it as well, and I knew Brandy in Cinderella, but now I really have a grasp on these actors and how many seasons they shot. They shot so much! It's cool to go back and watch these shows. I'm grateful that Netflix and these platforms are putting them up, because we need them.
Your show, Hollywood, addresses American pop culture through a lens that both critiques and explores intersections of race, class, gender, and sexuality. Do you see any connections between that theme in Hollywood and the themes presented on Martin or other '90s shows you've been watching?
There's a time difference between the '90s and our show, Hollywood, but I think what I pay attention to now is how shows, whether they are comedy or drama, use their platform to spark certain conversations. I think specifically in comedies, they're there to bring laughs and set up their scenarios in the world they created, but in Martin or Moesha, they take certain episodes to really bring to light certain conversations that we should be having in the world. I think now that I'm aware of that, and now that I'm older, those are nuanced things that I maybe didn't grasp when I was younger. Now, being of age and having an awareness of what's happening in the world, I realize the power and the responsibility of trying to make sure you're always doing that.
In Martin and Hollywood, it's like, yes, we have the space to entertain, and in Hollywood, we give you the golden, gilded age, and it's beautiful and it's fun, but we also have the opportunity to spark real conversations of what it is we are experiencing in our world and also what it is that we are demanding in the systems. Whether it's [effecting] change or [getting] people's minds to shift, I think that's important. My appreciation is overwhelming for a show like Martin, because this is the '90s; this is a show that a lot of Black people were watching, a lot of my family was watching, and I think they have some conversations that go against the grain of certain people's mentality and the way that I was raised. They expanded that. TV has such a powerful way of doing that, and shaping the way we view the world. Kudos to them for challenging that narrative in the '90s, and also a reminder for me of the power of that, and to not be afraid to have those uncomfortable conversations in these spaces, because that is ultimately how you can spark change and spark new ideas within people's minds around the world.
What do you think it is about television specifically that persists as the art form that continues to bring people joy, comfort, and interesting conversations during this pandemic?
In television and film, it's an escape, it's a journey that people can go on from their home. I think a lot of the time, the way that we see the world comes from the things we see. Now, we have Instagram and TikTok and all these things, but before it was strictly TV where we got our news, where we were able to see what Africa or all these different places that we haven't traveled to look like. But we also get a representation of what's happening in the world and what is going on. You have shows with different demographics, meant for different groups of people, where they feel like they're being seen or heard or they relate or connect to a theme or topic. With Hollywood, we're talking about this beautiful time period that was very sophisticated and glamorous. It looked very special; it looked very different from what I think we experience life to be now. But also in it, there's a lot of systemic oppression and racism that we should address, because if we go back in time, we can understand how we got to where we are now. I think the parallel with certain Hollywood conversations is that today, in 2020, we're still having these dialogues we were fighting for, or, in our make-believe, demanding change for, in the '40s, '30s, '20s, and understanding the root of how we got into certain messes now.
In Hollywood, your character, Archie Coleman, is a gay screenwriter who gets Oscar buzz for his work. We know that this never happened, but it's an optimistic way of imagining the past and how it might have affected the future.
Our series ends in a hopeful manner. I think if we look at it in real time, we didn't see the [Academy Award for Best Original Screenplay] win happen for a Black man until 2018, with Jordan Peele. The conversation that I am open to having is, had we seen it in the '40s with someone like Archie Coleman, would we have had to wait so many years to see it [again] in 2018 with Jordan Peele? I think those are the things we're seeing the world ask of the industry, of systems and institutions, because it's not a full representation of the people that lived in those communities. Ultimately, that is a conversation that we really wanted to have with Hollywood. It was a period piece, but there were certain things that felt very now, very 2020. Whether people loved it or felt hopeful or not, if anything, I think it did spark those conversations at home and the idea of what it could have been like, and I think that is important.
As a Black woman, when someone asks me which era I wish I lived in, I tend to say the future, rather than anything further back than the immediate past, because of the systemic and overt oppression, racism, sexism, and homophobia of those time periods. Those things make it hard for people who come from marginalized identities to play and imagine what life would be like in the past. Do you see Hollywood as subverting that?
I think you're so right, and people have asked me on the press junket what movie did I love most during that era and who did I look up to, and I had to keep it 100. I was like, They weren't making movies for us. They weren't making movies for me. Like you said, it's an era that I wasn't so glad to go back to. I can acknowledge that it was beautiful, but again, I'm not seeing myself in that space, or if I am in that space, I'm not seeing myself as an equal to those counterparts. I'm seeing myself as less than or oppressed and struggling and fighting for civil rights, trying to make a way so that we can be seen as equal. That was kind of my view on it. But I think with Ryan Murphy going in to right those wrongs and talk about, What if we had seen a world that was more accepting? Or, What if we had made one movie that had made a decision that changed the world? There is power in that, and bigger conversations we can have.
I was reading recently about Halle Berry having a conversation about being the one and only Black woman to win the Best Actress Oscar. I don't want to misquote her, but she said she was hoping it would do something, and she is afraid that it did nothing. That's the flip coin of something like Hollywood. Like, what if it had happened, but it did nothing? I also think we're in the space to have all of the conversations, all the good and all the bad, and try to see that future and imagine what would that future look like for me and for us. For me, I understand the reason I'm here is because of my ancestors, and because the people that came before me sacrificed so much of themselves for a better world. I think it's kind of my job and my responsibility that within everything I do, I try to challenge that narrative so I can think for the future. Maybe I won't see the day where we're all equal and we're all loved and we're all in it together, but I know that we're working toward that for future generations.
You're right, it is hard to look back at that classic Hollywood era and see yourself represented. For me, I guess I sort of can if I'm watching something like Carmen Jones. But even still, the story behind a lot of those films and representations of Black women are tragic, or the actresses themselves met tragic ends. It is very optimistic to watch something like Hollywood, or even a show like Pose—which I think keeps it real in terms of representing the harsh realities that Black trans women and other queer people in New York City faced in the '80s and '90s—but also gives you the fabulousness and flair and appreciation for the culture that they built at the time.
Absolutely. You're so right, which is why I was, like, Yes, I will gladly join the third season of Pose! Just because I think it does its job of bringing necessary conversations to the forefront, while also inviting you to the beauty of this community and the love surrounding that community and in the community, this marginalized community. While we can feel oppressed at times, there is an abundance of love and support within it because we are all that we have within it. And we understand that we have to band together to get through and out, to get to the so-called promised land, to get to the better tomorrow.
For Ryan and Janet [Mock] to ask me to be a part of something like that with Pose, that was absolutely something. Because I see the impact that it has and that it is going to leave on the world. Maybe 30 or 40 years from now, it'll be the show that someone is watching, just like I'm watching Martin, going, Wow, I understand the power of Pose at the time, and now I understand how it was navigating certain conversations and how it was shifting the world and gave so much opportunity to the trans community and the LGBTQ community.
In a few short years, you swiftly moved from Broadway [starring in Choir Boy and Ain't Too Proud and receiving a double Tony nomination] to television [an Emmy-nominated turn in Hollywood] and now to film, with Regina King's directorial debut, One Night in Miami, and Scandalous!, Janet Mock's forthcoming film about the forbidden relationship between Sammy Davis, Jr. and Kim Novak. How did that come about?
It really all is a blessing in the way that it is unfolding. One thing I've learned that any artist would understand, is that it's a journey being an artist. There are the highs and the deepest lows. When I moved to New York, I think, if anything, the intention I set was that I would be used for a greater purpose. Because I realized that fame and all the things that only service you don't last very long. I wanted to make sure that any art or any project I was a part of, that I was reaching a higher level and it wasn't just about me, so that I could be a vessel and be used for greater conversation and a greater purpose. Sometimes, on Broadway, that shifts to entertain or to bring joy into someone's life, but on Hollywood, it's being able to start certain conversations. I feel very fortunate that my talent and gifts have allowed me to be in those spaces and in those rooms, and to work with such brilliant collaborators like Regina King and Janet Mock. Because they really are special human beings. They really use their art as their activism.
Dominique Morisseau, who wrote [the book for] Ain't Too Proud, she's from Detroit, and she wrote a piece about her city, about this group the Temptations, who we love, and talked about these Black men in a real way. It didn't feel like it was just a jukebox musical, because there was heart. And Choir Boy—Tarell McCraney, who wrote Moonlight, but Choir Boy he wrote of his experience of coming of age as a young Black man. And now in Hollywood, challenging the Hollywood system. All the projects I've been a part of have helped me grow and feel more comfortable in all that I am as a Black man.
But I know that there's power in the representation, and people seeing the work and knowing there's space for them, and also offering opportunities for their narratives to be heard and seen in a lead way, in a way where you are the focus right now, and we are really digging deep and talking about Black men or a Black man—and that I am truly just grateful for. It's a ride. I hope to get back to Broadway. I hope to do some more TV. I think we're just kind of riding the wave of it all, but it is a blessing. This is, I guess, what I set my intentions on when I was 17 and told my mom, "I'm moving to New York." She was like, "What are you going to do?" And I was like, "I'm gonna go make some art!" I think this is what I meant in my heart.