Julia Garner Always Roots for Shiv on Succession
The actress discusses watching the Roy family spar, being a germophobe during a pandemic, and what she plans to wear to the Emmys this year.
---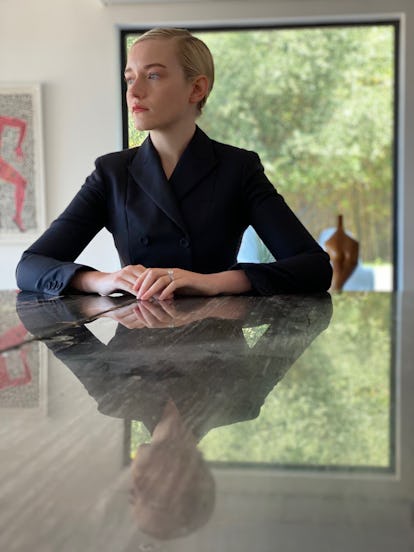 For W's 2020 TV Portfolio, we asked 21 of the most sought-after names in television to embody their favorite characters from their favorite shows of the past few months—and to explain why we should all be (re-)watching The Sopranos, Ozark, Schitt's Creek, and, yes, Floor Is Lava. To see all the images and discover their picks, click here.
When Mayor Bill de Blasio announced that New York would need to shut down for the foreseeable future, Julia Garner was in the middle of shooting an episode of Inventing Anna, the forthcoming Netflix series chronicling the compelling scams pulled off by a grifter known as Anna Delvey (aka Anna Sorokin), the SoHo socialite who captured the attention of many last year when she was hit with charges of grand larceny and theft of services. Garner, who won an Emmy in 2019 and is nominated again this year for her performance as Ruth on Ozark, the Missouri-set crime series about a family dealing with the fallout from the patriarch's money-laundering scheme, just relishes the idea of rooting for characters who are much darker than they appear. The actress also likes to root for Shiv Roy—the conniving daughter of a media magnate on HBO's Succession—whom she's chosen to pay homage to in photos for W's TV Portfolio. Here, she talks about the contradictory nature of the characters she plays on television, organizing her entire home during quarantine, and catching up on years of sleep.
You have a naturally angelic face, yet Ruth, the character you play on Ozark, has done terrible things. Why do you think audiences love Ruth?
Ruth is probably the most sensitive character on the show. She grew up with men, so she's like a little boy—childlike and a little scary. The way I look sets up a contradiction with the character: Ruth seems unthreatening, but she's capable of all kinds of surprising behavior.
You chose to portray Siobhan "Shiv" Roy on Succession for this portfolio. She's also a character who's darker than she appears.
Like Ozark, Succession is the story of an intense family. I could have put on a wig and played Shiv's brother, Roman Roy, who is more of a sarcastic, smart-talking misfit with a questionable past, but Shiv is the character I root for on the show.
Last year you won the Emmy for Outstanding Supporting Actress in a Drama Series, and you wore a stunning gown to the ceremony. What are you going to wear this year, as you watch the show live from home?
This is my one opportunity to wear pajamas to an awards show, and I'm going to take it. I recently watched Mommie Dearest and found out that Joan Crawford accepted her Oscar for Mildred Pierce from her bed! She claimed she was ill, but that was completely made-up, and she was wearing wonderful pajamas. I'm going to go for that.
How did you experience quarantine?
I was filming in New York the day the mayor shut down the city. I had just spent 15 hours in a subway station in Brooklyn with 400 extras. I'm playing Anna Delvey, the con artist who is currently in jail, and I was convinced I had caught the virus. Luckily, I was okay—I have always been a bit paranoid about germs, so I carry wet wipes, and after Sundance in January, I wore a mask on the plane back home, even though people thought I was crazy. I was so tired during the beginning of lockdown, I slept for a month. I caught up on four years of sleep that I'd lost while I was working nonstop.
Did you start making sourdough bread?
No, I'm not big on baking. I did a lot of house projects. My closets were insane; it looked like I was on that show Hoarders. I had suitcases from two years ago that had never been unpacked. I spent a lot of time online at the Container Store—and then found clothes I thought I'd lost.
The third season of Ozark was one of the first shows to air new episodes during quarantine, and it attracted a huge following.
Yes, it was that first week of lockdown. First Tiger King and then Ozark. We had a captive audience. It was perfect, perfect timing for shows about people behaving badly in fascinating ways.
Related: Julia Garner Had a Hand Double For One Unexpectedly Terrifying Scene in Ozark