Little Fires Everywhere's Lexi Underwood Looks to Hollywood For a Dose of Optimism
Little Fires Everywhere's Lexi Underwood on the optimism of Ryan Murphy's Hollywood, and producing a docuseries about Gen-Z fighting for racial justice.
---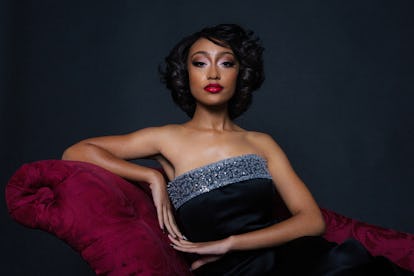 Little Fires Everywhere's Lexi Underwood pays homage to Hollywood. Photograph by Coen Rees for W magazine's 2020 TV Portfolio. Dress by Azana Serene, jewelry by House of Wasee, hair by Mecca Dickerson, with makeup by Marva Stokes.
For W's 2020 TV Portfolio, we asked 21 of the most sought-after names in television to embody their favorite characters from their favorite shows of the past few months—and to explain why we should all be (re-)watching The Sopranos, Ozark, Schitt's Creek, and, yes, Floor Is Lava. To see all the images and discover their picks, click here.
After Los Angeles went on lockdown in the spring, Little Fires Everywhere's Lexi Underwood settled in for some comforting inspiration by binge-watching Hollywood in a day. She immediately fell in love with Ryan Murphy's iteration of 1940s Tinseltown. Looking back, Underwood sees the parallels between her Emmy-nominated series and Hollywood in terms of how they each handle intersections of race, class, gender, and sexuality, despite taking place decades apart. Here, the actress talks about the importance of seeing strong Black characters on screen and using quarantine as a time to build her resources to fight for racial justice.
How did Hollywood make you feel when you watched it back in May?
I binge-watched it in one day. I immediately fell in love with the show as soon as I watched it. Honestly, the first time that I watched it, something that really stood out to me was hearing the creators of the show talk about giving an alternate or happy ending to a lot of the old Hollywood stars. I actually recently rewatched it with my Nana who was alive during that time—I saw the smile on her face and how it impacted and affected her: the idea of what it would have been like to have somebody like Camille Washington as a lead actress at the time, the representation, and how it would have impacted minorities and the LGBTQ community, and what it would have been like if we had those icons in the '50s and '60s for young Black people.
Was there a character you identified with the most?
Yeah, Camille. Young Black actresses were not necessarily given the space in Hollywood to fully see ourselves. Just the fact that she was given that opportunity during the time when Black actresses like Hattie McDaniel weren't given the opportunity to be the lead or be the romantic interest or play these fully complex characters, it was something so beautiful to see. Laura Harrier captured that essence incredibly well.
Both Little Fires Everywhere and Hollywood tackle intricate problems based on the intersections of race, class, gender, sexuality, and other identities. Do you see any other connections between those two shows?
Between the two projects, I think definitely the microaggressions. And the fact that both shows are set in different time periods but they're so timely for everything happening now. Obviously Hollywood has gotten better for minorities and Black creatives, and LGBTQ creatives and Asian creators. Even in Little Fires Everywhere, just seeing what Pearl and Mia had to go through, I'm interested in the parallel in the fact that even though they are set in two different time periods people can still relate to both stories now. Whether it's microaggressions or blatant racism, it's always been a fight. We've been fighting oppression for 400 years and it will continue to be a fight. And so I think that stories like Little Fires Everywhere and Hollywood are so important and timely to everything happening right now in this moment.
Little Fires Everywhere takes place during the '90s. Was there any cultural phenomenon specific to the '90s era that you learned about from starring in the show?
Oh my gosh, there are so many things that we honestly did not know going into filming. We learned about The Real World. None of the kids had watched or heard about that before. Before Sunrise is a big thing that Gavin Lewis, who plays Moody, and I talk about within the first three episodes. Our homework was to go back home and watch all the Before Sunrise movies, which we had never watched before. I think that was probably like one of the biggest things or cultural phenomenons that took place back in the '90s that we learned about while filming.
Did you like those movies when you watched them?
I did. I really liked them. I mean, I've always been infatuated with '90s culture. Just being able to get an opportunity to truly sit down and study it and learn more about it was so awesome.
Were there any particular styles or fashion trends from the '90s that you were really into, or that you've gotten into since starting the show?
Yeah! For me, growing up, one of my biggest fashion inspirations was Aaliyah. Just that effortlessly cool style that she had—the baggy jeans, tight crop tops, or even just what we got to do with Little Fires Everywhere: the mom jeans and the bell bottoms and the chokers. It was all so incredibly cool and I'm starting to see a lot of those trends coming back now, so that makes me happy.
What are some of your favorite old films or television series?
My favorite would most likely be when Eartha Kitt was Catwoman. I remember the first time that my Nana introduced me to Eartha Kitt. Seeing a fierce Black woman on screen being unapologetically confident—just her essence that she had was so captivating. I was very young, but seeing that made me proud to be a Black woman.
What else has your Nana taught you about that era? Does she have a lot of stories that she shares from that time?
She grew up in the South in the '40s and '50s. Her father was a civil rights leader, and he marched with Martin Luther King, Jr. and did a lot of work within that area. They lived in a city called Gastonia, and in Gastonia there was an area called the Square. It was basically the area where all the Black pharmacists and cooks and whatever you aspired to be, that's where you would go. There could only be one Black pharmacist, only one Black doctor, one Black chef. Hearing the stories of how all the Black neighbors and people in that area would come to my great-grandfather's house at 2 A.M. to get medicine, but not having any money or anything so they offered greens or turkey because that's all they had, and my great-grandfather taking them in immediately and giving them everything they needed. Keeping that sense of community, those are the stories I'll never forget. Something I really admire about that time is the sense of community; everybody had each other's back, which I think is something we can definitely learn from right now especially in this moment, we need to get back to that sense of community and look out for each other.
Have you been reading or watching anything else in quarantine that's really brought you joy or made you think?
Yeah, especially when the Black Lives Matter movement gained traction this summer, I immediately started going back and reading a lot of Angela Davis's work and Assata Shakur, Malcolm X and James Baldwin. I read Women, Race & Class by Angela Davis and the Assata Shakur autobiography. I also read Black Skin, White Masks by Frantz Fanon. I went back and re-read a lot of James Baldwin's stuff. On YouTube, you can find different clips of Malcolm X speaking or Angela Davis speaking, and Fannie Lou Hamer. Just seeing a sense of pride that they had about being Black even during a time when it wasn't necessarily cool or acceptable even to be Black, they stuck it out even in the midst of tragedy and chaos. Reading those books and seeing those videos gave me hope that if we continue to keep fighting and stay persistent, that change is gonna come.
You mentioned how much you loved that Hollywood gave people with marginalized identities a happy ending. What did you think about Archie, the Black gay writer whose screenplay is the center of the show?
Jeremy Pope is absolutely phenomenal. I'm so in awe of his work. Just, wow! [Laughs.] His portrayal was so incredibly raw and it made you feel for Archie even though Archie isn't a real person. I thought that the portrayal of his and Rock's relationship was interesting because Rock Hudson actually was an actor that was alive during that time. That was so special and Jeremy Pope absolutely killed it. He deserves all the awards.
What else are you working on that we can look forward to?
Right now, I have a couple of projects that are coming up that I can't necessarily talk about because they haven't been announced yet. During quarantine I have been working a lot on my production company called Ultimate Dreamer Productions. It's a production company that I started back in 2018 when I was 15 years old. Especially during this time, I've been dedicated to creating inclusive stories for everybody. I did a docuseries called We The Voices of Gen-Z, and it was a roundtable of discussions for a diverse generation of people talking about social and political issues. We were just so incredibly blessed to be able to have so many phenomenal voices at the table. We had one that was about the Black Lives Matter movement and the erasure of Black women and Black trans women from the conversation of equality. We had Janaya Future Khan, who is one of the founders of Black Lives Matter in Canada. We were able to have Storm Reid talk about what it's like to be a young Black actress in Hollywood, and Ryan Destiny and Matthew Cherry—so many phenomenal people. I feel lucky that I was able to have those conversations with people, because I not only learn more about them, but also this movement that we're fighting for and the amount of work that goes into creating equality and change.
Related: Hunters and Little Fires Everywhere's Tiffany Boone on Playing Young Kerry Washington