Venice Preview: Simon Denny
Berlin-based new-media artist Simon Denny will be show at the 53rd Venice Biennale as part of curator Massimiliano Gioni's headline exhibition, "The Encyclopedic Palace," opening to the public June 1.
---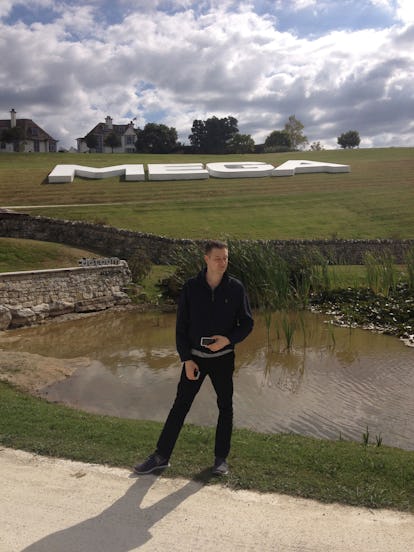 Recently, the New York Times posed a question that ignited a small brush fire of chatter in the art world: Why do potential new-media collectors—the millionaires and billionaires seemingly minted by the hour in the gleaming offices of Facebook, Google, and Twitter—remain nonentities in the contemporary art market? For dealers, it's a vexing problem, but what went unmentioned in the article is the fact that a crop of young artists is making increasingly sophisticated work that adeptly speaks—and then subverts—the tech industry's language. Marketed shrewdly, their art could act as a sort of gateway collecting drug.
One of those artists is Berlin-based Simon Denny, who will be showing at the 53rd Venice Biennale as part of curator Massimiliano Gioni's headline exhibition, "The Encyclopedic Palace," opening to the public June 1. Denny made his name with sculptural works originating from a love of television that grew into much more than an addiction to Jersey Shore in 2007, when he left his native New Zealand to attend art school in Frankfurt. It was during this period that the viewing shift that eventually gave us Netflix Instant and other modern tools of procrastination began to take place. "All of a sudden, it was possible to watch any show online," Denny recalls. "At the time, I was studying sculpture, but I found myself thinking about this a lot. My laptop had become the most important thing to me."
Since then, his work has incorporated all manner of screens—flat digital ones, old-school versions with protruding rumps—in both sculptural and conceptual ways. The narrow, Donald Judd-like clear boxes he showed in 2010 at Cologne's Galerie Daniel Buchholz recall flat-screen TVs, but were filled with live fish—a play on Vito Acconci's declaration in 1984 that the dimensions of the TV sets of the time gave the impression, as fish bowls do, that there was "a world in there." In Venice, Denny will install trompe l'oeil shells of old tube TVs, each more crushed and flattened, in a fashion reminiscent of John Chamberlain, than the one before it—a reference to the evolution towards thinner screens and a metaphor, Denny says, for "this idea of a flattened society all our social media networks have created."
Last year, Denny attended the annual Digital Life Design conference in Munich, a TED Talk of sorts featuring the likes of Twitter's Jack Dorsey, Facebook's Sheryl Sandberg, and Tumblr's David Karp expounding on the next frontier of new media. Denny documented the entire event and will, in a shrewd twist, display his findings—pull quotes, highlight clips, images—using the most traditional media there is: canvas. These 89 panels, on display in his solo show opening at New York's Friedrich Petzel gallery next month, signify the near-instant ossification of advancements in the tech industry. "My work isn't just about the obsolescence of objects like old TV sets," Denny explains. "It's about how quickly ideas become obsolete, too."
"The Encyclopedic Palace" will be open June 1 – November 24, 2013, at the Giardini and the Arsenale in Venice. Simon Denny's "All You Need Is Data: the DLD 2012 Conference REDUX Rerun" will be open June 20 – July 27, 2013, at New York's Friedrich Petzel Gallery, 456 W. 18th St.