W Movie Club: The Most Unforgettable (Pre-Covid) Romance Films
"Moonstruck," "Her," "13 Going on 30," and more movies from the 1980s, 1990s, and early Aughts, take fashion assistant Sophia Martin down memory lane.
---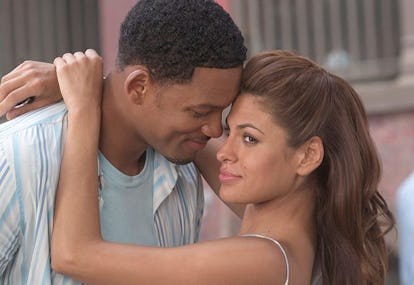 Courtesy of Sony Pictures
Welcome to the W Movie Club, a series in which W magazine's editors pick five iconic films to watch while in quarantine. This week, fashion assistant Sophia Martin takes a walk down memory lane, as she recalls some of her favorite classic romances—filmed, of course, far before the pandemic.
Moonstruck
Set in New York City during the '80s, Cher stars as Loretta Castorini, a complacent bookkeeper who quickly realizes she is in love with her fiancé's brother. Ronny Cammareri, played by a young Nicolas Cage, is a tortured soul who has never forgiven his brother Johnny for causing him to lose his hand—and his lover. The complex love triangle reveals the payoff behind taking risks and following your heart—which may lead to true love after all.
13 Going On 30
A teenage Jennifer Garner is transported into her 30s ,where she is a shining star at a posh fashion magazine—something she only dreamed of as a 13-year-old. While she thinks she may have it all, she quickly realizes that the glamorous parties and clothes (and the steamy NHL players she dates) are no match for her feelings for her high school sweetheart, played by Mark Ruffalo. I'm not sure whether it was her Versace mini-dress or a box of Razzles and a romantic stroll through the city that melted my heart, but this movie will be sure to provide inspiration for your next night-out look, whenever that may be.
Hitch
A mid 2000s comedic staple, "Date Doctor" Will Smith, thinks he knows it all when it comes to understanding women. Although he initially is portrayed as a smooth operator, Eva Mendes, a driven (borderline workaholic) investigative reporter, shows Will that honesty is the key to winning her over. Smith and Mendes's jet ski date on the Hudson River, complete with life-vests and Matrix-inspired sunglasses, will have you rethinking your typical date spot.
The Last Holiday
Queen Latifah lives a modest and simple life when she is suddenly diagnosed with a terminal illness. Desperate to change her ways and live her final days to the fullest, she jets off to Europe, channeling the carefree woman she has always wanted to be. While she believes that champagne, lavish spa treatments, and vibrant evening gowns will bring fulfillment, she realizes that the one thing she was missing in her life was her hometown crush, LL Cool J. Once Queen Latifah discovers that she is not dying and is in fact perfectly healthy, she snaps back to reality to understand the importance of being true to herself.
Her
Joaquin Phoenix, a lonely writer, falls in love with the bubbly and relatable Scarlett Johansson—a computer program that Joaquin can only hear. This peculiar connection between man and technology tells a captivating story of the desire to be understood and a search for comfort, which, in this case, comes in the form of a computer program. The underlying lesson that life-long happiness doesn't reside in material objects is one that is beautifully, yet sadly told throughout the film.
Related: W Movie Club: 1990s Thriller Fashion, and Gwyneth Paltrow