Andy Warhol's Protégé, an Armani Alumnus, Is Redefining Pearl Jewelry
Wilfredo Rosado's high jewelry concept Pearl ID couldn't come at a better time—the gemstone is a favorite of Harry Styles and Ariana Grande.
---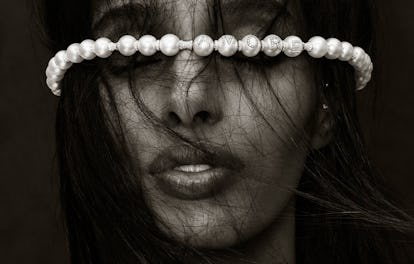 Courtesy of W. Rosado.
Wilfredo Rosado didn't start out as a luxury high jeweler and the founder of his own brand, W. Rosado. But he's always made a career out of pushing boundaries and challenging the norm—while holding leadership positions at Giorgio Armani and Interview magazine, and rubbing elbows with the cultural upper echelons of New York City along the way. Hand-picked by Giorgio Armani to work in Milan and a friend and protégé of Andy Warhol ("I think he had a crush on me, to be honest," Rosado admits), the designer received an education in both couture and the ins and outs of society early. Eventually, he developed a palate for combining the worlds of high fashion and jewelry with pop culture.
"I was literally picked off of the street and placed on top of the heap of New York-everything, working with everyone from celebrities to the best photographers in the world," says Rosado, who's referring to figures like Robert Mapplethorpe, Madonna, Mick Jagger, Jerry Hall, Diana Ross, and plenty other icons of the era. "It happened overnight. I learned so much about art, photography, and fashion because I was in the mix of it all. I was literally learning on the job."
After launching his namesake high jewelry line about a decade ago, Rosado is now expanding his brand to include the fine jewelry collection W. Rosado, which includes a new jewelry concept, Pearl ID.
"I wanted to create something that was going to be a bit hipper and younger," says Rosado. The first thing that came to mind was pearls—and the timing couldn't be better, what with the gemstone's resurgence in pop culture today (Harry Styles started an accessory trend by donning pearl earrings and necklaces regularly, and celebrities including Ariana Grande and Emma Stone are swapping out traditional engagement rings for unique designs with pearl center stones). For his line, Rosado was inspired by the plastic beads often used to make friendship bracelets at summer camp; nostalgia drove him to reinterpret the childlike craft into something more luxurious and elevated. But the endeavor came with its own set of challenges.
"Me being who I am and having the background that I have, I always start at the top and strive to achieve the best level of quality craftsmanship," he says. "I'm very much obsessed with quality craftsmanship." His search to embed gold and pavé diamond letters and symbols into carved South Sea pearls took him on a journey to master goldsmiths in Valenza, Italy, and then to the greatest lapidaries in the world in a tiny German town, Idar-Oberstein, where they were already doing such work for over a century. Pearls, however, were a first in terms of medium.
"We had to create new tooling and machinery for this because, in order to hold a round object, we had to put pressure, which then made the pearl pop away. Plus, to be able to carve the pearls in order to achieve the angles right in the corners proved to be very difficult," Rosado says. "And the curvature of the pearl changes [with different sizes]. Each time that I change the pearl, the letter has to change and the curvature of each piece has to change. It's very complicated." Eight months of trial-and-error later, the production process was sorted. The pieces would start in Italy, ship off to Germany, then return to Italy for finishing touches.
With Rosado's couture craftsmanship expertise, the result is both an homage to handcraftsmanship (by employing global artisans) and technology (through the use of nano-ceramic technology to create colorful variations). The pieces incorporate several arrangements from single letters and symbols to full-on sentiments. Some designs, like the Amore necklace, are even convertible to create all new messages.
Featuring 25 pieces, the debut line ranges from $2,500 for a single pearl charm to nearly $100,000 for a full pearl choker with pavé lettering, with further customization available upon request. They are available at Rosado's namesake site, along with retailers including Moda Operandi and Saks Fifth Avenue, among others; Rosado donates a portion of all proceeds from sales to the City Parks Foundation.
In terms of what's next for the business, Rosado sees his focus staying in the high jewelry sector. "I love Pearl ID and I would consider developing it but as a designer, my affinity for jewelry always leans toward high jewelry. It's where my love is, where I feel I can be more creative." This high jewelry to come will certainly have Rosado's playful touch—of which Warhol surely would've been a proponent.
Related: Ariana Grande's Pearl Engagement Ring Is Both a Trend and Deeply Personal