Reality TV Is Having Its Own Racial Reckoning
"Women with afros, braids, locs, etc., weren't even given a chance because of the white standards of beauty."
---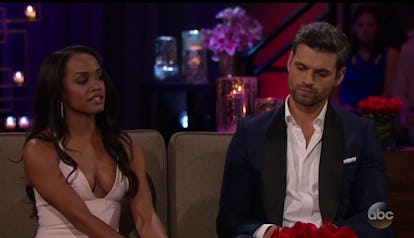 "Women with afros, braids, locs, etc.; weren't even given a chance because of the white standards of beauty," wrote Jazzy Collins, a former casting producer for ABC's long-running reality franchise The Bachelor, in an open letter posted to her Instagram on Sunday. Collins said she was the only Black person in the casting department during her five-year stint, adding that the "show has been white-washed for decades, inside and out" and only token attempts at diversity were made in casting decisions.
Her open letter comes on the heels of the announcement that Matt James will be The Bachelor's first Black lead in 25 seasons (and second in the entire franchise's history after Rachel Lindsay's season of The Bachelorette), but Collins points out that, "It took a pandemic and the Black Lives Matter movement to take a moment and reassess the issue at hand, which I've called on for years."
The letter comes amid a racial reckoning for reality TV. Bravo has fired Stassi Schroeder and Kristen Doute from Vanderpump Rules after revelations that they reported former Black cast member Faith Stowers to the police for a crime she didn't commit. MTV dumped cast members from Teen Mom and The Challenge after they made racist comments. Lifetime is extracting already admitted felon Abby Lee Miller from its Dance Moms franchise after accusations she made racist remarks to a seven-year-old dancer.
This is to say nothing of the reckoning happening to the reality sub-genre centering police officers. Cops has been pulled off the air after 31 years, in the process reminding many that the show was still somehow on the air in the first place. Live PD, the program featuring Lana Del Rey's ex-boyfriend, has also been axed. Likely a good call, especially given evidence that such shows can further compromise and corrupt police work (see the 15 men in Miami who were wrongfully accused by stories featured on The First 48).
But even when reality TV isn't glorifying police or ignoring a cast member's real-life racism, it still has its problems. At best, many shows can adopt a "we don't see color" policy about diversity. Other franchises adopt a sort of de factor segregation (see: the relative lack of Black cast members in the Real Housewives franchise outside of the Atlanta-based iteration). There's also the fact that reality TV is perhaps the number-one provider of GIFs contributing the phenomenon known as "digital blackface." Often, the racism manifests itself in the fanbase. Remember the controversy of Jennifer Hudson's exit on American Idol? While the producers of RuPaul's Drag Race are not beyond criticism of their portrayal of Black contestants (and certainly not of the notably few transgender contestants it's featured over the years), several alumni have spoken up about the racist backlash they face online and in real life. Season 10 finalist Asia O'Hara recently revealed that she's often asked to step out of pictures and meet and greets so fans can take a picture solely with her white co-finalists.
We've come a long way from the first season of MTV's The Real World, which featured frank (if clumsy) discussions of race and cast member Kevin Powell opening up about his mistreatment by police. That that show became better known in later seasons for hot tub-based hijinks serves as a snapshot of just how much reality "reality" TV now conveniently ignores in favor of entertainment.
Undoubtedly, recent developments at The Bachelor probably represent the long overdue soul-searching many (but likely not enough) reality TV production companies are doing right now.
While reality TV may not be "real," it still serves as something of a distorted funhouse mirror view of the audience's own deeper impulses and "guilty pleasures." The genre is a symptom rather than a cause, but either way, you're still left with a deeper cultural disease.