Wolfgang Tillmans's 2020Solidarity Project Approaches Aid in a New Way
Through his Between Bridges foundation, this photographer has been supplying arts and LGBTQ organizations with posters as a fund-raising tool.
---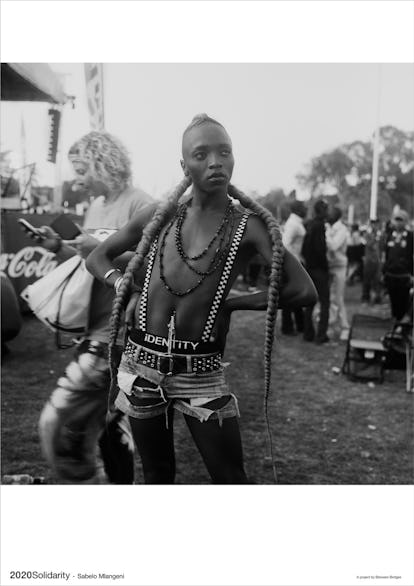 Sabelo Mlangeni, "Identity" Bongani Tshabalala, 2011.
The photographer Wolfgang Tillmans has harnessed the power of the poster in the past few years. Through his foundation, Between Bridges, he has used mass-produced imagery to campaign against Brexit, promote international understanding, and raise awareness for LGBT rights. Now, he's turning his sights toward the artistic communities affected by the coronavirus pandemic, with a new project called 2020Solidarity.
Rather than selling limited-edition prints of his photographs to funnel money to a particular cause (something many photographers have been doing, through platforms like Dream Sequence Editions and Pictures for Elmhurst) Tillmans decided to utilize his resources to supply various creative organizations with a valuable fundraising tool: a cost-free, potentially endless supply of highly covetable posters.
He reached out to artists around the world, and more than forty and counting (including Marlene Dumas, Isa Genzken, Jacolby Satterwhite and Elizabeth Peyton) shared images that Tillmans and his team will print and ship to any organization in need, free of charge, to be used as an incentive for crowdfunding campaigns.
Each poster will be priced at 50 pounds, euros, or dollars, depending on the country in which it is being sold. The price hits a happy medium, Tillmans said, speaking on the phone from his home in Berlin. "Fifty euros is substantial enough to really help, to make a difference, and low enough for people who would otherwise have gone out on a Saturday night to maybe spend that money to support their community," he added.
The Between Bridges website serves as an index for all of the organizations selling the prints, linking to the sites for New York's Visuals AIDS, which utilizes art to fight aids and support HIV-positive artists; Hospital Rooms, a London-based organization that outfits healthcare facilities with site-specific artwork; Siegessäule, a German LGBTQ community magazine, and many others. Additional organizations will be added as time goes on.
Tillmans says the participating artists weren't given a theme to stick to, but that many of the works ended up having a sensuous feel. Nicole Eisenman's piece depicts a couple entwined with their faces resting against a table strewn with wine glasses, imploring the viewer in all caps to "NEVER FORGET KISSING IN BARS." Spyros Rennt's photograph shows men in a casual, semi-clothed, slightly sweaty embrace. An image from Betty Tompkins's Sex Paintings series takes on new meaning in the age of hyper-vigilant handwashing and face-touching paranoia.
"I think it's because the focus was also very much on supporting what we are missing," Tillmans said. "What, of course, is very much at the center of this is that we're not allowed to touch each other, we're not allowed to be close to each other, except maybe for your partner, if there is one." (The photograph he chose from his own studio is a quiet, sunlit still life in soothing shades of green and grey.)
The project raised more than 130,000 euros across 12 participating organizations in the first week, and Tillmans plans to keep the project going and evolving as long as pandemic continues. "It will run as long as it needs," he said. "We're going to change the posters and of course there will be the great incentive to 'try and catch them all.'"
Although the best way to support your local arts scene is to show up, that's obviously not an option right now. And the fact that support had already been dwindling before lockdowns went into effect makes these essential organizations even more vulnerable. "Audiences are the lifeblood of most art forms and art spaces," Tillmans said. "And there has been an undermining of that already in recent years by, I guess, platforms like Instagram, or in general the internet—people feel like they can consume the arts at the ease of their tablet or screen. And I think when we feel what it's like to go to a gallery, to an artist's space, to a dance performance, to see three dimensional art … how different and how rewarding that is. Then, we understand the importance of these places."
When it comes to making a difference—whether by donating the amount for a poster or chipping in in other ways—we're in a crucial moment. "This is a time that really matters," he added. "Because we don't want to wake up in a city that is much depleted of what we love."