5 Under-the-Radar, Black-Owned, Clean Beauty Hair Brands You Need to Know
Try the hero products from indie companies Bread Beauty Supply, Wonder Curl, Girl + Hair, Meraki Organics, and Sunday II Sunday.
---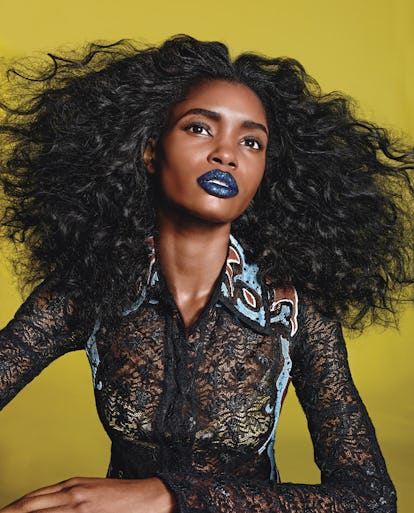 Just because a hair care company is Black-owned doesn't mean its products are meant solely for African-Americans. Black-owned haircare brands can work wonders on a variety of textures beyond waves, curls, and coils. Products formulated with textured strands in mind can be transformative for any woman whose mane is dry, damaged, frizzy, or color-treated. These offerings are often moisturizing, and crafted with nourishing botanicals, oils, and extracts—ingredients from which all types of tresses can benefit.
As an added bonus, supporting Black-owned hair products encourages a more diverse range of offerings. It helps build economic growth among underrepresented communities while propelling the beauty industry into a more inclusive space. Major retailers have recently answered the call to dedicating more shelf space to a wider range of brands. Case in point: Sephora, which has signed on to Aurora James' 15% pledge, an initiative that calls for corporate behemoths to commit to purchasing at least fifteen percent of their inventory from Black-owned businesses, and Target, which has added a badge to brands on its site that are Black-owned or -founded.
Below, we've spotlighted five indie Black-owned hair care and styling brands that carry a range of products which are clean in their formulas, and work for a variety of hair types.
Bread Beauty Supply
For those with highly textured tresses, wash day can seem like a chore. With its many complicated steps—pre-poo, co-wash/shampoo, detangling, deep-conditioning and leave-in––the process can take up an entire day. Looking to simplify this routine for ladies with tight curls who prefer minimal maintenance and styling, Maeva Heim developed Bread, a new, clean haircare brand from Australia. Think of it as the Glossier for textured hair. It's for the lazy curly/coily girl who's into an undone vibe—the type who embraces her natural frizz. The lineup consists of three basics: a gentle hair cleanser, creamy hair mask, and lightweight hair oil, all enriched with bush plum, an Aussie superfruit full of vitamin C and hyper-moisturizing nutrients, plus starflower oil, a fatty acid known for its strand-strengthening properties.
Sunday II Sunday
While dry shampoos might mask dirty hair, their pore-clogging particles aren't great for your scalp's health. Launched early this summer by Keenan Beasley, a former L'Oréal VP, Sunday II Sunday is a vegan and gluten-free haircare line which aims to resolve the post-workout hair problems of fitness fiends. The line serves up truly healthy hair solutions for your gym kit so that you can work out, forego a full wash, and still look pulled together. There's a micellar spritz, enhanced with apple cider vinegar, to remove product build-up and oil; a revitalizing, moisturizing spray that adds bounce back to lifeless manes, and a cooling serum with peppermint oil to provide relief for dry, itchy scalps.
Meraki Organics
A fair-trade beauty brand, Meraki (which translates to "the pursuit of love, soul, and passion" in Greek) allows you to cleanse your aura from head to toe. Not only are its non-toxic botanical elixirs and creams hyper-nourishing to your strands and body, but they are also activated with a gemstone to promote good vibes from the inside and out. A melange of softening butters, cold-pressed oils and restorative natural agents, deliver the highest hydration and emollience levels. Follow up the brand's magical amethyst-infused shampoos with its revitalizing quartz conditioner—enhanced with a chakra-opening sensorial experience of lavender and gardenia—it's simply divine goodness in a jar.
Wonder Curl
The totally clean formulas (that's zero sulfates, parabens, phthalates, or silicones) of this buzzy vegan brand pack a serious punch. The Get Set Jelly is renowned in the curly girl community for its ability to revive and define lackluster curls without the dreaded crunch factor. Another fan favorite is the Restoring Hair Treatment, which boasts of Tamanu oil, shea butter, and panthenol to strengthen and provide deep hydration to fragile, thirsty strands.
Girl + Hair
If you wear a protective style (we're talking weaves, wigs, extensions, braids or locs), scalp build up can be a real issue. Dermatologist Camille Verovic's haircare operation specifically addresses this problem. The targeted treatments come with a pointed applicator to dissolve dirt and oil in hard-to-access spots while preserving the hair's natural moisture and sheen. The Nourish Leave-In Conditioner is especially useful for those who suffer from dry, itchy scalps during the cold winter months. It contains shea butter, tea tree and neem oils to help soothe any itchiness, calm inflammation, and soften brittle strands.
Related: The Must-Have Products From Black-Owned Beauty Brands