A Look Inside Keys Soulcare's One-Of-A-Kind Event At The ICA Miami
Featuring a live performance by artist Kate Goltseva.
---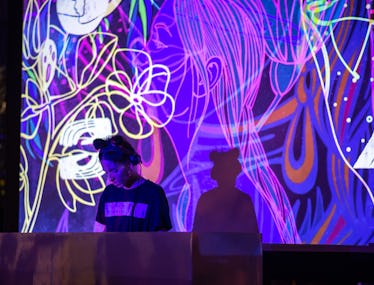 Photograph by Kat Goduco
Art Basel was officially back in full swing in Miami Beach this year. To no one's surprise, the hotly anticipated art fair was better than ever — and so were the parties. On Friday, December 3, Keys Soulcare hosted a buzzy activation at the Institute of Contemporary Art in Miami (ICA) in a special take on the museum's "First Fridays" celebration. First Fridays are part of a neighborhood-wide initiative in the Miami Design District, with the ICA opening its doors for after-hours viewing and gathering.
For this Keys Soulcare-inspired installment, a multimedia performance by visual artist Kate Goltseva served as the focal point, weaving together animated illustrations in conjunction with music to tell a globally inspired story about beauty. The stunning performance and celebration took place within ICA's sculpture garden, and guests got to take home Keys Soulcare's best-selling Golden Cleanser.
For those who don't know, Alicia Keys, who is ultra-passionate about ancient beauty rituals and performing one's skin-care routine as an act of self-care, created the clean, beauty-meets-wellness brand alongside dermatologist Dr. Renée Snyder. Keys Soulcare believes in the power of ritual and not only caring for one's skin, but the whole self — mind, body, spirit and connection. That's why each offering has a unique affirmation on the back to recite during application, truly making your routine a moment of personal ceremony. For instance, the Golden Cleanser's affirmation is, "I am devoted to this moment."
The event featured displays of all the brand's skin, body, and self-care offerings, so guests could experience the full lineup in all its glory. With inspiring artwork, amazing music, and next-level ambiance, it was a night to remember.
Below, take an exclusive look inside the event.
To learn more about Keys Soulcare sign-up for their newsletter or shop Alicia Keys' favorites below.