Does My Hair Need a Metal Detox?
A comprehensive guide to strengthening and softening your locks against heavy metals.
---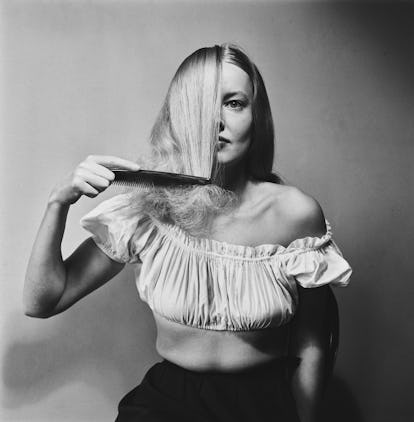 Photo by Bill Brandt/Picture Post/Hulton Archive/Getty Images
If you've got your finger on the wellness pulse, you test your heavy metal levels at least yearly. You don't need to be a celery-drinking, crystal-toting health fanatic to know that, whether through diet or environmental factors, the body retains heavy metals that medical practitioners say can cause health ailments like excessive lethargy, headaches, and allergies. The hair also retains metal buildup through regular washings (not to mention foils from highlights and straightening chemicals, too)—there are, no doubt, a certain level of metals in your water. (The amount of heavy metal buildup on your hair varies geographically; for instance, London is amazing for hair— limestone-rich, less metal deposits—while Los Angeles is nothing short of a healthy hair nemesis, due to added ammonia and chlorine. And who knows how much self-tanner has seeped into the water from Malibu?) This metal residue will also cause your hair color to grow dull or green-ish, and can lead to damage. Recognizing the metal buildup is one thing—getting rid of it is another.
"Metals are everywhere, including toxic heavy metals that are in most of our daily products: aluminum cans, cookware, foil, pipes, water, even foods," says Philip B, the veteran hair maven that counts the Rolling Stones, Nicole Kidman, and Gwyneth Paltrow as fans. "Once metals are in our system or on our tissues or hair, they are stationary unless we work to remove them. Our bodies are designed to specifically filter and eliminate heavy metals along with other bacteria, viruses, and toxins. But if the amount exceeds our normal filtration system—we are overloaded. Those heavy metals can oxidize and cause inflammation, which can leave our body susceptible to a host of other damages. Once the cellular team of defenses spends too much time constantly fighting off chronic inflammation, is when we are most vulnerable to illness."
There are several excellent purifying hair solutions on the market to help detoxify your hair and scalp. Below are a handful of our favorite products that promise to remove and balance your hair's metal levels—so the next time you decide to order a second spicy tuna roll, you can reason that your hair metal levels, at least, are under control.