Can Too Much Protein Wreck Your Hair?
Five celebrity hairstylists weigh in on the great bond-building debate—and recommend the products they'd use instead.
---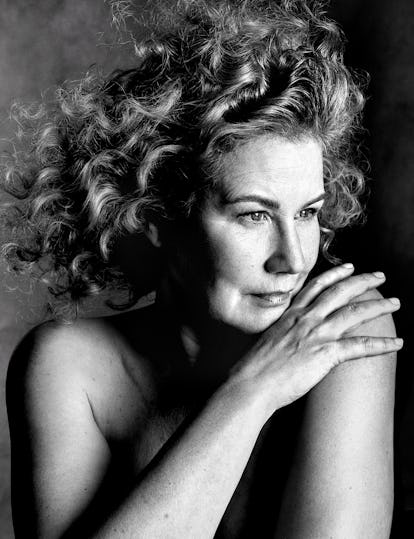 Photographed by Julien Martinez Leclerc, styled by Rae Boxer. Hair by Olivier Schawalder, makeup by Peter Philips.
We may receive a portion of sales if you purchase a product through a link in this article.
When it comes to hair health, one of the most common misconceptions is that you need an abundance of protein to repair tresses damaged by chemical treatments and color changes. (The conversation on whether or not to use protein-rich products on your hair has, in fact, blown up within the beauty space since February, with numerous editors, influencers, and even doctors and scientists weighing in on the topic.) But if you ask most hair experts, they'll tell you—too much of a good thing is right on the money in this case. Overusing protein-laden products such as bond builders and Keratin-rich masks can often be detrimental, leaving your hair rougher, more prone to damage, and unmistakably drab. "Dull hair is a very common condition I see with clients that use bond builders," says the prominent New York City colorist Sharon Dorram. "Over time, these products build up and coat the hair. After shampooing and heat drying, the hair becomes crispy and brittle."
In truth, your hair needs constant hydration more than anything. And, as you very well know, healing your hair takes time. To gain clarity on the protein overload debate, we consulted a handful of the most skilled and revered colorists and stylists on both coasts. Below, they've shared some necessary hair wisdom, along with their go-to picks to keep clients' hair in its most stable and lustrous state—the most hydrating products that help remediate protein overload for hair.
Use an Effective Clarifying Shampoo
Sharon Dorram, Sally Hershberger Salon NYC
"Solving the protein overdose problem that we see often is easy to remedy, but it can take time," Dorram, the veteran colorist who counts Julia Roberts, Reese Witherspoon, and Priyanka Chopra as clients, tells W. "The first step would be to use an excellent clarifying shampoo to remove accumulated protein buildup on hair. My constant, go-to recipe is always to shampoo first with Philip B Peppermint Avocado Shampoo. The hair becomes refreshed and weightless, and over time, the resiliency is restored. It works every time."
A Shampoo to Restore PH Balance for Your Locks
Louis Angelo, Hairstylist, NYC
"When fixing hair that has been damaged from too much protein, it is very important you get the pH levels reset correctly," says Angelo, the beloved New York stylist who has worked with Gisele Bündchen, Catherine Zeta Jones, and Naomi Campbell. "After you use a good clarifying shampoo, you need to balance the hair levels. I instruct the majority of my model clients to wash with Julien Farel Hydrate Restore and then let hair dry naturally—no conditioner necessary! This will provide the right foundation for styling the day after. It takes the guesswork out of vital hair."
Incorporate a Hydrating Daily Shampoo and Conditioner
Nick Flores, Hairstylist at Sally Hershberger Los Angeles
"The Urban Moisture Shampoo and Conditioner from Shu Uemura is a top pick for me, always. And the ingredients are very impressive. It's color safe, gets rid of pollutants from the air that can accumulate throughout the day, and it contains moringa oil, which is a beneficial nutrient for hair health," says Flores, who coifs the manes of Sofia Richie and John Mayer. "More importantly, you can't ever risk oversaturating your hair with too much protein, because none of Shu Uemura's products have protein."
Integrate a Pre-Color Salon Treatment to Remove Protein Buildup
Matt Rez, Colorist, Los Angeles
"I constantly warn my clients not to leave protein masks on past the suggested use time or overuse bond builders, because over time, too much protein can damage the hair," Rez, the color whiz who recently dominated the Met Gala's red carpet with hair looks for Sydney Sweeney, Allison Williams, Rita Ora, and Jared Leto. "I frequently use and love the Malibu C Un-Do-Goo shampoo to remove buildup from my clients' hair pre-color services. Blondes that get dim and dingy color from hard water and chlorine buildup benefit from a round of this shampoo pre- and post-highlighting services. But I would not encourage using the shampoo at home, as it raises the pH of the hair to raise the cuticle for the release of buildup that has partially entered and stained hair over time from shower water. From my experience, if a hair gloss is not used right after the shampoo use, hair is left wide open to receive even more chlorine and hard water minerals than before. If you are looking to use a softer and safer at-home version of Un-Do-Goo, Malibu C Hard Water Wellness Hair Remedy is a great option as well."
Use a Quality Leave-in Conditioner/Heat Protectant
Gregory Russell, Hairstylist, Los Angeles
"You don't need to layer on products during and after your shower to get all these benefits. Keep it simple and smart," says Gregory Russell, the maven often curating flawless hair moments for Lily Collins, Anya Taylor-Joy, and Chloë Grace Moretz. "Instead of doubling up on over-conditioning and using bonding products daily, I recommend paring down your routine so your hair doesn't get weighed down. Pureology's Color Fanatic Multitasking Leave-In Spray is a leave-in, do-it-all product I have been favoring of late. It's not overwhelming for your strands and it's not filled with heavy proteins. It contains a bounty of ingredients that prime, give heat protection, and perfect strands to minimize frizz no matter what kind of weather your hair encounters."
When You Crave Protein, Go for a Gentle, Hydrating, Vegan Mask
Ashley Streicher, Hair Stylist, Los Angeles
"I've never been able to recommend most of the protein, bond-building types of products to my clients, as they simply dry your hair out to the point of breaking over time," says Streicher, the stylist beautifying the manes of Rachel Brosnahan, Sarah Paulson, and Kiernan Shipka. "The chemicals used in most products fill your hair shaft, making it feel somewhat smooth at first. But over time, the buildup of proteins and harsh bonds dry out your hair. The Vegamour Hydr8 Hair Mask uses Karmatin, which is a safe, chemical-free, vegan silk protein that fills your hair shaft with a natural form of Keratin. It's able to smooth your hair and hydrate it from the inside out because of 'adaptive binding,' which I feel is more beneficial for locks. The hydration system is different than other proteins because it breaks into smaller particles and encapsulates them with a thin liposome (fat) layer that is tiny enough to gently fill in the crevices of damaged hair follicles. By the time the liposomes reach the intended destination, the liposomes dissolve, and the vegan protein bonds to the follicle even when rinsing hair—but again, gently."