Kenzo's First Perfume Commercial is a Parody of Every Other Perfume Commerical
Sorry MTV, but the ad for Kenzo World might be the best music video of the year.
---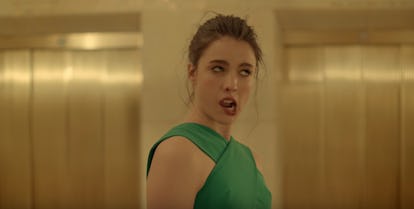 Image via Kenzo
MTV just gave out the awards for the year's best music videos last night, but I'm sorry, Kenzo's newest commercial for its first fragrance might not only be one of the best music videos of the year, but one of the best perfume commericals of all time. The brand, which has achieved a reputation of impeccable hipness under creative directors Carol Lim and Humberto Leon, enlisted director Spike Jonze, Ryan Heffington, the choreographer behind Sia's "Chandelier" video, and actress and dancer Margaret Qualley to create a clip that throws all previously established perfume ad clichés out the window.
The typical fragrance ad ticks off enough stereotype ads to the point that Saturday Night Live regularly parodies the form. There's usually the soft, string music, some sort of barebones plot usually involving a fancy function, and a woman who somehow inserts her uniqueness and independence while also maintaining a classic notion of femininity.
Then there's the ad for Kenzo World.
It starts like your typical smell ad. Qualley, clad in an emerald evening gown, sits at some sort of French award ceremony, but as the camera slowly zooms in, her expressions reveal that something more pressing is on her mind. Is her long last love waiting for her outside? Maybe he might be if this was any other ad.
A forlorn Qualley excuses herself to an empty lobby. She looks around deep in thought, then stares directly at the camera …before getting her fucking freak on.
Yes, it's basically a spiritual sequel to Jonze's video for Fatboy Slim's "Weapon of Choice." You know, the one with Christopher Walken. Qualley manages to out freak Walken though. Along the way she flys through a giant Kenzo eye made out of flowers, has a ballet moment in an empty theater, and also finds time to kill a man.
The song, which you surely have in your head by now, was created especially for the campaign by DJs Sam Spiegel & Ape Drums with vocals by Assassin. It's called "Mutant Brain," which sounds like a fitting name.
Watch W's most popular videos here: