Louis Vuitton's New Fragrance Was Inspired by Juice Cleanses
Inside the launch of Pacific Chill in Malibu with artist Alex Israel and perfumer Jacques Cavallier Belletrud.
---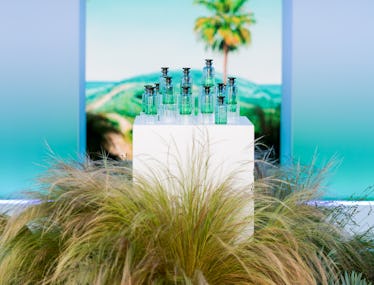 Courtesy of BFA
We may receive a portion of sales if you purchase a product through a link in this article.
On a recent afternoon, Louis Vuitton's master perfumer Jacques Cavallier Belletrud traveled for the very first time to a Los Angeles institution: Erewhon Market. His friend and creative collaborator, the artist Alex Israel, had been trying to convince Belletrud to visit the upscale supermarket chain for the past three years, and finally, the Grasse, France-based nose paid a visit. "I bought several cosmetics products that I used this morning—I haven't seen the effects yet," Belletrud, 61, said. "But the smoothies are very good, I must say. Fantastic."
The perfumer was standing alongside Israel at a private residence in Malibu delivering a speech at the launch event for their brand-new collaboration, a Louis Vuitton cologne perfume called Pacific Chill. The lively fragrance—which swirls with bright notes of carrot, orange, and black currant—is one of four Louis Vuitton scents made by Belletrud and Israel in tandem—Belletrud, of course, handling the potion, while Israel's in charge of the visuals. For the past four years, they've created perfumes inspired by different facets of Los Angeles. But Pacific Chill is the first scent that's a direct reference to the holistic wellness culture that's so central to an L.A. lifestyle.
"We met for breakfast at the Beverly Hills Hotel the morning before we launched our last fragrance, City of Stars, and we were discussing how much we both like green juice, and how great these kinds of things are, which you can access very easily in L.A.," Israel said. "Wellness culture has come to define L.A. to a large extent."
Vuitton's launch event for the fragrance on May 17 celebrated an alt-healthy lifestyle with activities on offer including private reiki sessions, workshops on meditative breathing, and a sound bath, all taking place on the lawn of a modernist home that would make Chrishell Stause say, "Now, isn't this gorgeous?" Miranda Kerr and Jasmine Tookes stopped by to take in the activation, as well as Rihanna's bestie Melissa Forde and the stylist Ade Samuel. A band of influencers took selfies in front of the blue and green bottle, which was nestled among tufts of moss on mirrored pillars.
Melissa Forde and Ade Samuel

Courtesy of BFA
The Pacific Ocean's waves lapped in the distance as I sat down with Belletrud to discuss the fragrance. The packaging is decorated by Israel's painting, based on the memory of his favorite hike in Los Angeles, Paseo Miramar in Pacific Palisades. "This area is inspiring to me," the perfumer said, before going back to that detox smoothie—another source of inspiration. "I was drinking this smoothie every day for four days, and the taste gave me energy in a simple way. I try to live the Los Angeles way of wellness, but I'm French," he added with a sigh and a laugh. (For the record, he quit smoking cigarettes seven years ago). But a holistic lifestyle doesn't stop at eating well and participating in a juice cleanse every now and then, Belletrud is quick to point out. That's another piece of message key to the idea of Pacific Chill: "Maybe it's time to be less extreme and to listen to our bodies, to take care of ourselves and others."