Meet the Makeup Artist Creating Eye-Catching Looks for Valentino Beauty
Karoline Karakeosian shares how to create these two dramatic makeup looks.
Photographs by Brendan Wixted
---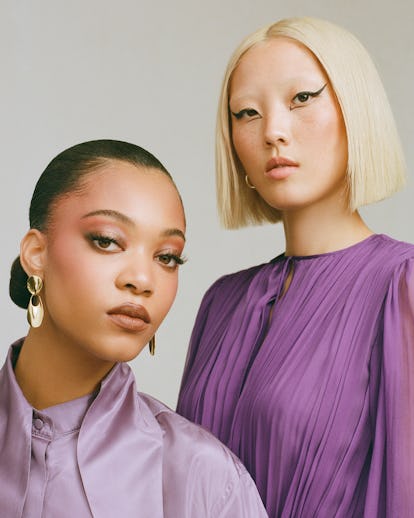 "I've been in the industry for around 12 years now, which is just crazy," Karoline Karakeosian says while holding a fluffy foundation brush. "It's been such an amazing ride so far, and a huge honor to be Valentino Beauty's national pro artist." Karakeosian, who's worked with A-listers like Bella Hadid and Adwoa Aboah — among countless other celebs and creatives — was recruited by the Italian fashion house last August, when they officially debuted Valentino Beauty in the U.S. Previously, Karakeosian had been a pro artist working on everything from runway makeup to high-end editorial shoots. "I did that for six years and loved every minute of it," she recalls. "But when Valentino Beauty reached out it was a no-brainer — they're all about inclusivity and I just love their aesthetic. They're very my aesthetic. So I knew I could represent the brand well."
Here, Karakeosian walks us through two striking looks she created with the brand's signature aesthetic serving as her main inspiration.
Haejin Lee wears the Valentino short sand crepe dress in bright pink and Valentino earrings.
Graphic Eyes & Glowing Skin
"Valentino Beauty's aesthetic is all about either a gorgeous draped look or a graphic eye, and today I wanted to showcase both," says Karakeosian as she mixes together the brand's Very Valentino 24 Hour Wear Liquid Foundation and V-Lighter Face Base Primer & Highlighter in Rosa on the back of her hand. "I want to highlight her beautiful freckles so I'm mixing a drop of foundation into the V-Lighter to make it more of a sheer and glowy tinted moisturizer."
When creating the abstract liner look, Karakeosian says she was further inspired by the model's structured haircut and bleached brow. "I always come in with an idea but then once I get to look at the model's features, I really allow them to inspire me as to what I'm going to do next." Her pro tip for getting a super-elevated wing? Sketching the shape first with the brand's Brow Trio Eyebrow Liner before going in with the Twin Liner Eyeliner. "I draw it out with the pencil and take a step back to make sure it's what I want, then I go in with the liner on top." She also recommends taking a step back to look at your liner as you go along to ensure your wings turn out symmetrical. To finish the eyes, Karakeosian added an additional inverted wing with negative space on the inner corners of the model's eyes before swiping on a few coats of the brand's Magnificent Mascara.
To balance out the look and keep it feeling very modern, Karakeosian opted for a neutral lip using shade #123R Falling For Nude from the brand's new nude lipstick collection. "I really want to show the range of nudes we have for different complexions," she says. As a final touch, Karakeosian applied the Eye2Cheek Blush & Eyeshadow in shades #11 Fairy Night and #4 Sweet Rebel for a luminous bronzy glow.
Alex Sumpter wears the Valentino diagonal stretch crepe blazer in basil green and Valentino earrings.
Draped Blush & Deep Nude Lips
"Valentino is also known for a gorgeous draped look where it starts on the eye and has this beautiful blown out blush," says Karakeosian as she applies the Eye2Cheek Blush & Eyeshadow. "It creates this beautiful lift to the cheek, so that's what we're doing here but I'm going to make it a little more glam and extra." Karakeosian explains that she loves to use multiple colors to create dimension on the skin. Today it's shades #10 Fuchsia Illusion, a shimmering fuchsia pigment, and #11 Fairy Night, a bronzy plum hue.
When it comes to creating the draped effect, Karakeosian says you always want to start with the eye first and then blend upwards and down. "Use a fluffy crease brush to sweep the pigment on the lid, then blend upwards into the temple and back down to the cheek," she explains of her technique.
Going for a "more is more" kind of vibe, Karakeosian pairs the bold blush with a deep nude lip and a sultry brown smoky eye using the brand's Color-Flip Eyeshadow Palette. "I'm doing an intense dark nude so we're using shade #199A Deep Nude, which is the perfect brown shade," she says. To complete the eyes, Karakeosian uses a blend of gold, black, and brown shades for a gorgeous smoked-out effect all over her lid, as well as on her top and bottom lash lines.
Last but not least: brows. "I wanted a beautiful fluffy brow to go with this look," says Karakeosian. "What I love about Brow Trio is that it's triple ended so you have everything in one — and the liquid liner side is perfect for creating hair-like strokes to give the brow a very three-dimensional look. Especially now that the fluffy brow look is really trending, the pen side is amazing for creating that natural lived-in feel."
Get inspired by Karakeosian's work and create your own version of the Valentino aesthetic.