Peter Philips on Makeup's Metamorphic Power
For the creative and image director of Dior Makeup, beauty is more than skin deep.
Makeup by Peter Philips
Photographs by Julien Martinez Leclerc
Styled by Rae Boxer
Hair by Olivier Schawalder
---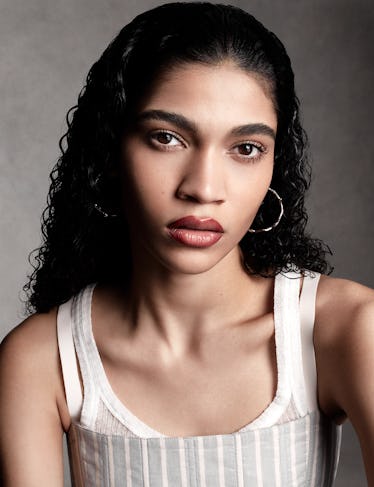 Raynara Negrine wears a Dior corset and top; Dior Fine Jewelry earrings.
"You build relationships behind the scenes," says makeup artist Peter Philips, who created the beauty looks for this story on some of his favorite models, past and present. The set had a class-reunion kind of vibe, as longtime collaborators like Malgosia Bela ("I've been a huge fan for years—she just doesn't change"), Inge Geurts, and Delfine Bafort (whom he met at a model contest in his native Belgium 25 years ago) mingled with newer faces.
"They're all really inspiring to me," says Philips. "I love the maturity of the older women—they've had children, they've had relationships, they've had breakups; there's a whole life lived in their faces," he says. "Yet they still have this unique beauty in front of the camera."
Philips kept makeup to a bare minimum in some shots, like the one of veteran model Christine Bergström, whose features he simply enhanced with "a little bit of eye shadow, a touch of mascara, and a nice glow on the cheeks." But when it came to Sharon Aléxie, Philips (a self-described " '80s and '90s kid") used a liberal application of vivid red Rouge Dior lipstick and precise black eyeliner to morph the French artist into a dead ringer for the singer Sade. "You can do anything with makeup," says Philips. "You can enhance, you can transform, you can cover up, and when you combine it with good photography and good lighting, well, it's a party."
Which is not to say every shoot is all glitter and rainbows. "It's a very intimate job," says Philips. "You touch people's faces, and you see them at their most vulnerable—without makeup, without lighting—and they trust you to make them look strong, or gorgeous or sexy, even when they may not be feeling that way. It's up to you, your skills, and your words to give them the confidence to make it through." And what happens when Philips is the one having an off day on set? "It works both ways," he says. "We lift each other up. That is what creates a bond."
Sharon Aléxie wears an Alaïa bodysuit.
Delfine Bafort wears a Dior jacket.
Kayako Higuchi wears a Patricia Von Musulin bracelet.
Inge Geurts wears a Dior glove.
Steinberg wears a vintage Yohji Yamamoto balaclava from 20Age Archive, Paris. Dior Makeup throughout.
Makeup by Peter Philips for Dior Makeup; manicure by Nelly Ferreira at Majeure Prod. Casting by Michelle Lee at Michelle Lee Casting. Set design by Justine Ponthieux at CLM.
Models: Christine Bergstrom, Delfine Bafort at Noah Management; Inge Geurts at Hakim Model Management; Kayako Higuchi at the Society Management; Malgosia Bela at DNA Model Management; Marie Fofana at Next Model Management; Raynara Negrine at Industry NY; Sharon Aléxie at Next Model Management; Steinberg at Lions Management. Produced by Farago Projects; photo assistants: Clement Dauvent, Adrien Turlais; digital technician: Mitko; fashion assistants: Marie Poulmarch, Agnès Vadi; hair assistants: Damien Lacoussade, Aude Andre Gbazi; makeup assistants: Julie Camus, Delphine Delain, Yazid Mallek; set design assistant: Anne Camille Allueva.