Summer Lovin
It's all about ease this time of year. Here, a spate of new products to simplify and refine your beauty routine.
---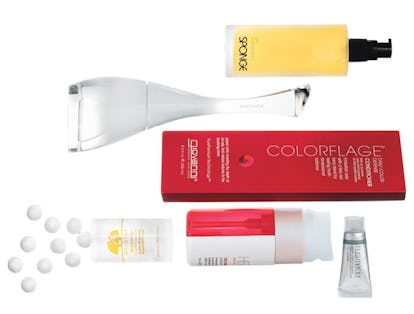 1) Into the Wild "Calendula, sage, olive leaf and thyme" doesn't have quite the same ring as the Simon and Garfunkel classic, but this quartet of Greek-grown botanicals infuses Sponge Skincare Gel Katharistiko cleanser with antiseptic and antioxidant properties. $30; at Barneys New York.
2) Stay a While Faux towheads and pseudo-brunettes can preserve their color in a natural way with Giovanni Cosmetics Colorflage organic shampoos and conditioners. The five-shade range includes Perfectly Platinum, which keeps platinum blond and gray hair from fading with white raspberry extract, and Remarkably Red, which nourishes and intensifies flame-hued manes with goji berry, pomegranate and cranberry extracts. $8.99 each; giovannicosmetics.com
3) A Cut Above Nothing's tougher than re-creating just-left-the-salon hair. But it's worth a shot now that HerCut has developed Catalyst, a line of styling products that help hair achieve its desired shape. The Bob, for example, uses weighted molecules to push ends forward, maintaining a clean, geometric look, while the positively charged molecules in The Blunt attract strands to one another, creating a solid shape. $22; hercut.com
4) Not-So-Tricky Teal Laura Mercier Satinée Crème Eye Colour in Teal Cashmere is the chameleon of cream shadows. Worn in one sheer layer, it's a subtle veil of green, blue and gray. As an opaque base, it imparts a moodier, rock 'n' roll vibe. $22; lauramercier.com
5) Chew Toy Aromatherapy zen and candy-store cute come together in the form of grown-up gumballs from Origins. The minty Peace of Mind is already a hit; now the eco-friendly company is debuting Gloomaway, a grapefruit-infused gum, which has a sophisticated taste and a lofty claim: "immediate happiness." $5; origins.com
6) Love Is in the Air KenzoAmour Eau de Toilette Florale smells as dreamy as it looks. At first spritz, the sweet-yet-fresh notes of grapefruit and black currant dominate, but as the fragrance lingers on skin, feminine white blooms—frangipani blossom, gardenia and rosebud—emerge. $75; at Bloomingdale's.
PAGE 2