Sydney Sweeney Is an Ice Rolling Enthusiast
The actress on taking beauty cues from her character Cassie on Euphoria and the skincare product that left her "shook."
---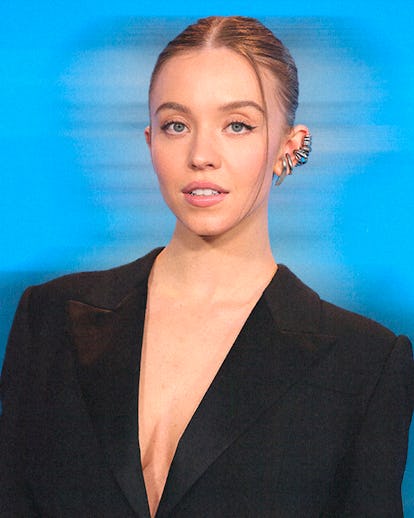 Photo by Getty; image treatment by Ashley Peña
In season two of the HBO Max hit series Euphoria, Cassie—the blonde, romantic-at-heart teenage bombshell played by actress Sydney Sweeney—wakes up at 4 o'clock in the morning every day to shower, scrub, massage her face and décolleté, lather herself in lotion, shave every surface inch of her body, and moisturize to high heaven. The visual montage of Cassie intensely applying makeup to her face in the show, of course, demonstrates her dedication to loving Nate Jacobs (Jacob Elordi). But it couldn't be further from the Spokane, Washington native's real-life morning skincare routine. Sweeney—who is currently in Australia filming an "untitled rom-com for Sony with Glen Powell," as she tells me over Zoom—logs on for this interview at 6 AM local time, but she still looks fresh-faced as ever. She credits her good skin to the cult favorite beauty brand Laneige, which has tapped her to be the face of its new Hydration Deep Dive campaign for its Water Bank products.
Sweeney herself keeps her approach to skincare minimal and filled with hydration, citing the Water Bank hyaluronic acid and eye creams as two of her favorite go-tos (along with, of course, Laneige's beloved lip mask). Moisturizing and drinking tons of water is key, she says, especially at her current post Down Under. ("It's been a blast," she says of filming in Australia. "We're almost to week two and I feel like I'm in summer camp with the greatest people. I don't want to to leave.") Below, the 25-year-old discusses her approach to a work-life balance, the importance of de-puffing her face, and her new favorite Laneige product since partnering with the label.
How did the Laneige partnership come into your life?
I have such sensitive skin, so I knew something in the skincare space was going to be important to me in terms of representing a brand. I started off being a huge fan of the Laneige Lip Sleeping Masks—as most people can attest, it's the best. When the brand approached me, I told them that I already use some of their products. Then I was like, well, let me try all of your products...because I want to make sure that I'm being as authentic to my fans and myself as possible. And I kid you not, after a good week or two of using the Laneige Water Bank Cream Moisturizer, my skin had never been clearer, never been softer. I was absolutely amazed and shook.
I was going to ask if you were a fan of Laneige's hero products before linking with them, but it sounds like you were.
I was a huge fan—and I just started using their sunscreen. It is so incredible. The UV index in Australia is insane, but I was the only cast member who didn't get burnt. Everyone's like, what sunscreen did you use?!
What is the first thing that you do in the morning, beauty-wise?
I usually rinse my face off with cold water, and then I go through my skincare routine.
What does that entail?
I always put on the Water Bank Blue Hyaluronic Serum, and then I'll put on the Cream Moisturizer. I use the eye cream morning and night; I think that's really important to do. I also put eye gels on, over the eye cream, to let it soak in. Then, I ice roll my face to depuff it. And usually, I'm ice rolling all the way to work. Oh, and I finish with sunscreen. Don't forget sunscreen after an ice roll session—very important.
The eye cream with the eye patches on top hack is really smart.
Oh, it's my favorite. I also travel around with the Laneige Cream Mist, which is a really nice refresher at any time of day.
What is your favorite form of self-care?
Honestly, the ice rolling has become a good moment for me. I definitely portrayed ice rolling in a crazy moment for Cassie on Euphoria, but for me, it's very relaxing. It just wakes me up and gets me ready for the day. It also gives me a moment for myself. So it's a staple of my routine.
What's one piece of great beauty advice that you've received and kept with you?
To drink water. I don't know who told me, but I really believe in it, because I've always struggled with bad cystic acne. I notice the more water I drink and the cleaner I eat, my skin is always thanking me for it.
I read this cover story you did with the Hollywood Reporter back in 2022—in it, you said your favorite drink is water.
It is. I love and only drink water. I grew up on the water, on a lake. I am filming by the ocean right now, and I'm in heaven.
Do you have any dietary restrictions?
No [laughs]. I'm on a see-food diet. I see food and I eat it.
I also wanted to ask you about another bit from that same cover story. In it, you said you were getting panic attacks after you experienced a punishing schedule that became stressful. Do you feel that you've learned how to handle an intense amount of responsibilities after those panic attacks got under control?
I was making a joke. Well, I wasn't joking, but I was [riffing]. [The reporter and I] were having a conversation about how stressful and how busy I was. She was like, Are you having panic attacks? And I was like, Uh, yeah! I mean, panic attacks, I haven't slept! And then the quote [in the article] was, "I don't sleep." But no, I love work so much. This is what I've worked so hard to do, and for so long. Learning how to balance everything that I do, however, has been a thing.
How do you find that balance?
I make sure that I have time for myself. And usually, it's with my dog, Tank. A good morning walk, or even a night walk with your dog, really helps settle the mind. I've been missing my dog a lot lately, because I don't have Tank with me.
Do you have a beauty icon?
I love Bridget Bardot. She is such a classic beauty. I take inspiration from her looks all the time.
What is your go-to makeup look for a night out?
I love a good smokey liner. I always tend to go more on the minimalist, simple side of things; I'll just do concealer and blush—which I love—and a little contour. But smokey eyeliner is always my go-to.
What is one beauty treatment you're curious to try?
I need to get facials more often. I love them, but I just don't have time. So many people get facials on a regular basis; I usually get them in between projects. I need more of a routine for that.
What is the last thing that you do before you go to bed, beauty-wise?
I put the Laneige sleeping mask on.
Is there a beauty trend that you participated in when you were younger that you look back on now and think, oh my god, what was I thinking?
At one time, I was using Vaseline for, like, everything. When I was younger, my mom told me it was good to take my makeup off with it, and then someone else told me that it made my eyelashes and my eyebrows grow. I totally believed them. I think I even did a video tutorial once where I was using Vaseline as a moisturizer on my face. And even while I was doing it I was thinking to myself, why am I doing this? Why am I using this?
But now Vaseline is coming back. On TikTok, people use it for slugging.
They are, but I don't know—Laneige, guys, really turned my life around! No more Vaseline.