The Best Skincare Products to Use During Menopause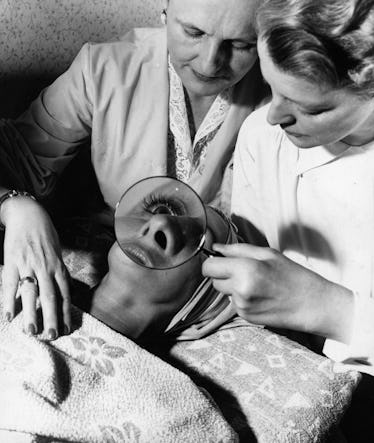 Photo by Hulton Archive via Getty Images
When you're young, your body produces a wealth of collagen, the skin-supporting protein that keeps your faces plump, hydrated, and unlined. However, hormonal shifts converge during menopause to dramatically reduce collagen supplies.
Menopause is technically defined as the one-year anniversary of not having your period. "It lasts just one day. Every day after is called post-menopause," explains Rebecca Dunsmoor-Su, MD, the medical director for menopause at the Swedish Medical Center in Seattle and the chief medical officer at Gennev, a digital health platform. On the other hand, perimenopause, menopause's precursor, typically starts in a woman's 40s and can last up to 7-10 years. During this stage, your ovaries gradually start making less estrogen overall, but your hormone levels can fluctuate dramatically from month-to-month, resulting in irregular periods, hot flashes, or brain fog.
Estrogen is critical in maintaining healthy, radiant youthful-looking skin, and as we age it naturally declines. With this fluctuation comes real physiological skin changes: loss of collagen, elasticity, radiance, and excessive dryness—which in turn, lead to mottling, wrinkling, sagging, and thinning of the skin. Around the age of 40, women start to lose about 2 percent of their collagen, elastin, and natural hyaluronic acid production annually. Some women experience dryness and oiliness of the skin simultaneously during perimenopause, while others battle acne, dullness, and age spots.
Recently, a slew of new beauty brands, including Womaness, Caire, and SeeMe Beauty, have come on the market to specifically address a suite of menopausal skincare issues for women in the over-40 set, an underserved group in the beauty industry. Below, we've compiled 10 skincare products that'll best serve estrogen-deficient skin during every stage of its menopausal journey, whether it's peri, meno, or post.