The Must-Have Summer Products From Black-Owned Beauty Brands
On the official "Self-Care Day," consider shopping essential products from Hyper Skin, Yubi, Epi.Logic, and other top Black-owned beauty brands.
---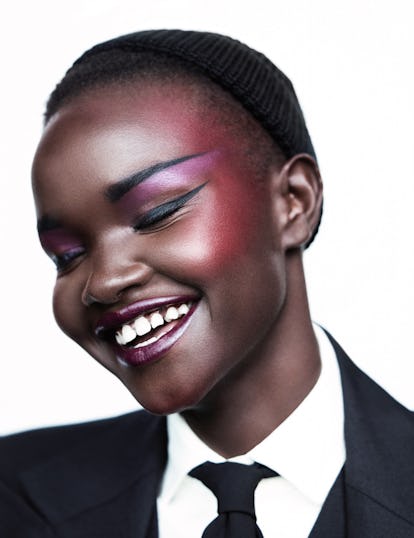 July 24th has officially been designated "Self-Care Day"—and although you might be inclined to snicker at such a twee, made-up festivity, this may be one holiday we should take time to truly mull over this year. Given the social challenges that continue to test us globally and individually, looking internally to better ourselves and our communities doesn't hurt, especially now.
It's clear that the worlds of self-care and wellness are tied up in a person's social, racial, and economic standings. So notable beauty brands and businesses have stepped up to ensure inclusion and diversity within their organizations and for their clients. New York City retail beauty space Knockout Beauty's founder Cayli Cavaco is one of them—her business has expanded the products it stocks to include more Black-owned brands. "It has been proven that diversity in a population makes us more creative and more innovative, so I have always sought a diverse community of clients," Cavaco said. "Expanding to include more black founders is a natural, yet intentional, extension of our mission." In an ongoing effort to provide much-needed visibility and inclusion, we have profiled below some of the most standout, exceptional beauty products essential for this summer from our favorite Black-owned beauty entrepreneurs—all of which are available at Knockout. Treat yourself on this day of "self-care," which, in 2020, should include a healthy dose of introspection.
Klur
This lightweight, daily moisturizing cleanser from beauty veteran Lesley Thornton's skin care line Klur is a favorite among beauty junkies for its non-greasy formulation, which effectively removes makeup while not stripping your skin of essential oils. Dandelion is the star ingredient here, which acts as a regenerative healing component for skin while maintaining an essential moisture balance on the surface.
Epi.Logic
Brooklyn's most in-demand oculofacial plastic surgeon, Dr. Chaneve Jeanniton, spent four years researching the perfect scientific formulation to create this powerful collagen-boosting growth factor serum. The peptide serum uses cultivated growth factors from human adipose (fat) cells, which are then sorted to ensure the highest-quality growth factors to promote glowing, plump skin as well as lactic acid to help gently refine the surface.
Hyper Skin
Hyper Skin was formulated as a skin savior specifically for women who suffer from acne scarring, melasma or sun-damaged skin. Founder and beauty industry alumni Desiree Verdejo created Hyper Skin out of a skin care necessity—she often came into contact with high-end beauty products that failed to address skin issues that persist during hormonal shifts. The Hyper Clear Vitamin C Serum uses gentle but high-grade, effective ingredients such as kojic acid, turmeric and Bearberry.
Adiya Dixon Wiggins
The brainchild invention of Yale scholar Adiya Dixon Wiggins, Yubi is the intelligently designed, grip-less makeup applicator created not just to provide the convenience of time with its handheld fingertip application, but an end to streaks and unblended makeup fiascos. Another plus: the vegan bristles help reduce bacterial growth or product absorption to provide clean beauty with each application.
Bossy Cosmetics
A legit last -all-day lipstick. Leave it to Harvard Business grad and Stanford Fellow, Aishetu Fatima Dozie, to create a calculated lipstick formulation that is applied initially as a liquid, then turns matte but still manages to stay on creamy—all day. Just launched from this vegan, cruelty-free liquid lipstick line is also the Power Woman Essentials colors named for the five essential attributes that embody powerful women: wisdom, faith, courage, bravery, and of course, hustle.
Lauren Napier
These on-the-go makeup wipes created by former Hollywood makeup artist Lauren Napier are individually packaged. Each satchel gently removes summer grime accumulated on skin's impurities with no filmy residue left behind. Aside from containing soothing aloe and chamomile, Napier's line is rich with good karma: all wipes are ethically manufactured under solar energy, recyclable, cruelty free and Napier has partnered with the Foundation for the Handicapped, employing disadvantaged and disabled adults for her products.
Dr. Rosemary Ingleton
An ideal solution to treat skin blemishes, especially during summer when skin tends to be oilier and clogged. Rose MD Blemish Control Booster helps control skin inflammation and breakouts with two main anti-inflammatory ingredients, niacinamide and turmeric. This treatment also uses gentle fruit acids (malic acid, lactic acid and citric acid) to help exfoliate and unclog the pores.
Related: Essential Summer Hair Treatments Prescribed by Celebrity Hair Experts