Adele's Grammys Tribute to George Michael Almost Included Beyoncé and Rihanna
The performance could have been very different.
---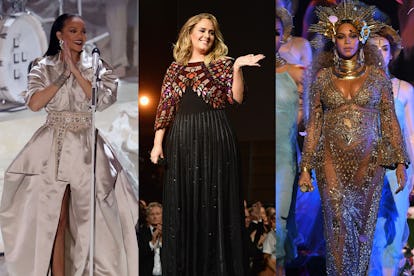 Composite. Getty Images
Adele's performance in honor of the late, legendary George Michael at the 2017 Grammy Awards was a showstopper in all senses, but the tribute came close to turning out rather differently with the addition of a few more pop stars.
In an interview with The Hollywood Reporter, Grammys producer Ken Ehrlich revealed that Michael's longtime manager Michael Lippman had a vision for the project that included a medley of the late singer's hits, including "Freedom" and "One More Try," sung by a slew of stars including Adele, Rihanna, Beyoncé and Grammys 2017 host James Corden. As plans for the show began to form, however, Ehrlich said the "Hello" singer, who's a major fan of Michael, was entrusted with anchoring the tribute on her own because of "how passionate Adele was," he added, "and that she had a vision for what she wanted to do with it."
And so, Beyoncé individually wowed us with a performance verging on a religious experience and Rihanna sipped on a bejeweled flask from the front row, while Adele took on the tribute to Michael, a somber, orchestral rendition of his 1996 hit "Fastlove," as a chill-inducing solo—after overcoming a minor hiccup at the start in which she abruptly stopped singing, swore and asked to start over.
"I was devastated by that, and my rehearsal—I did have a shaky rehearsal today," she told reporters afterward. "But I have been working very hard on this tribute for him, every day."
Of course, Adele didn't have such a bad night. The singer managed to pick up five Grammys at the ceremony, though she did use her acceptance speech for Song of the Year to apologize for the flub during the tribute.
"I really do apologize for swearing," Adele said. "George Michael, I love him. He means a lot to me, so I'm really sorry if I offended anyone anywhere."
Kaia and Presley Gerber are ready to "work, work, work, work":