At 85, Agnes Gund Isn't Finished Transforming Philanthropy in Art
Long known as one of the art world's most impactful philanthropists, Gund is shifting her focus from mass incarceration to reproductive rights.
---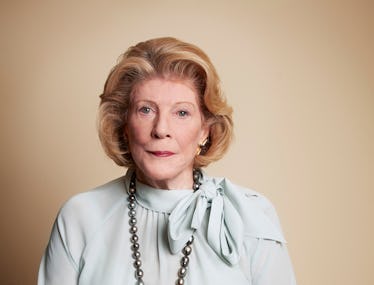 Photograph by John Edmonds
"Well, I just sold another Lichtenstein," Agnes Gund told me earlier this week. Out of her mouth—and maybe only hers—this does not sound like blue-chip art-flipper braggadocio. The millions that the 85-year-old philanthropist and art collector recently earned from her sale of Mirror #5 were in her possession only momentarily: Spurred by the Supreme Court's Dobbs decision, she sent them straight to Groundswell, a national network of advocacy groups, and lobbying efforts for Michigan's Reproductive Freedom for All ballot measure. As for the whopping $100 million Gund earned by parting ways with her all-time favorite work in the collection she's built up since the late '60s, Lichtenstein's Masterpiece? They went to launching the Art for Justice Fund, a time-limited, grant-making group with the aim of using art as a means to end mass incarceration. Six years after the New York Times covered the news under the headline "Is Agnes Gund the Last Good Rich Person?," many would argue that the answer is yes.
Case in point: the hundreds of artists, donors, and activists who praised Gund all throughout Tuesday night's opening of "No Justice Without Love" at the Ford Foundation Gallery, which heralds the nearing end of Art for Justice (or A4J)'s six-year run. Never mind the reminder that its founder issued in two separate speeches: "I don't like this kind of attention, as you know." She instead prefers to focus on those "doing the work"—meaning putting the money that A4J has raised on the ground—like Daisy Desrosiers, director and chief curator of Kenyon College's Gund Gallery (named after Agnes's brother, Graham), who ensured A4J's swan song would encapsulate the group by curating artists from its community. See: Faith Ringgold, whose decision to move her Rikers Island mural to the Brooklyn Museum hinged upon A4J's commitment to replace it; and Mary Enoch Elizabeth Baxter, who became a grantee after A4J discovered her film inspired by the 43 hours she spent shackled while in labor at a Philadelphia prison.
A4J has funded at least a dozen shows over the years. (For one of its most notable, "Marking Time: Art in the Age of Mass Incarceration" at MoMA PS1, the New Yorker wrote that it was "hard to imagine a more essential exhibition.") But the bulk of A4J's work has been concerned with policy. One of its grantees played a key role in restoring voting rights to previously incarcerated Floridians; another abolished cash bail and post-conviction fees in New Orleans, Houston, and St. Louis. Altogether, the fund will have allocated more than $125 million to artists and groups aligned with its mission when its time comes to an end on June 30, the same date that "No Justice Without Love" closes at its longtime partner, the Ford Foundation.
Why sunset A4J when it's managed to accomplish so much amid such fraught years? For one, A4J is out of money; in fact, the end was supposed to come a year ago, before the philanthropist MacKenzie Scott and the artist Julie Mehretu came through (the latter by taking Gund's lead and selling one of her works for $6.5 million). But A4J's relatively short lifespan is also directly tied to its success. A time-limited fund offers an urgency that can be rare in the realm of traditional philanthropy, notes A4J's project director Helena Huang. "Many of the issues that philanthropy takes on are long-term, but we think there is real value in declaring that you are going to be catalytic and moving money quickly," she says. "You could sit and think and think, but—as Agnes always reminds us—it makes no sense to be sitting around when people are suffering."
Besides, the end of A4J is only technical. The point is that it has built up an enduring community—one that includes, for example, its codesigner Elizabeth Alexander, who just pledged $125 million to an A4J-like initiative named Imagining Freedom through her role as president of the Mellon Foundation. From the start, Gund's goal was for everyone in the A4J network to continue working with each other—to stick to a system Huang refers to as "allied donor practices." "She was like, I don't want to parse the money out a little at a time or create an endowment or big infrastructure—let's throw down now," Huang recalls of Gund's original vision. "Let's leverage the Ford Foundation and Rockefeller Philanthropy Advisors, let's have a handful of staff move $100 million to the people who are doing the work—and above all, let's do it quickly."
Disheartening as it is to see what may be the most effective art-world philanthropy efforts go, the future—including Gund's next chapter—gives Huang hope. "There are absolutely individuals and organizations that have been leaning in, being curious about what we call the 'A4J secret sauce,'" she says. And for the foreseeable future, they can continue modeling right off Gund, who shows no signs of slowing down at 85—even though she's "afraid that's about it" in terms of salable artworks in her collection. Still, A4J isn't "nearly" finished; she speaks of Rikers Island's continued existence as if it were a personal failure. And yet, rest assured, Gund hasn't forgotten about what's now her most pressing focus, reproductive rights—as well as what she hopes to be her next, gun control.