Aisling Franciosi Isn't Trying to Recreate an Iconic Performance in Black Narcissus
Aisling Franciosi talks about the catharsis of acting, tapping into the mind of a religious zealot, and why FX's Black Narcissus isn't simply a remake of the 1947 film.
---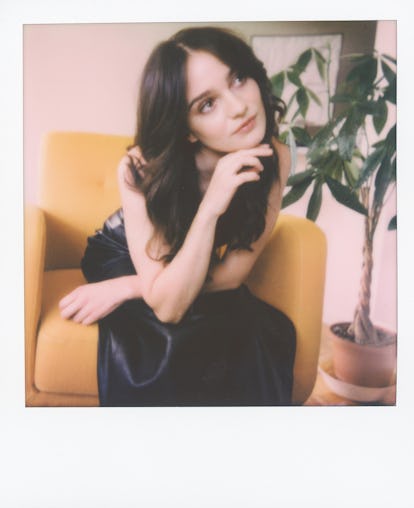 Aisling Franciosi, photographs courtesy of Olivia McDowell, with styling courtesy of Rebecca Corbin-Murray, hair by Clara Leonard and makeup by Cyndle Komarovski. Special thanks to Polaroid.
The Dublin-born actress Aisling Franciosi experienced a unique kind of catharsis while working on one of her breakout roles as Clare Carroll in The Nightingale in 2018. Getting into character—an Irish prisoner in colonial Tasmania who embarks on a journey through the wilderness to seek revenge on her rapist—required a release of anger, sadness, and pain.
"When I try to do psychoanalysis on myself it's always a bad idea," she joked recently during a phone call from her apartment. "But I came up with the notion that I was a real Goody Two-shoes, and I'm not amazing at dealing with negative emotions."
Still, working out those feelings through a performance ended up serving the actress immensely when she took on the incredibly tough material featured in Jennifer Kent's thriller. Her stunning performance in The Nightingale was regarded by critics as gutting and evocative of a very dark realism. "I found it really hard to turn the tap off after, which was my first experience of that happening," she said, adding that she's only seen the film three times and doesn't have any plans to revisit it just yet. "I finished the movie, and that's one of the things I'm proudest of in my career so far."
Next, the 27-year-old actress will star in a new miniseries adaptation of Black Narcissus, based on Rumer Godden's 1939 novel of the same name, premiering this month on FX. Fans of the title may already know it from the 1947 film, which followed an order of Anglican nuns on a mission trip to bring some piety to a palace in the Himalayas that was a former hotbed of hedonism.
There are clear threads that exist between Franciosi's work: whether that be as Lyanna Stark on Game of Thrones, Clare Carroll in The Nightingale, or most recently, Sister Ruth in Black Narcissus. They often run along the idea of allegiance to a clan, a country, or even a higher power. "I've always been fascinated by people who give up their lives to religion, to an extreme," Franciosi said about the decision to take on the role of Sister Ruth. "Not only are you devoting your life to god, but you're also erasing any things that make you you."
Sister Ruth is one of the young nuns in the order who may not be suited for the role, but remains determined to follow through on her tasks perfectly nonetheless. "Sister Ruth is one of those people who really struggles, as I think I would, with this whole idea," Franciosi added. "It's not made clear in the book—I came up with my own backstory—but certainly in Ireland and in the U.K., young women were forced or pressured into becoming nuns against their wills. I feel sorry for her because I think it's clear she's not the kind of person who should be in a convent."
The actress also noted, based on her reading of the novel, that Sister Ruth is not well from the beginning of the story. It only helped her further understand the character's eventual descent into madness and despair, and why a young nun, who so clearly should not be one, would be driven mad by all of the rule-following that might erase any facet of her personality that had nothing to do with her devotion to prayer.
Franciosi used that angle to tackle this portrayal of the character originated on screen by Kathleen Byron over 70 years ago. In the Oscar-winning film directed by Michael Powell and Emeric Pressburger, Sister Ruth is a very jealous woman, vying for the attention of Mr. Dean, the Englishman who helps keep up the palace and stirs up the repressed sexuality of Sister Ruth and Sister Clodagh (played by Deborah Kerr in the film and by Gemma Arterton in the FX series). Franciosi aimed to bring a new dimension of loneliness and frenzy to the character. "I felt there was a different way she could be played," Francioisi said. "I don't see the point in trying to recreate an iconic performance. In the book, if you take down all the descriptions of how she behaves, and what she does and says, I think it kind of reads like someone who is suffering from paranoid schizophrenia or something similar. I thought it would be interesting to come from a place of wanting to show that she is someone who is suffering, rather than just someone who is crazy."
Of course, any audience members who have seen Powell and Pressburger's work will have intense thoughts on a remake of a classic film and novel, but Franciosi tried to push that idea out of her mind before she even began filming this new adaptation. "I would never try and redo what Kathleen Byron did," Francioisi said of the actress who played Sister Ruth in the original film. "You always want to be respectful of something. I know that Kathleen Byron is iconic in that role, and I was trying to reassure myself that it was okay to look at a different side of something, or to bring a story to an audience that hasn't seen it or read the novel."
"It's funny how some films and adaptations get negative reactions and some don't. Some things are just another interpretation. Like, how many Romeo and Juliets have we had? Or Bond? Or Agathie Christie? There are so many stories that have been recreated or retold over and over, and I think it's something to do with the permanence of a film that has seen massive kudos and is so respected and loved—I think maybe it's something to do with that that people don't want it to be touched," she went on. "But it's not the film that we're touching, if anything it's great if it brings attention to the original film because we're taking an adaptation of the Rumer Godden's novel, not the original film. We're not trying to take over the original film's spot and do something different."
However, there is one "glaringly obvious" difference between the FX series and original film, Franciosi said, separating this adaptation from an element of the film that could be described as deeply problematic. "Thankfully, we don't have white actors playing Nepalese people," she explained. "We hired a lot of local actors and we had Nepalese production involved as well. The BBC went out of their way to find actors who are Nepalese or have Nepalese heritage," she said, noting that there was always a Nepalese advisor on set, whether it was while the cast filmed scenes in Nepal or back in the U.K. "It was important for us to show the culture accurately and with respect."
Part of what this new adaptation of Black Narcissus attempts to accomplish is to address the imperialist transgressions of this particular Anglican order of nuns and the British empire in South Asia. "The story is about nuns, but it's also about how things do not end well if you try and impose this Western superiority, whether it be religious or ethnic," Franciosi said. "Even Mr. Dean in the story says that we shouldn't be there, and it speaks to this idea of how the Western white Christians have been wrongly seen as superior, and it's part of this conversation that obviously hasn't only just started, but is at the forefront of a lot of conversations now, so I think it resonates in that way."
Franciosi's work has taken her from the coast of Australia to the mountains of Nepal (and most recently Vancouver, where she wrapped a forthcoming Netflix feature with Sandra Bullock and Viola Davis) but back in New York, the actress is reflecting on her next moves. "I'm so in love with acting that it took me by surprise," she reiterated. "When I was younger I was obsessed with Chicago, the movie, and I would love to do something like that. I would love to do comedy or something whimsical—but if the material that comes my way is really well-written, if it happens to be dark, then so be it."