Call Her Daddy Host Alex Cooper Shares All the Details of Her Engagement
The star podcaster opens up about her "Mr. Sexy Zoom Man" and shares exclusive photos of their engagement.
---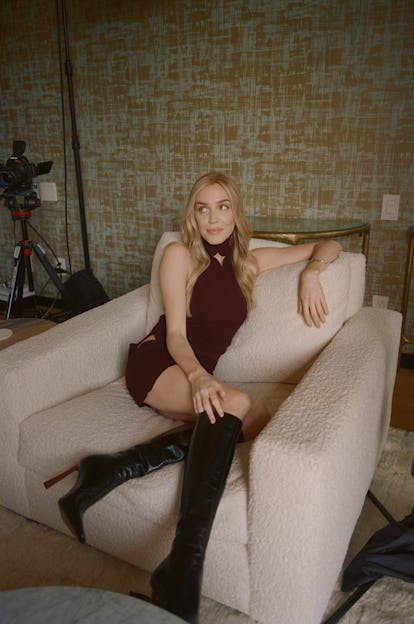 Davis Bates
Since rising to fame as the host of the Call Her Daddy podcast in 2018, 28-year-old Alex Cooper has proven that no topic is too personal for her audience of millions. Cooper has brought her audience, affectionately known as the Daddy Gang, along for the ride as she candidly revealed the romantic ups and downs of dating in her twenties and all the mess that being a young woman entails. Her celebrity guests, frank relatability, and intimate relationship with her audience are at least in part what landed her a famous $60 million Spotify deal in 2021. Since moving to the platform, she's consistently ranked as the second most-listened-to podcast on the streamer, occasionally beating out her top competition (The Joe Rogan Experience) for the number-one spot.
But as forthright as Cooper has always been, she has kept a few things for herself. The biggest thing perhaps being her relationship with her now-fiancé, Matt Kaplan. In 2020, she met Kaplan, who is the CEO of Ace Entertainment and most recently produced the wildly successful To All the Boys film series, on a Zoom business call, and the two quickly started dating. Referring to the 39-year-old only by his codename, Mr. Sexy Zoom Man, on the pod, Cooper discussed their relationship in broad terms that left fans guessing as to his actual identity. Now, the two are engaged, and Cooper is opening up about their love story.
Speaking to W over Zoom, Cooper held up her massive, vintage 1920s oval cut diamond ring to the camera as she discussed the details of Kaplan's proposal, which took place at their shared home in Los Angeles on March 3, and how she eventually came around to the idea of marriage.
Did you have any idea an engagement was coming?
Matt and I had talked about having kids together, but I was always unsure if marriage was something that I wanted. Growing up, I never wanted to conform to something that society is telling us: to get married to a man and live happily ever after. So many marriages in my life are so unhealthy and unstable. A lot of people settle, and I refuse to do that. But with Matt, it immediately was obvious to me, once our relationship progressed to the point that it was time, that yes, I would love to marry him. We went to a date night at Giorgio Baldi in November, and I told him that he could propose whenever he wanted. He was beaming, because he had accepted that maybe we wouldn't get married.
So that was in November, and by March, he was proposing. How did the actual proposal go down?
We were doing what I thought was a shoot for W at my studio in West Hollywood. I remember the shoot feeling like it had no direction, and I could tell everyone was stalling. Little did I know that this was a fake photoshoot that my publicist and Matt set up to keep me out of the house, out of my sweatpants, and in hair, makeup, and nails so I'd feel happy with the photos. When I came home that night, my entire house was covered in candles, lit all over, music playing, and a scavenger hunt leading to Matt proposing.
How did the scavenger hunt go?
There was a computer and the screen said "play me." I played the video, and it was Matt wearing the same exact outfit that he wore on our first Zoom meeting together. He talked about our relationship and his love for me, and then he asked me to open the card sitting there and to follow the scavenger hunt around the house.
What were some of the clues?
Each room in the house had a different theme. The kitchen, for example, had over 30 framed photos of our firsts—first date, first trip to Santa Barbara, first time we got a dog together. Every room had photos or mementos that we'd collected throughout our time together. The last clue was a glass of champagne and a card that said, "Meet me down by the Buddha." The woman who lived here before us put this huge, 500-pound Buddha in the courtyard, and we're convinced we can't take it out—that's such bad luck. He was down there with our two dogs in little bow ties. He got down on one knee and said, "You're my soulmate, the love of my life. You make me a better man. Please do me the honor of marrying me." I like, blacked out. I think I said yes at first. It was very surreal.
What changed your mind about marriage?
We had a really great dynamic early on that I didn't have in previous relationships, which is the amount that we communicate—even overcommunicate—about difficult things. Having that foundation of honesty and trust allowed us to get through things in life that made it so I couldn't envision anyone else by my side. On top of that, we have this insane chemistry. He's also so supportive of my career. A lot of men in my past were really intimidated by my success. They tried to suppress what I was doing or make me feel bad about it. Matt has always been my biggest supporter. It's very attractive to have a man not be intimidated by a woman's extreme success.
Do you think he'd ever be a guest on the pod?
Oh my goodness. In terms of a full-length interview, I don't think right now. But who knows? Never say never, because I never thought I would announce who he was or post a picture of us. And now here I am.
You've always been very open but also had a pretty clear line with your private life, especially this relationship. How do you feel about having your relationship go public?
When I started this show, I was so open about everything, maybe at times to the detriment of my personal life. I would have something happen to me the night before, and I would go run into the studio and talk about it. I didn't even let myself process things. Now I've finally found a healthy balance of sharing things, but also having enough respect for my personal relationship to keep some things sacred. This is a perfect example of the evolution of my maturity in this industry. I'm itching to tell the Daddy Gang, because they're everything to me. But it's definitely weird to say his name out loud. I've conditioned myself to say Mr. Sexy Zoom Man.
How does he feel about entering into a more public space and having your millions of fans know who he is?
Matt is so private, but he also loves the Daddy Gang. Every week he's like, "How's the episode going? Do they like it?" It's weird for him, but it's also my life, and he's fully embraced it. He trusts me.
How has talking about romantic relationships professionally all these years informed your views on marriage?
Nothing has ever looked perfect on Call Her Daddy, and I think that's why the show has been successful: It's so raw and authentic. I've learned that realizing nothing is perfect is the beginning of having a healthy life. You can't look at things on social media and compare yourself. Sometimes when you're in a relationship, you think it should be a fairy tale. No, it shouldn't. It's going to be hard. My audience has taught me that. It feels like I've built this big friend group across the world, and we've become so intimate in the way that we express our emotions. I'm so happy that we've normalized being vulnerable, and I've taken that into my relationship with Matt.
Do you think you'll have a long engagement?
The only thing that would slow it down is, quite literally, I have no idea what I want. I really did not grow up ever envisioning a wedding. I don't have a Pinterest board of flowers and dresses. I think we definitely want to get married next year.
Do you have a vision of the dress at all?
Absolutely not. Everyone's like, "Alex, you can't wear sweatpants to your wedding." What I do know is it will not be one of those big, big dresses. No princess gowns for me, although that would allow me to put sweatpants underneath.
Will you have a bridal party—maid of honor, bridesmaids, and all that?
I definitely don't think I will be doing that, just because it's going to be so intimate, and all of my best friends will be there anyway. I definitely think I'm going to do a bachelorette—I'll leave that to my friends. You can't turn down a good girls trip.