Alex Foxton Explores the Human Essence Through Historical Male Archetypes
In his New York solo debut, the British artist pays tribute to his queer forefathers.
Photographs by Maciek Pozoga
---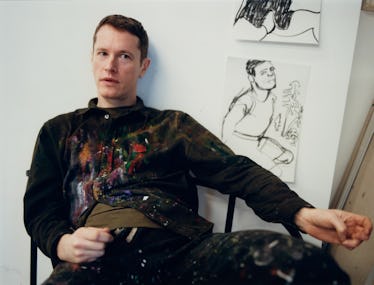 Photo by Maciek Pozoga
A long-haired man with a key around his neck stares at you. His unbuttoned jeans and denim jacket are delineated in bright red; his undershirt and jockstrap, which carries a substantial package, are incandescent pink. This is a portrait of the artist Tava, one of the standout works from an exhibition by the British painter Alex Foxton, opening in late April at Kapp Kapp gallery in New York. "Tava was an amazing-looking guy, and he did these gigantic murals of semi-mythological figures. It was a bit of a breakthrough, this painting," Foxton tells me, on a video call from his studio in Paris. "I wanted it to be really true to how he was and how he dressed and his character, so I didn't mess around too much with the line. For me to do a painting that's basically a huge drawing just felt so nice and satisfying—it was a pure pleasure."
Pleasure is the ruling principle of Foxton's show. All the paintings are based on photographs by Stanley Stellar of gay men enjoying the crumbling piers on the west side of Manhattan, which were a hedonistic sexual playground in the brief years between gay liberation and AIDS. (Tava succumbed to the disease in 1991.) Foxton's paintings bring out this sense of supercharged freedom and adventure. There's a handsome man crouching naked apart from cowboy boots, his body glowing bright white and yellow with the midnight blue Hudson River glittering at the top of the frame. Another canvas depicts a curly haired seducer bare-assed in a shirtless leather jacket with an inverted cross on the back.
Foxton was born in 1980, the year in which some of Stellar's photographs were taken. This body of work is intended as a salute to his queer forefathers. "I wanted to go back and paint Stanley's images, because it feels like an acknowledgement of that generation and what they dealt with," he says. "But it was very important to me that I didn't do it through this lens of melancholy because that's not what it was. It was the first time that gay men could express themselves visually, on the street and on the piers. I wanted to paint those images with a real joy and intense color."
Pondering the sexually charged depths of Foxton's work, one might assume that he has had a long trajectory in the art world, but in fact he started out in 2017, after successful stints as a fashion designer for brands including Louis Vuitton, Bottega Veneta, and Dior. "I did paint when I was 17, 18, and I always loved it, but for some reason I didn't think it was a career," Foxton says. "I loved clothes, I wanted to see the world, and I wanted to be able to pay my rent. I thought, if I'm a painter I'm going to be really poor and I'm going to be stuck in a room all day by myself."
By Foxton's late 30s, however, "I wasn't really satisfied anymore as a designer; I felt I was more like a manager." After an unhappy spell in Milan, Foxton moved back to Paris, where he would paint at his kitchen table at night after his fashion job. He posted the results on Instagram, and quickly built a following: a curator offered to put him in a group show, and the prestigious Parisian art and fashion bookshop 0fr gave him his first solo exhibition. "It was very casual but for me it was totally liberating," Foxton says.
Now, just six years after embarking on this new direction, his first monograph has been published by Galerie Derouillon; his paintings have been featured on clothes in a Dior resort collection by his friend Kim Jones, the creative director of Dior Homme; at least three people have had his work tattooed on their bodies, and one has used it as nail art. ("That was a huge moment of pride," Foxton says.) He has not one, but two exhibitions slated for this spring. His forthcoming show at Various Small Fires in Los Angeles is more personal than the one at Kapp Kapp; it depicts Foxton's boyfriend dressed up in military garb. Objectification? "Yes, exactly," Foxton says, without missing a beat. "In one painting, which is based on a photograph, you can see my hand pushing him away to get him better into the frame. I'm reducing him to a line, which is what you do as an artist, but people don't talk about it so much. As soon as you paint someone, you're objectifying them and you're distorting them. There's no other way."
His current studio is near Père Lachaise cemetery in the 20th arrondissement of Paris, the city Foxton regards as home. There are drawings pinned to the wall and much larger, even life-size paintings resting against walls; Foxton paints by a big window that looks out to the street. He bought this place with money from his fashion career. "Studios are bizarrely hard to find in Paris, and I wanted to have a really good space," he says. "I spend so much time here, I wanted to be able to cook a meal, have my friends over, and even sleep here sometimes."
He keeps regular office hours ("I guess I've just been programmed to work like that") although, as a deadline approaches, weekends also become devoted to painting, and the sessions stretch from 10 AM to 9 PM. He keeps a diary of the paintings he makes, what he was thinking at the time, and how they went, and tries to work quickly, sometimes completing a piece in a day or two. "I want to see it as soon as possible," he says.
His aim in the studio is to get into a trancelike state, often with the help of classical music, but sometimes with a playlist he calls Hysterical Work List, which includes Lady Gaga, Kylie Minogue, and old house music: "anything that's incredibly brash and motivating." Rihanna's "We Found Love" is a particular source of inspiration. The song embodies the energy of Foxton's paintings, which get some of their charge from their flirtation with excess. "It's borderline cheesy but I also think it provokes emotion in a very real way," Foxton says. "So when I'm painting a figure like Tava in a jockstrap using a red line with pink highlights, it helps me to get over any fear of being vulgar."