Inside the Los Feliz Home of Frieze's Bettina Korek
Bettina Korek, the newly appointed Serpentine Galleries CEO, was a force behind L.A.'s ascent in the art world. Now, she's expanding her sights.
Photographs by Damien Maloney
---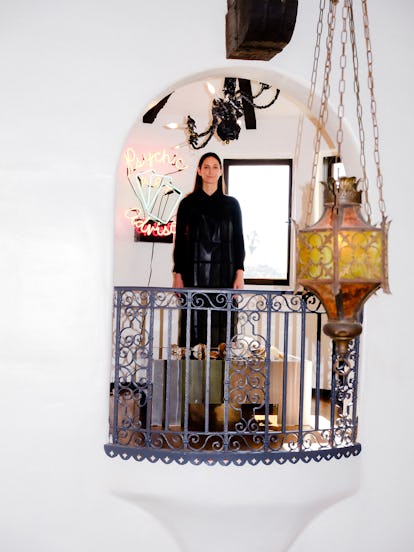 Photographed by Damien Maloney; Styled by Nadia Beeman.
It's a measure of how prominent an art center Los Angeles has become that Serpentine Galleries, the popular contemporary art venue in London, recently appointed Bettina Korek to be its new chief executive. Korek is a native Angeleno and a pillar of the L.A. art scene who currently oversees Frieze Los Angeles, the city's first major international art fair. But in March, after its second edition wraps, she will be decamping for a drizzlier climate—and one of the most powerful posts in the art world. "It's the only opportunity for which I would have left L.A.," she told me.
Korek will not be selling her 1920s Spanish-style house in Los Feliz, however, which is where I met her on a disconcertingly hot winter morning. The first thing she wanted me to know was that she is not an art collector, despite the contents of her living room. Instead, Korek says, she acquires pieces here and there, often from artists with whom she has collaborated on a project. The accumulation tells the story of the two decades she has spent in the Los Angeles art world. It also tells a story about L.A. itself, with each piece offering a different view of her vast hometown.
Korek gave me a tour of the city through the works hanging on the walls. Two large panels by the artist Alex Israel—both shaped like Moorish arches and painted blazing gradients of orange, red, and blue—evoke the mai tai color scheme of an L.A. sunset made hallucinatory by smog or wildfires. But they also have Hollywood D.N.A., Korek explained: "He makes those at Warner Bros. They're backdrops for sets." Across the room, a massive Mungo Thomson piece—a Time magazine cover -silk-screened on to a human-scale mirror—seemed to contain a sly commentary on insta-fame: "You look in the mirror and you're on the cover of a magazine, which is so L.A." Above the fireplace was a hulking neon sign by the political artist Andrea Bowers that read, empowered women. It blends beauty and activism, Korek noted, but in a distinctly Angeleno way: "So much of our culture in L.A. is driving by neon signs."
There's a cartographic spirit behind much of what Korek does. The organization she founded in 2006, ForYourArt, started as an email newsletter and quickly evolved into a mapping project of sorts, aggregating the city's exploding art scene and charting routes and itineraries so that Angelenos and visitors might better navigate it. For the second iteration of Frieze Los Angeles—which opens February 14 on the back lot of Paramount Pictures Studios—Korek commissioned drawings of disparate sections of the city. But there was a catch: Each piece had to be completed within a very specific amount of time.
"Inspired by that line in Clueless that says, 'Everywhere in L.A. takes 20 minutes,' we invited artists to make drawings of different parts of the city in 20 minutes," Korek explained. (If you grew up in Southern California in the '90s, you remember the joke: When Cher's dad utters the line by phone from Beverly Hills, demanding that she be home in 20 minutes, Cher is at a party in the Valley.) Korek's face broke into an amused smile. "We're just starting to get the drawings back, and they're amazing." It's this sort of sensibility—playful, but also grounded in an intimate understanding of L.A.'s unique social geography—that has made Korek a unicorn among the city's star curators. In a city where the most prominent art institutions continue to import top leadership from New York (Michael Govan, Jeffrey Deitch, Klaus Biesenbach), Korek has stood apart. Indeed, the only un-Angeleno thing about Korek may be her wardrobe: On the day we met, as on most days, she wore head-to-toe black.
At first glance, Korek's furniture and art seemed in stark contrast to the house itself. Sleek modern sofas made of black leather and chrome stood on floors covered in traditional Mexican Saltillo tile. A painting by Stanya Kahn—a postapocalyptic landscape rendered in unnaturally bright Kool-Aid hues—hung near an original stained-glass window depicting a vaquero on horseback, a bandolier full of bullets slung across his chest. But viewed through Korek's eyes, the juxtaposition makes perfect sense. The architectural style is Spanish Colonial Revival—a baroque mix of Spanish, Latin American, and Gothic influences that was introduced at the Panama-California Exposition, in San Diego, in 1915 and became dominant in L.A. in the 1920s. To Korek, her home is a reflection of the city's constant cultural hybridization.
Korek grew up mostly in Van Nuys, a central suburb in the San Fernando Valley. Her mother, a graphic artist, frequently took her over the hill to visit the Los Angeles County Museum of Art. Korek attended the Harvard-Westlake School in Studio City and, later, Princeton University, graduating in 2000 with a degree in art history. She returned to L.A. and took a job in the prints and drawings department at LACMA, working as a liaison between the department and local funders. She ultimately spent five years at the museum, graduating to positions in the development and communications departments.
During this period, Korek noticed a pronounced gap between what was happening in the L.A. art world and public consciousness of it—to the point where, when she told people she worked at LACMA, many would respond by asking where the museum was located. Korek started the -ForYourArt newsletter in part to address the issue, and left LACMA in 2006 to grow ForYourArt into the multipronged directory and media platform it is now. (ForYourArt will continue despite Korek's move to London.)
Kevin Salatino, who hired Korek when he was LACMA's head of prints and drawings (he's now at the Art Institute of Chicago), says Korek supplied the region with much-needed connective tissue. "Her moment of illumination was recognizing that even the cultural institutions in Los Angeles weren't communicating with one another to the degree that they could, to really strengthen the cultural ecology of the L.A. basin," Salatino told me. "She saw that right away." In the process, he added, Korek catalyzed the city's art explosion. "She was not only in the right place at the right time, she helped make it the right place at the right time."
Through ForYourArt, Korek became a sought-after consultant for a wide spectrum of museums, galleries, nonprofits, and brands. In 2014, ForYourArt produced a guide to L.A. and translated it into Chinese, to coincide with an exhibition of L.A. artists at the UCCA Center for Contemporary Art in Beijing. During LACMA's 2012 screening of Christian Marclay's 24-hour video collage The Clock, ForYourArt hosted a 24-hour doughnut fest across the street—a nod both to L.A.'s robust doughnut culture and to the cliché that L.A. is a city without a center. Korek also organized gallery programs for both iterations of the Getty's Pacific Standard Time series, an unprecedented collaboration between museums, galleries, and cultural institutions across Southern California.
Two pieces from the first Pacific Standard Time, which took place in 2011 and 2012, hang in Korek's home: a visual timeline of political protests in L.A. made by Andrea Bowers using images she culled from the Getty's archives, and a chandelier by the sculptor Liz Glynn. As Korek described the provenance of these and other pieces, she noted that the art in her house also amounts to an informal survey of the numerous disciplines in which L.A. artists work: "a mapping of the many kinds of practices in Los Angeles."
Left of the fireplace is a Kori Newkirk installation—a suburban swimming pool rendered in hair beads. Korek explained that Newkirk's beaded curtains were inspired by another L.A. figure: Venus Williams. For a time in the late '90s, Korek recalled, "there was a lot of conversation about the beading in her hair." On the other side of the fireplace, six wooden totems stand huddled in a corner. Kenzi Shiokava, the Brazilian-born Japanese sculptor and longtime artist in residence at the Watts Towers Arts Center, carved the pieces from found materials. Shiokava, who is 81, once worked as a gardener for Marlon Brando.
Korek's encyclopedic passion for L.A. helped ground the city's new international fair. Suzanne Lacy, the feminist artist and University of Southern California professor, describes Korek as a "nonhierarchical connector—you see this in the way she goes from a student's studio to a high-end gala. She moves very fluidly between those spaces, and in my experience she is always the same person." Korek's concern with connecting the public sphere to the practice of art, Lacy added, "is a civic impulse." (Indeed, Korek was appointed in 2011 to the Los Angeles County Arts Commission.) Bowers, who made the empowered women sign and the protest collage, says that Korek has "changed the landscape of the Los Angeles art world."
Korek had been consulting for Frieze when, in early 2018, she was appointed to be executive director of its L.A. fair. International art fairs did not have a promising track record of putting down roots in the city. The L.A. edition of Paris Photo was shut down after three iterations, and a spin-off of FIAC fizzled before it even happened. But many were betting that the time was finally right for L.A., not least the Hollywood conglomerate Endeavor, which purchased a majority stake in Frieze in 2016.
The debut edition, held on the Paramount back lot in February 2019, bore Korek's fingerprints. The main tent housed nearly 70 galleries, mixing international powerhouses like Hauser & Wirth and Pace with local favorites such as Regen Projects and the Box. Korek invited artist-run organizations from around the city to set up booths outside. The feminist nonprofit Women's Center for Creative Work sold memberships and subscriptions to its publication, while the Joshua Tree artist Andrea Zittel held a gem and mineral sale as a fundraiser for High Desert Test Sites, a conceptual artists' collective. Location-based projects curated by Ali Subotnick, formerly of the Hammer Museum, included an interactive piece by Lisa Anne Auerbach, Psychic Art Advisor, which offered tarot readings and commercial advice about the art market in an ersatz New York brownstone. (The artist's neon psychic art advisor sign now hangs in Korek's home.)
For the second Frieze Los Angeles, Korek is expanding the community around the fair. On-site works will be co-curated by Rita Gonzalez of LACMA and Pilar Tompkins Rivas of the Vincent Price Art Museum. There will be even more action on the back lot, where the writer and artist Tierney Finster, who hosts the Tierney Talks podcast, will be doing an extended riff on a telethon, broadcasting interviews with artists and other art-world figures. All around L.A., banners will advertise Frieze Week, emphasizing the scores of events across the city that will be piggybacking on the fair. Korek's hope is that Frieze Los Angeles will become both a platform for experiments in patronage and "an annual moment for L.A."—one that has a lasting impact on the homegrown galleries and cultural institutions that are in the city year-round.
In the meantime, Hans Ulrich Obrist, the artistic director of the Serpentine Galleries, will be looking forward to welcoming Korek, whom he describes as "an art urbanist." "She brings worlds together, and has connected the art scene to music, film, architecture, and literature," Obrist told me by phone. "That's very Serpentine." The L.A.-to-London move makes perfect sense, he added, citing a growing "Lo-L.A. connection"—the affinity that the two cities have for one another. Korek agrees: "In a way, the Serpentine is kind of like Los Angeles," she said. "Its commitment to innovation, fluidity across disciplines, and preoccupation with the future are very L.A. qualities." There is at least one way, though, in which her London life will be very different. "I want to move close to the Serpentine," Korek said. "I think it will be nice to be able to walk to work."