What Happens When an Artist and a Ballerina Meet on Zoom?
Artist Chloe Wise and American Ballet Theatre soloist Luciana Paris collaborated on a portrait for a docuseries supported by Chanel.
---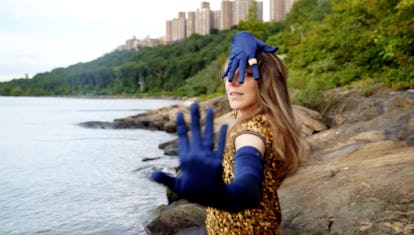 Supported by Chanel.
This summer, the artist Chloe Wise and the ballet dancer Luciana Paris met on Zoom for the first time. Like many of us who have made virtual acquaintances over the past eight months, they peered tentatively at each other from the comfort of their respective homes. But instead of wearing the customary presentable-ish top paired with sweatpants, Paris and Wise were decked out in full Chanel. The purpose of the call? To delve into each other's creative processes and, eventually, create an original artwork together.
The unusual collaboration between Wise and Paris was the fruit of a new docuseries commissioned by Chanel and the American Ballet Theatre called Pas de Deux. Directed by ABT soloist Gabe Stone Shayer and produced by the Oscar-winning Little Monster Films, the series will air starting tonight at 7 P.M. EDT on the ABT's YouTube and IGTV channels. Other conversations explored in the series include chef Marcus Samuelsson with ABT principal dancer Isabella Boylston, and Shayer with Alicia Keys. "By connecting these great artists, we aim to transcend individual performance to create something entirely new," said Little Monster's Chai Vasarhelyi.
Wise, a New York-based Canadian artist who is known for her darkly witty figurative paintings and irreverent, lifelike food sculptures, said that although collaborating with a stranger via the internet might seem like an odd concept on paper, the whole thing felt pretty normal. "As much as it does feel unnatural given the pandemic and the restraints on gathering that we have, at this point, there's nothing that unusual about it," she said, speaking on the phone last week from Florida.
"During Covid, I FaceTime with friends so often in place of hanging out with them in person, and I always sketch friends from FaceTime, it just happens naturally," Wise added. "If I had a pencil in my hand right now, I'd be sketching."
For Paris, an ABT soloist from Argentina who has been with the company since 2001, the opportunity to express herself with movement given the constraints of the pandemic was one she jumped at. "I'm used to being the object of creation as a dancer," she said, speaking from her apartment in New York. "I love that aspect of my career so much. In my later years, I've started enjoying my time in the studio much more. Of course, the stage is always enjoyable, but I've been really digging into the creation process."
In the 12-minute episode, premiering exclusively here, Paris and Wise open up about how they got started on their respective paths, how their work has changed with the pandemic, and how they might be able to combine their creative processes. Wise also recounts her first brush with Chanel, when her sculpture "Bagel No. 5" (a realistic sesame bagel with schmear, a chain strap and an interlocking C charm) made headlines.
Wise said the Chanel team took the sculpture in stride: "They're aware of how something that's iconic interplays with the idea of commodity in general—you can't really have one without the other," she said. "They've got a sense of humor paired with an elegance that I've always applauded."
Wise decided to create a painting based on photos and videos of Paris dancing at sunset, decked out in a face shield and elegant navy opera gloves, to play with the imagery that has become so entrenched in our experience of the pandemic. "There's something really beautiful and glamorous, but there's also distance, and there's also fear," Wise says in the episode, of the visuals she worked from for the portrait. "We're scared, but we're keeping in glam."
Supported by Chanel.
Paris was thrilled and touched by the result—a small oil painting of her face, with a gloved hand casting a shadow on her forehead—and inspired by working with Wise. "She has so much to give and I've learned so much from her view and her willingness to show with her art who she is and what she sees. I love how she combines beauty and struggle in her work," Paris said.
"It's sexy expressive pandemic elegance," Wise said of the final painting. She laughed, but there's a nugget of wisdom in that seemingly absurd statement. "I mean, I'm in Florida right now and 50% of people here don't want to wear a mask," she continued. "So I'm finding cute flirty ways to say, like, 'Hey, you would look so cute in a mask, by the way. It would look so good on you! It would make you look so tan if you were to take seriously other people's health and contagion.' There's a way to fold it into normal conversation and fashion, which I think is going to be part of our future going forward, so I love that Luciana was folding it into dance. We need to invite it in."
Related: Chanel Muse Alma Jodorowsky on Life at Home, the Paris Protests, and Making Music for Herself