American Born Chinese Asks, What If the Gods Played Dress-up?
Costume designer Joy Cretton talks staging a "heavenly Met Gala" and Michelle Yeoh's influence on the series' style.
---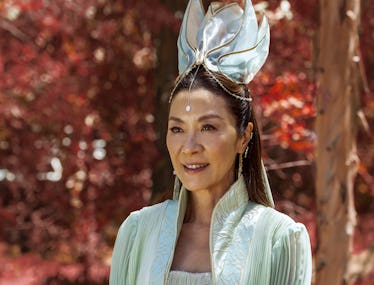 Disney/Carlos Lopez-Calleja
In episode four of American Born Chinese, Michelle Yeoh's supreme goddess Guanyin gracefully descends from an elite realm of heaven to grace the illustrious Banquet of Immortal Peaches. Swathed in a shimmering gold cape-gown with a voluminous collar, the Goddess of Compassion bypasses a line packed with fellow dazzling deities, divine-adjacent guests and two under-dressed—and starstruck—wannabe-divinities, Sun Wukong (Daniel Wu) and Niu Mowang (Leonard Wu).
"We were imagining a heavenly Met Gala," says series costume designer Joy Cretton, on the stylized re-telling of Chinese trickster god Sun Wukong's origin story to become The Monkey King, a hero from the 16th Century Chinese novel, Journey to the West. Plus, superstar Yeoh, who's been known to have an influence on her costumes (see: providing her own massive emerald and diamond ring in Crazy Rich Asians), offered some key suggestions, too.
Inspired by Gene Luen Yang's 2006 graphic novel of the same name, the new Disney+ series depicts a universal journey of self-discovery and friendship through a fantastical mash-up of genres. (It's also directed by Lucy Liu and Destin Daniel Cretton, Joy's brother and collaborator.) In a Bay Area suburb, second generation Chinese American student Jin Wang (Ben Wang) is navigating teen angst, parental discord and soccer tryouts. One day, his principal pairs him with an eager new exchange student Wei-Chen (Jim Liu)—only because they're both of Chinese heritage—and Jin's life is drastically altered. Because Wei-Chen is actually the son of the aforementioned The Monkey King.
On his own quest of patriarchal rebellion and independence, Wei-Chen brings along a motley assortment of mythological gods, including Guanyin (Yeoh). As Jin wraps his head around this out-of-this-world concept, viewers also open up their imaginations for the crossover stories and adventures. And, fashion—via a glamorous otherworldly party or approachable athleisure—helps draw viewers into these legends that have captivated for centuries.
"What would it look like if all these gods were to play dress up?" asks Cretton. Back inside the extravagant fête in Heaven, revelers swan about in bold colors, conceptual shapes and opulent embellishments.
For Princess Iron Fan (Poppy Liu)'s purple ensemble, Cretton custom-designed an update on a flowing hanfu robe worn over a sequined asymmetrical gown by For the Stars, a go-to for the likes of Britney Spears and Jennifer Lopez. In age-old lore, perpetually intoxicated Ji Gong (Ronny Chieng) wears "tattered robes," which Cretton interpreted into an avant-garde jacket covered in rows of folded ribbons. "We wanted to showcase an elevated version of what this might look like if he attempted to dress up for a party," says the costume designer, who custom-built the more traditional robes and ensembles sprinkled into the festivities.
Cretton also pulled runway pieces from Asian American designer Kenneth Barlis, including an appropriately green and floral crystal-embellished gown with a pleated oversize bow for Iron Fan's wing-goddess, Princess Jade Face (Sarah Ho). The Jade Emperor (James Hong) entertains in a spectacular floor-length brocade robe. (The Project Runway winner also designed red carpet suits for Wang for the show's premiere and guest star Ke Huy Quan at the Gold House Gala earlier this month.)
Cretton also collaborated with fashion designer Prabal Gurung for Guanyin's two mythological ensembles, with contributions from Yeoh. The Oscar winner suggested a "visible collar" that billows into the "cloud-like" sleeves and the gilded mesh face-covering on her imperial banquet ensemble. "We kept adding more sparkle to it," says Cretton.
For Guanyin's hero costume, Cretton and Gurung brainstormed ideas, and pitched their ideas to Yeoh first. "She was part of the whole process from the beginning, which isn't always the case, but she just knew so much about Guanyin," says Cretton.
The idea for a green hue came both from Yeoh and an overall goal to inject more color into Guanyin's divine persona, as opposed to reverting to the heavenly white and gold that's usually depicted in Western religions. "The significance of jade felt appropriate," says Cretton. After experimentation with various shades of green, her team landed on a soft ombré effect (done via a custom sublimation by Cab Fabrication). Cretton then looked to "the best embroiderer in Hollywood" to adorn the silk gown with a lotus pattern, which symbolizes peace and harmony. (In artwork, the goddess is often portrayed sitting on a bed of lotus leaves.)
The costume team, including in-house tailor Tony Alcindor, then experimented with pleating techniques and fabric weight tests to "add a new element of structure and depth to the ethereal, sheer, flowy fabric of her gown," per Cretton. The gossamer-light pleated layers enhance Guanyin's grand entrance as she majestically materializes in a Northern Californian high school hallway to face off with The Monkey King.
Disney/Carlos Lopez-Calleja
Disney/Carlos Lopez-Calleja
"Designing the costume with the expert guidance of Joy was an absolute pleasure and a collaborative process where Michelle's thoughtful and intentional suggestions really shaped the outcome of the gowns," writes Gurung in an email. "It represented similar characteristics of both Michelle and Guanyin: grace and strength which inspired all of us."
Yeoh also helped inspire Guanyin's contemporary fashion-inspired footwear, custom designed by Cretton and her team. Before Guanyin's feet touch the ground, we see a flash of her gold and crystal-embellished wedges, which reference Stella McCartney heels, a Yeoh favorite. "They laced up her leg and gave her look a fun, elevated modern twist," says Cretton.
Guanyin settles in town to mentor Wei-Chen under the guise of an auntie, who partakes in normie activities, like eating at the Chinese buffet and assembling Ikea furniture. Playing the part, she dresses in low-key baseball caps, hoodies and sweats from Levi's, Carhartt and Gap. Cretton likened the earth-bound goddess to "a really famous celebrity, who's down amongst the normal people," and imagined that she'd remain as sartorially undercover as possible. The global superstar was "totally on-board" and found herself partial to Free People. "'That would make such a cool band name,'" says Cretton, recalling Yeoh's reaction to the label.
Although, when Guanyin pays a visit to Lady Rocky or Goddess of Stones (Stephanie Hsu) to help Wei-Chen, she wears a more polished wool coat by Vivian Chan. Rocky masquerades on earth as a Chinatown jewelry shop owner, who cleverly subverts stereotypes—and charges extra—by greeting customers in a vintage embroidered jacket that a less-than-mindful person may think a Chinese small business owner would wear. But, for Guanyin, a friend from home, Rocky ditches the layer to reveal a chic monochrome mock-neck jumpsuit set, also by Los Angeles-based Chan. "We wanted Stephanie to be in more vibrant pink, just because she's dealing with riches," says Cretton.
For The Monkey King's noble armor, Cretton collaborated with Phillip Lim, who's been a fan of the hero since childhood. "The goal was to do something really modern," says Cretton, about updating the shape-shifting god, who's influenced modern day pop culture heroes, from Kung Fu Panda to Marvel and DC protagonists. "We wanted The Monkey King to be embraced by a Western audience, so he's not continually seen as just a caricature for entertainment," says Lim, who took to heart the challenge of imparting the "history, importance and gravity" of The Monkey King. (He and Gurung are also credited as series Wardrobe Design Consultants.)
"How do you convince a new audience that this character is just cool? You should be in love and want to vibe with it," he continues. "For me, you do that in fashion. You use fashion as a vehicle to really transform and re-narrate things."
Daniel Wu as The Monkey King

Disney/Carlos Lopez-Calleja
Daniel Wu as The Monkey King

Disney/Carlos Lopez-Calleja
A personal fan of the Tang suit, Lim first referenced the mandarin-collared jacket, which dates back to the Qing Dynasty. "I wanted to add a streetwear leisure-ness to it," says Lim, who envisioned a tapered drop-crotch trouser. "Like, you could imagine a celebrity today wearing that on the red carpet." The black hue illustrates The Monkey King's "authority and wisdom," while the embossed silk features a "very faint tonal clouds and mountains motif," explains Lim. The golden embroidered meander trim and organic patterns, also by Sichel Studio, "represent all the elements: the earth, the sky, nature," adds Lim. "The Monkey King is the ruler of all that. So we tried to incorporate all these motifs in a very subtle way, without making it feel so caricature."
The costume team built the armor in modular layers, so The Monkey King could wear a flowing red cape to address his court or don a gilded breastplate and belt to go out into the field. While on earth, he translates his confident and commanding aura through "a more grounded, sleek, cool and badass leather jacket and moto boot," says Cretton.
Because fashion helps convey the everlasting and enduring impact of these legendary characters, whether grounded on earth in ready-to-wear or enthralling in out-of-this-world couture.