Everything to Know About the Amy Winehouse Biopic Back to Black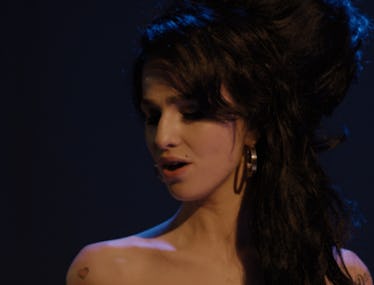 StudioCanal
The story of Amy Winehouse has been told before, from 2015's Oscar-winning documentary Amy to 2021's Marina Parker-directed Reclaiming Amy, which featured her friends and family reflecting on the British singer's too-short life and career. But now for the first time, a Hollywood biopic about the beloved artist—who died at age 27 from alcohol poisoning—is heading to big screens.
The biopic, Back to Black, will be helmed by BAFTA-nominated Sam Taylor-Johnson, best known for 50 Shades of Gray and Nowhere Boy, about the childhood of John Lennon. (Taylor-Johnson was also a close friend of Winehouse's). The script was penned by Matt Greenhalgh, who in addition to Nowhere Boy also wrote Control, which follows Joy Division's Ian Curtis.
Marisa Abela, known for playing privileged by troubled Yasmin Kara-Hanani on HBO's Industry, was chosen for the coveted lead role in July after a highly competitive search. The 26-year-old has singing experience that will be crucial to the film, and also, like Winehouse is of Jewish heritage, a fact that was reportedly important to casting.
On January 13, an official first look at Abela in character was released, and donning Winehouse's signature beehive, cat-eye eyeliner, tattoos and beauty mark she cut an uncanny resemblance to the singer. When candid photos leaked from set a few days later, however, the internet was divided on whether Abela looked like Winehouse, and if a biopic should've been made at all.
On January 19, Deadline reported that three more actors had joined the cast: Jack O'Connell, Lesley Manville, and Eddie Marsan. O'Connell, who recently starred in Netflix's Lady Chatterley's Lover, will play Blake Fielder-Civil, Winehouse's ex-husband, fellow addict and the love of her life. Many of her songs were inspired by their tumultuous relationship. Marsan will play Winehouse's father, and Manville will portray her grandmother, Cynthia, whom Winehouse was especially close to and whose death in 2006 is thought to have precipitated the singer's descent into addiction.
Notably, Back to Black has the full support of Winehouse's Estate. 2015's Amy, which won an Oscar for its depiction of the Grammy-winning singer's decline into addiction and eventual death in 2011, was infamously derided by Winehouse's father for its depiction of him. According to studios, Back to Black will "focus on Amy's extraordinary genius, creativity and honesty that infused everything she did. A journey that took her from the craziness and color of '90s Camden High Street to global adoration—and back again, Back to Black crashes through the looking glass of celebrity to watch this journey from behind the mirror, to see what Amy saw, to feel what she felt."
"My connection to Amy began when I left college and was hanging out in the creatively diverse London borough of Camden," Taylor-Johnson said in a statement. "I got a job at the legendary Koko Club, and I can still breathe every market stall, vintage shop and street… A few years later Amy wrote her searingly honest songs whilst living in Camden. Like with me, it became part of her DNA. I first saw her perform at a talent show at Ronnie Scott's Jazz Club in Soho and it was immediately obvious she wasn't just 'talent'… she was genius. As a filmmaker you can't really ask for more. I feel excited and humbled to have this opportunity to realize Amy's beautifully unique and tragic story to cinema accompanied by the most important part of her legacy – her music. I am fully aware of the responsibility, with my writing collaborator – Matt Greenhalgh – I will create a movie that we will all love and cherish forever. Just like we do Amy."
This article was originally published on