How Ana de Armas Went Blonde
Interview by Lynn Hirschberg
Photographs by Jamie Hawkesworth
---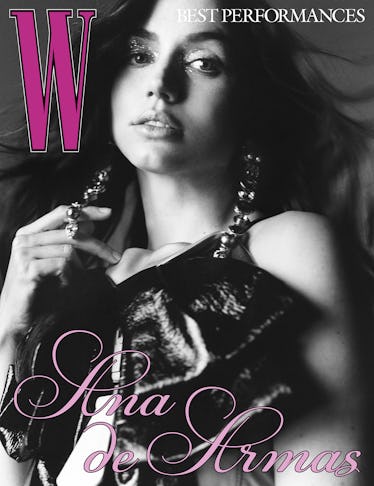 De Armas wears a Louis Vuitton dress and earrings.
Playing one of the most iconic figures in Hollywood history is no easy feat. But in Blonde, Ana de Armas rises to the occasion. In the film, adapted from a Joyce Carol Oates novel that tells a fictionalized version of Marilyn Monroe's life story, de Armas embraces her character graciously and glamorously. Although the film is far from a straightforward biopic, her performance finds the emotional truth at the heart of the tale. Here, she tells W about the painstaking detail that went into re-creating Monroe's classic films, her first acting experience in Cuba, and her secret skills.
Before you played Marilyn Monroe in Blonde, were you a fan of hers?
I wasn't really aware of Marilyn. I'd seen a few of her movies, and I knew she was an actress, but nothing deeper than that.
What was it like to play such an iconic figure?
In Blonde, we re-created a lot of scenes from the films she was in. I saw all of them several times—the ones we re-created, I watched on repeat. Andrew, the director, is very meticulous and detailed. We had two monitors on set, one playing the real scene with Marilyn, and one with us. We had to do everything spot on, or he would not move on. It was a lot of pressure, but a lot of fun too. It was mind-blowing to do those scenes; it felt very special and kind of surreal.
Have you had blonde hair at another time in your life?
I have been blonde.
Do you feel different?
Yeah, for sure. But as soon as I do it, I love it for a week, and then, when I have to do my roots again, I regret it right away. It's the same with getting bangs. Oh, the bangs are so cute. And then as soon as you have them, you're crying.
Growing up in Cuba, were you a theatrical child?
Yes. I would dance in front of everybody. And when I was 11 or 12, I told my family that I wanted to be an actress. We moved to Havana when I was 11, and that's when I realized that people could study drama. And I loved theater and ballet. My grandfather used to take me to see ballet every weekend—even the same ballet over and over again.
What was the first thing you auditioned for and booked?
My first film was Una Rosa de Francia. I was still in school, and my school was very upset about that—because if you're working, obviously, you're not going to school. But I got away with it. And it was an incredible experience. I was very sad when filming was over, because you think you're going to see these people forever, and then all of a sudden, the Spanish crew flew back to Spain, and the Cuban ones I never saw again. So I was devastated—I learned very quickly that that's just the way it is in cinema.
Where was your first kiss?
I won't say what age, but it was in Cuba. I had a lot of freedom—we were able to play on the streets and go to the beach and not come back home until dinnertime. And then we'd go out again until we had to go to bed. On one of those days, I was playing in the park, and we went behind some trees and we kissed.
Did you see him again?
Yes. He was a neighbor, so I had no choice. [Laughs]
Do you have any secret skills?
Well, I have discovered that I'm not so bad at doing stunts. I'm way more athletic than I thought I was! And I'm really good with babies. Any baby who's crying or uncomfortable or they don't go to bed or whatever, just give it to me. I'm going to make that baby sleep. I just have a good hand with them!
Hair for portfolio by Anthony Turner at Streeters; makeup for portfolio by Lucia Pica for Byredo at Art Partner. Senior style editor Allia Alliata di Montereale; senior fashion market editor Jenna Wojciechowski. Manicure for portfolio by Michelle Saunders. Set Design by Gille Mills at 11th House.
Produced by Connect the Dots; executive producer: Wes Olson; producer: Zack Higginbottom; production manager: Nicole Morra; photo assistants: Cecilia Byrne, Jack Buster, David Gurzhiev; retouching: Simon Thistle; fashion assistants: Julia McClatchy, Tori López, Jacqueline Chen, India Reed, Nycole Sariol, Derek Ezra Brown, Karla Garcia, Rosa Schorr; production assistants: Khari Cousins, Tchad Cousins, Kelsey Swope Romero, Mateo Calvo, Juan Calvo, Rayon Pollard, Gina York, Peter Ditzler, Nico Robledo; hair assistants: John Allan, Dylan Michael, Ramdasha Bikceem, Malika Palmer; makeup assistants: Kate O'Reilly, Lilly Pollan, Bailee Wolfson; manicure assistants: Pilar Lafargue and Victoria Valenzuela, Jolene Brodeur; set assistants: Cory Bailey, Dirk Knibbe, Joel Garcia, Matt Day; tailors: Irina Tshartaryan, Ripsime Vartanyan at Susie's Custom Designs, Inc.