Everything to Know About Pablo Larraín's Upcoming Maria Callas Biopic Starring Angelina Jolie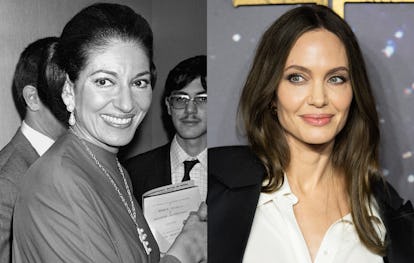 Gianni Ferrari/Cover/Getty Images/Samir Hussein/WireImage
Chilean auteur Pablo Larraín is turning his lens toward yet another iconic yet complicated woman in history, and this time, he's calling upon Angelina Jolie for help. The director behind Jackie and Spencer is set to make the biopic Maria, about the world-famous opera singer Maria Callas. Jolie, of course, will take on the titular role, and if Larraín's track record holds, a secure spot in the Oscar Best Actress race. Read on for everything we know about Maria thus far.
What is Maria about?
According to the film's logline, Maria will tell "the tumultuous, beautiful, and tragic story of the life of the world's greatest opera singer, relived and re-imagined during her final days in 1970s Paris." The film will be written by Steven Knight, whom Larraín previously collaborated with on Spencer.
Callas, an American-born Greek opera singer, was one of the most famous and influential sopranos of the 20th century, with many referring to her as La Divina, or The Divine One. The intensity of her fanbase rivaled that of modern day pop singers like Lady Gaga or Taylor Swift. Her accomplishments are often overshadowed by the more personal details of her life, however, like her reported temperamental behavior, her rivalry with fellow soprano Renata Tebaldi, and her affair with Greek shipping tycoon Aristotle Onassis. Funny enough, Onassis would later go on to marry Jackie Kennedy, placing Maria in a kind of Larraín cinematic universe.
"Having the chance to combine my two most deep and personal passions, cinema and opera, has been a long-awaited dream," Larraín said, according to Variety. "To do this with Angelina, a supremely brave and curious artist, is a fascinating opportunity. A true gift."
As for Jolie, she says she's taking "the responsibility to Maria's life and legacy" very seriously. "I will give all I can to meet the challenge. Pablo Larraín is a director I have long admired. To be allowed the chance to tell more of Maria's story with him, and with a script by Steven Knight, is a dream."
Who else stars in Maria?
Jolie will be joined in the film by Kodi Smit-McPhee (The Power of the Dog), Valeria Golino (Portrait of a Lady on Fire and The Morning Show), Pierfrancesco Favino, Alba Rohrwacher, and Haluk Bilginer. As of now, many of the roles have not been defined, though Bilginer will play Onassis. Golino, meanwhile, is credited as portraying "Jackie" at the moment, which could mean the Italian actress is taking on the late first lady, Jackie Kennedy Onassis, in the film.
Are there any images of Jolie as Callas in Maria?
As production gets underway, the film has released two images showing off Jolie's transformation into the original diva, representing what seems to be two different times in the star's life. The first photo shows a more timid-looking Callas, with large glasses and a heavy knit sweater. In the other image, Jolie's Callas looks more confident, holding her head high in a fur-adorned top. The costumes Jolie wears throughout the film were actually based on real pieces worn by Callas, and vintage furs were sourced from the archive collection of Massimo Cantini Parrini, who will be costuming the film.
When will the production on Maria begin?
Since Maria is an independent film, it was able to secure an interim agreement from SAG-AFTRA, meaning production can now begin despite the ongoing strike. Filming will take place over eight weeks in Paris, Greece, Budapest, and Milan.
Will Jolie get Oscar buzz for her role in Maria?
It's too early to say, but it seems likely. Larrain's previous leading ladies, Jackie's Natalie Portman and Spencer's Kristen Stewart, both received Oscar nominations for their roles. Jolie has had a Supporting Actress Oscar since 2000 for her work in Girl, Interrupted, but has only been nominated in the Lead Actress race one single time for 2008's Changeling. In recent years, Jolie has concentrated more on box office fare (Maleficent and Marvel's Eternals), while creatively challenging herself behind the camera with films like First They Killed My Father. It only tracks, however, that she'd return to more prestige fare as an actress.
This article was originally published on