An Art Lover's Guide to Arles
Everything to know about visiting the French city, which becomes a cultural cornucopia come summertime.
---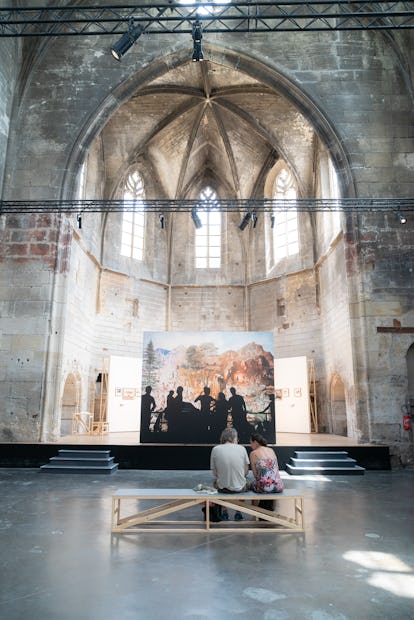 Inside the "Discovery" exhibition at Église des Frères-Prêcheurs in Arles, France. Photograph by Adrien Limousin.
Forget the Roman amphitheater built in 90 A.D., or the Yellow House, where in 1888 Vincent Van Gogh and Paul Gauguin devolved into roommates from hell. Arles in the summer turns into a mecca for contemporary art, especially photography—and its glorious past recedes into a backdrop for the ferment of the present.
For over half a century, the summer festival known as the Rencontres d'Arles has showcased photography, old and new, in churches and galleries throughout the town. Running this season until September 24, the Rencontres—in one of its numerous sites, the Archbishop's Palace—is offering a retrospective of the late American artist Saul Leiter, a pioneer of color photography. Across town, an exhibition of three series by Gregory Crewdson, best known for the pictures he stages with an elaborate film crew, includes his seldom-seen early work, "Fireflies" (1996), in which the eponymous insects twinkle in black-and-white.
Gregory Crewdson. Woman at Sink, Cathedral of the Pines series, 2014. Courtesy of the artist.
Gregory Crewdson. Untitled [12-35], "Fireflies" series, 1996. Courtesy of the artist.
Along with familiar names, the Rencontres features encounters (as its French name indicates) with new artists. I discovered the moody portraits by Stockholm native Hannah Modigh in a show of "Contemporary Nordic Photography," and evocations of Southern California's expatriate Iranian community (including cassette boxes of music tapes) in the series, "Soleil of Persian Square," by Hannah Darabi.
"Discovery" is both the purpose and the name of the Rencontres exhibition of ten emerging photographers (not all of them young) sponsored by the Louis Roederer Foundation. It is organized by New Delhi-based independent curator Tanvi Mishra and exhibited in the commodious Église des Frères-Prêcheurs. Four hundred photographers applied for ten slots in a juried competition, which was won by Isadora Romero, 36, an Ecuadoran who travels through Latin America in search of seeds of ancient food crops that are in danger of extinction. Along with conventional photographs, Romero created a series of six cyanotypes printed on Oaxacan tortillas—charting the progression of corn from teosinte, its ancient wild progenitor, to an imagined future corn that is artificially generated.
Agnès Varda. Water jousters in Sète, 1952. Courtesy of the Estate of Agnès Varda / Rosalie Varda Collection.
Agnès Varda. Reflection on the quays of Sète, 1950. Courtesy of the Estate of Agnès Varda / Rosalie Varda Collection.
A short walk from the historic center of Arles is LUMA, a 27-acre park that has risen from an industrial wasteland. Many of the dilapidated buildings there have been restored and converted into galleries. And looming over it all—a rival to the Roman amphitheater as a symbol of Arles—is a gleaming metal tower designed by Frank Gehry.
LUMA Arles opened ten years ago to present the work of visual artists. Among several exhibitions this summer (including "The Shape of Things," an expansive show by Carrie Mae Weems that originated in 2021 at the Park Avenue Armory in New York), the clear standout is "Diane Arbus: Constellation." Located in the Gehry tower, its 454 prints make it the largest Arbus show ever mounted—and mark the centenary of the photographer's birth.
If while in Arles you want to experience a functional artwork, you can stay at L'Arlatan, a boutique hotel dating back to the fifth century that was completely transformed to the over-the-top max by Cuban American artist Jorge Pardo. With its flamboyant mosaic floors, lighting fixtures that resemble sea anemones or Christmas tree ornaments, custom-made furniture, and laser-cut metalwork, L'Arlatan is an immersive environment that, notwithstanding its voluptuous color palette, exudes an atmosphere of pampered tranquility.
Inside the colorful L'Arlatan hotel in Arles.
Photograph by Adrian Deweerdt
Photograph by Adrian Deweerdt
But when you are truly seeking Zen-like meditative calm, walk over to the Lee Ufan Foundation, now in its second year. It was founded (and entirely funded) by the eminent South Korean artist, 86, who renovated a historic three-story townhouse in the center of the city in collaboration with his friend, architect Tadao Ando. Together, they filled the building with site-specific works, such as a large basin of water into which a bead of waters drops every 20 seconds from the vaulted sixteenth-century ceiling, and a stainless steel "road" in another room that scoops upward from a floor covered with marble gravel and is grounded on either side by a large stone.
In addition to the founder's own paintings, spanning from the '60s to today, the Lee Ufan Foundation this summer inaugurated a program of annual exhibitions of other artists whose work resonates with Ufan's. The five artists in the show, "Figures Alone," are all figurative painters: Brigitte Aubignac, Ymane Chabi-Gara, Marc Desgrandchamps, Tim Eitel and Djamel Tatah.
Ufan, who has lived part-time in Paris for the last 30 years (with principal residences in Busan, South Korea and Naoshima, Japan), is said to have chosen Arles as the home for this museum because he was attracted to the city's stones, ruins, and light (all of which makes complete sense). However, beyond that, for an artist whose pieces beckon a viewer to engage in a personal encounter, Arles is an ideal location. Without the bustle of a big city, it is a place that asks you to slow down, to look and to feel—in short, to fully experience a work of art.