Arlo Parks Meditates on Her Next Move
With the release of her sophomore album, the poet-singer readies for her headline moment.
Photographs by Texas Isaiah
Styled by Yashua Simmons
---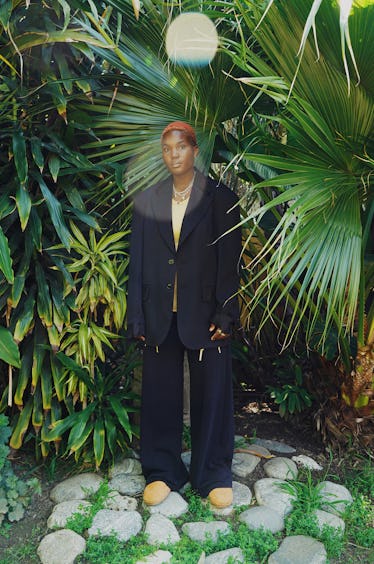 Arlo Parks wears an MM6 Maison Margiela jacket and sweatpants; Jacquemus top and shoes; Tiffany & Co. necklace (throughout); Bleue Burnham necklace and rings (throughout).
Arlo Parks, born Anaïs Oluwatoyin Estelle Marinho, has always loved language. "As early as I can remember, I was writing," she said. First, as a child in a quiet West London neighborhood, she wrote short stories, then poetry; when she was 14 or 15 years old, she turned to music, performing with friends in basements and biking around to sell handmade tickets. Eventually, her Elliott Smith and Smashing Pumpkins covers gave way to original compositions. "You have these people you look up to, and it starts off with you trying to emulate them but failing 'cause it goes through your own filter and you end up creating something new," she said. "I didn't think I had that conviction to say 'I want to be a pop star.' It was something I wanted to do quietly until I built up a bit more courage."
When Marinho was 17, a bedroom pop demo she had loaded onto SoundCloud attracted the attention of her now manager. Her first official single, "Cola," was released after she finished high school, and it ended up in the Michaela Coel series I May Destroy You. Her debut album, the introspective Collapsed in Sunbeams, came out to rave reviews in 2021. Featuring spoken word over sparse guitar instrumentals and intimate, poetic lyricism ("I'd lick the grief right off your lips / You do your eyes like Robert Smith"), the album defined a new indie pop sound that captured the isolation, anxieties, and longing for connection that so many identified with during the pandemic. It earned her the Breakthrough Artist win at the 2021 BRIT Awards, the 2021 Mercury Prize, and two 2022 Grammy nominations. Michelle Obama, Zadie Smith, and Patti Smith became fans. A world tour, complete with opening spots for the likes of Harry Styles, Lorde, and Billie Eilish, followed. More than a couple of major news sources named her the voice of her generation.
Now the 22-year-old is on the verge of releasing her sophomore album, My Soft Machine, and is set to tour in Japan and South Korea, as well as throughout Europe, this summer. The album, with contributions from Buddy Ross, Ariel Rechtshaid, and Phoebe Bridgers, among others, feels warm and optimistic, a reflection of Marinho's new surroundings. "Moving to [L.A.], I felt like anything was possible," she said. "I was spending more time in nature and feeling comfortable in my own company." For Marinho, the project represents uncharted territory. "There was a lot more bravery that came into it," she said. "I was talking with someone about Marina Abramovic and how she said that great art is disturbing. I took that not as being eerie or scary, but as moving the water with your hand—like, it changes something for you in a small way or a big way. It makes you see the world slightly differently."
Hair and makeup by Carisa Arellano for embryolisse; Fashion assistant: Stef Contreras.