The Most Talked-About Art at Miami Art Week 2021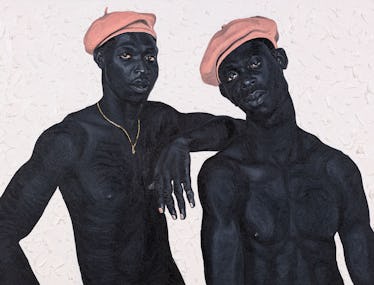 'Flamboyant Posture' by Otis Kwame Kye Quaicoe, on view at the Rubell Museum in Miami, Florida.
The beach is back, indeed. The first edition of Art Basel Miami Beach in two years technically opened to the public on Thursday, but the typical chaos, debauchery, and artistry have been happening all week. Things started out on a somber note, with Louis Vuitton's show-slash-tribute to the inimitable late designer Virgil Abloh. A years-long fixture on the scene of what's more commonly—and much more accurately—known as Miami Art Week, Abloh made it clear to the company that he wanted to go ahead with their months-long plans. (The same went for the unveiling of his Mercedes-Benz collaboration, which took place once the fair was officially underway.) With that exception, the pent-up Miami exuberance has been in full effect, with parties upon parties over the past few days. Oh, of course, there's also the art. Here are the works that have everyone buzzing in Miami.