Not So Goodwin
Sweet, innocent, bubbly—actress Ginnifer Goodwin knows exactly what you think of her. Now forget it.
---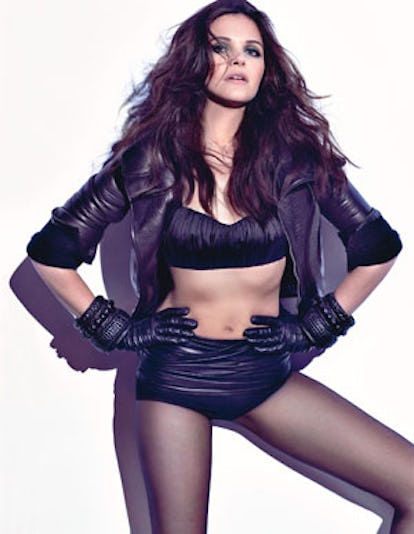 There are those celebrities who choose to handle tabloid speculation about their love lives by struggling to set the record straight. And there are those who choose to ignore the chatter altogether. Ginnifer Goodwin has developed a third strategy. "I perpetuate rumors that I've dated people that I've never actually dated," she says with a sly smile. "Dorothy Parker once said something along the lines of, 'I don't care what's written about me so long as it isn't true.' It's safe making."
It's a savvy tactic for someone who spent this past winter showering reporters with seemingly earnest proclamations about her romantic tendencies in the service of promoting He's Just Not That Into You, a chick flick in which she played Gigi, a lovelorn girl tragically oblivious to courting clues. On red carpets and at parties, she clutched her costar in the film, Justin Long, with such affection that the tabloids reported the two were an item. Turns out they have been buddies for eight years—and that the peppy, silly Goodwin who chirped red-carpet sound bites like, "There's always room for phone calls and cuddling. We always have room for love!" seems to have been just another role for the actress. "We were asked so many inane dating questions," she says on an April morning in New York, her makeup-free skin so astonishingly prepubescent in its porelessness that one might wonder whether she ingests embryonic stem cells for breakfast. With incredulity, Goodwin recalls the time that she and Long were forced to give dating advice to callers on a radio show. "I don't know why anyone would want to ask an actor for dating advice," she says, eyes rolling. "We are not the poster children for healthy relationships."
True to her good-girl reputation, the 31-year-old is sweet and sunny, with a Southern belle's sense of propriety. And yet, despite the dozens of articles describing her as "bubbly," Goodwin turns out to be remarkably grounded, astute and even sardonic. It's a testament to her acting chops that her very substance comes as a surprise—one can't help expecting Goodwin to exude a personality akin to that of Margene, her character on HBO's acclaimed drama Big Love. The third and youngest of three wives in a polygamous Utah family, Margene is plucky and immature, and Goodwin says people constantly assume she's the same way in real life. "We both have a lot of energy," she says. "We're both optimistic and we're both romantics. But I am far more judgmental than she is. I read too much between the lines, whereas she reads none." Goodwin forces a dry chuckle. "I'm exhausted by her after six months. By the end of a season, I need to shake her off."
"Make no mistake about it—those are characters on Big Love and in He's Just Not That Into You," says Long, who met Goodwin in 2001, when the two costarred on the NBC sitcom Ed. (Of rumors about their romantic entanglement, he says, "My mother read that and was like, 'Oh, tell me this is true!'") "Ginny is on the ball. She's very sharp and smart. There aren't that many young actresses today playing so far outside of their wheelhouse."
In fact, it was a great relief to Goodwin when, during this season's finale of Big Love, Margene achieved some success as a saleswoman. "I'm just happy she found a talent," the actress says. "Until that moment, I wasn't sure Margene could be effectual at anything."
Even if Goodwin occasionally finds playing such an immature character tedious, her job satisfaction, she insists, is off the charts, and not just because the series has elevated her star. She has formed tight friendships with the actresses who costar as her sister wives, Jeanne Tripplehorn and Chloë Sevigny; the three women often drive home caravan-style from the set in Santa Clarita, 30 miles north of Los Angeles, talking on the phone to make sure no one falls asleep at the wheel. "I have shown up at work [with] my heart broken by a boy, and they have been the ones to hold my hand and call me in the middle of the night to make sure I'm okay. I have no doubt that I'll be friends with Jeanne and Chloë forever. We are people who want to stand beside each other in life."
"Ginnifer is giggly and has energy in spades, but she also has this really deep intelligence," says Sevigny. "She can comprehend a scene on set or a situation in my personal life in a way that I've never thought of."
The connection among them is particularly sacred to Goodwin in light of the fact that she can count her actor friends on one hand. A crossword puzzle–addicted homebody, she finds herself ill suited to the Hollywood scene. "When I'm doing a film, I love getting together after work with my costars," she says. "But we get back to L.A. and I'm like, I don't want to go to a club with you, dude. I mean, I think you're rad, and if you want to come play Scrabble with me, that's amazing." They rarely do.
Last year, when Goodwin turned 30, she ignored those urging her to have a big party in favor of "kidnapping five of my girlfriends and taking them to a bed-and-breakfast where we did mud baths and learned how to make perfume and lazed by the pool and drank way too much wine." In lieu of a phone call, though, she decided to break news of the plan to her friends via a spoof Evite. "I wrote that this tabloid magazine and this alcohol company were sponsoring a trip to Vegas for my birthday, and that we'd be going to the opening of this new club and there would be red carpet, and airfare and everything was going to be provided. This is what everyone in Hollywood does for their birthday," Goodwin exclaims with wide eyes. "Barf, right?" At the bottom of the faux Evite, she directed her friends to the link for the "new club," which would have led them to the site of the bed-and-breakfast where they were actually heading. "I figured they'd click and see that it's, like, this really dorky, girly, wonderful B&B in the middle of nowhere where we were going to get plenty of sleep and play board games. But instead they all panicked and started calling each other—they thought I had gone over to the dark side." She lets out a mock exasperated sigh. "So little faith!"
She's similarly put out by the idea that her newfound veganism—she cut out animal products last year, after educating herself about big farming practices—might make her look like just another actress masking anorexia with a righteous-sounding guise. "People keep saying to me, 'Ginny, you were such a cheeseburger person; that was, like, your thing,'" she says over a large plate of spaghetti and "wheatballs" at a vegan-friendly Greenwich Village hole-in-the-wall. "I'm so anti body-image issues. It was always part of my identity that I would show off by eating everything. But I've made a decision that I could not continue to support these industries."
[She's just not into meat: Ginnifer says that a yoga-induced epiphany is what triggered her veganism. Read about it on the Editors' Blog HERE.]
Giving up cheeseburgers isn't the only change that Goodwin's fourth decade of life has already brought on. There was her breakup last year with her boyfriend of more than two years, actor Chris Klein, something that was clearly a seminal event. "I'm a better person in a relationship, and I'm a happier person," Goodwin says. "I need to come home at the end of the day and have it not be about me and my freaking hair and makeup and character motivations anymore. And I think my work is more inspired when home is safe and sound and solid, because what I do for a living is so bananas and so insecure."
Shortly after the split, she purchased her first home, a 90-year-old house in a historically protected section of L.A. Restoring it has become her No. 1 priority: "I'm in a relationship with this house right now. I'm in love with it. I plan to be here a long time. I assume it's where I'll get married—I'll only marry a fella who loves the house like I do—and have my first child."
Until that time, though, the most obvious spot for a nursery is the site of an enormous closet—a good thing, since the last year has also seen Goodwin turn into something of a fashion plate. "Some actress in years past converted this room into, like, a Sex and the City dream closet," she says. "I've never been that kind of girl, but I'm loving it." Goodwin is now a fixture in the tabloids' weekly best-dressed roundups, but her road there was fraught. She recalls a day in junior high when students were supposed to dress up as one of their classmates: "One of the girls showed up looking like a bag lady; nothing remotely matched. I asked her who she was, and she said she was me." Since that time, Goodwin has parted ways with a couple of stylists who "dolled me up to look like someone else," before finding her current guru, Penny Lovell, who allows Goodwin to indulge her love of coming home from the flea market with trash bags full of cheap frocks, provided that she has them tailored. "This used to be a huge muumuu," she says, gesturing to the perfectly fitted brown patterned vintage dress she's sporting.
The sartorial realm is not the only place that Goodwin feels herself coming into her own. Postbreakup, she has reached a few conclusions about men. "I didn't know before that we don't have to compromise," says Goodwin, who admits that she has a new beau (she was spotted smooching an unidentified blond gentleman at New York's Corner Bistro the very evening of our meeting). "I know now that there are men out there who are, for me, the whole package, who are supportive of my successes because they know I will be just as supportive of theirs. I'm less tolerant of foolishness now; I know that it's important I not tie myself up with the wrong person, because then I will miss the right person coming along."
Though she's only now developing an unwillingness to settle in her personal life, Goodwin has always abided by that policy when it comes to acting. For years she endured long stretches of anemic bank balances. After graduating from college, she subsisted for several months on an acting award stipend, and her first jobs—the role on Ed and a few supporting parts in films—were far from gold mines. "There were days spent in tears, but it wasn't that I was ever worried that I would want for anything," she says. "It was more, Am I going to have to compromise and take a job that I don't believe in? Actually, that's how it was for me until, like, 10 minutes ago." Though Goodwin clearly doesn't have a policy against middlebrow studio movies, early in her career she did pass on a number of big-budget projects that didn't appeal to her—even though they would have more than paid off her debts. "I could always count on my parents to talk me out of them," she says. "They would tell me to be patient, that I can always sleep on a friend's couch, and that the most important thing is to believe in yourself and your work."
Though her Tennessee upbringing made her prim when it comes to sex (she jokes about her "iron panties") and etiquette (rude cell-phone usage "breaks my heart"), her "artistic hippie" parents encouraged intellectual and spiritual exploration. Her mother, a FedEx employee, and her father, who owned a recording studio, sent her to Unitarian church on Sundays, to synagogue on Saturdays (Goodwin's mother was Jewish, but both parents had become Unitarians before Ginnifer and her sister were born) and to an all-girls Episcopalian school during the week; she was both baptized and bat mitzvahed. "It's not so much that we were hedging our bets," she says, "as it was important to my parents that my sister and I explore faith on our own terms." Today she doesn't attend church but considers herself a Unitarian; she was drawn to the mantra that her childhood church subscribed to: "We agree to disagree."
As a child, Goodwin loved theater and film but was never permitted to take a paid acting job or one that might interfere with school. "And it was law in my house that you went to college and that you left with a degree," she says. Hence, Goodwin is among the minority of Hollywood boldfaced names who had the full college experience—in her case, spent in the theater program at Boston University, with stints abroad at the Royal Academy of Dramatic Art in London and the Shakespeare Institute in Stratford-upon-Avon.
Due to her choosiness, the six-months-a-year commitment of Big Love and the fact that, as Goodwin puts it, casting directors "don't really know what to do with me," she has had only four notable film roles (including those in Mona Lisa Smile and Walk the Line) in the eight years since she started out on Ed. One side effect is that she has been slow to show the world her range. "I've never seen her play someone unkind," says Sevigny. "She always has an innocence or sweetness. But I think she could go darker."
Goodwin says that being pigeonholed is a major concern for her, which might explain why in her W photo shoot she was so game to take on a risqué character, one that she describes as "seemingly tough and hardened but always on the verge of falling apart." Afterward, as she studied Steven Klein's images, Goodwin recalls thinking, "I'm positive people don't see me this way. They think I am Margene or Gigi. I was delighted that what I saw was so against what people would call 'my type.'"
She's eager for similar opportunities onscreen. "After He's Just Not That Into You, I am really hungry for a drama," Goodwin says. "And I'm hungry to do some period work again, and then I'll be hungry for a comedy again." She will appear in Tom Ford's forthcoming directorial debut, A Single Man, based on the Christopher Isherwood novel, and she's currently filming the role of Aunt Bea in the movie Beezus and Ramona, based on the Beverly Cleary children's books. "People think I have projects thrown at me, which I really do not," she says. "It's a hunt."
But it's a hunt Goodwin is comfortable navigating at a deliberate pace, waiting patiently for scripts she loves and always leaving herself enough time to focus on the thing she treasures even more than her work: having a life. Which, at the very least, places her among the sanest of Hollywood denizens. "My whole thing is quality of life," she says. "It must always be easy and low-maintenance and stress-free, and that means not trying to fit too much in. I don't ever want to be in a hurry. I want to enjoy the moments."