At Frieze London, Portia Munson Has Everyone Thinking Pink
The artist has the fair and Instagram feeds alike awash in all manner of bubblegum, blush, and cotton candy.
---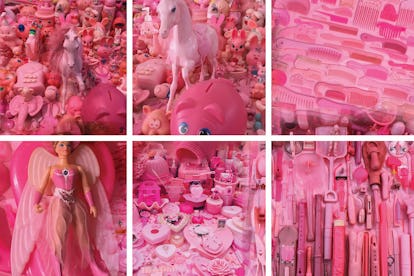 Back in 1994, the American artist Portia Munson took part in a seminal show of feminist artists, "Bad Girls," by spreading 2,000 of the objects she'd collected since childhood across a table at the New Museum and effectively painting it pink. It's an archive that keeps on giving: Now, over two decades later, Munson has tapped into her stores again, this time moving her kitsch overload overseas to the P.P.O.W. booth up this weekend at Frieze London.
While Munson isn't the only artist to add some flavor to the expansive fair's white walls — Julie Verhoeven's out-of-the-box bathroom intervention is causing a free-for-all — she certainly seems to be the most colorful. Piggy banks, toy swords, dildos, plastic combs, and Barbie dolls are just some of the objects that make up "Pink Project: Table," and they run the gamut from peach and fuchsia to bubblegum and blush. All of it, naturally, no matter the shade, has been a hit on Instagram.