Austin Butler on the Moment He Truly Connected With Elvis
A tragic loss helped the Golden Globe nominee better understand The King.
Interview by Lynn Hirschberg
Photographs by Jamie Hawkesworth
---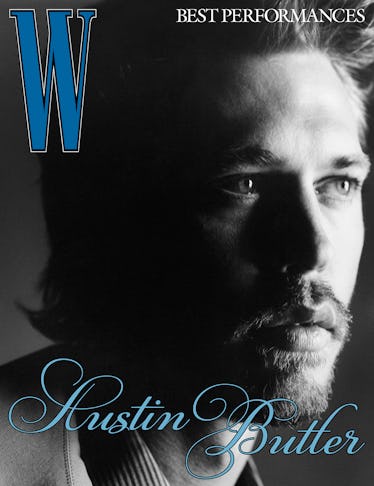 Austin Butler wears a Celine Homme by Hedi Slimane coat and shirt.
Austin Butler had been a consistent presence on tween and teen-oriented television since his own days as a teenager, but it wasn't until he was cast in a 2018 Broadway production of The Iceman Cometh that adults started taking notice of his talent. "Although there are many performers…there is only one actor, and his name is Austin Butler," wrote Hilton Als in his review in The New Yorker. Shortly after, Butler appeared in films for Quentin Tarantino and Jim Jarmusch. However, it is his lead role in Baz Luhrmann's Elvis that has shot him into leading-man status and so far proffered him nominations from the Golden Globes and Critics Choice Awards.
Did you always want to play Elvis Presley?
Well, a month before I heard that Baz Luhrmann was making the film, a friend told me twice that I should play Elvis. We were looking at Christmas lights, and I was singing along to "Blue Christmas." A couple of weeks later, that same friend said, "I'm serious—you have to figure out how to get the rights to Elvis's life." When I got a call that Baz was actually making an Elvis film, I just treated it like I had the job. I started researching Elvis's life. I hired a movement coach, a dialect coach, an acting coach, and a singing coach. Eventually, it came time for me to send an audition tape to Baz. I tried to film myself singing "Love Me Tender." When I watched the tape, I saw myself doing all the external things—making my face look like Elvis—but it was just an impersonation. I thought, I can't send this.
I had learned something about Elvis, which is that his mother passed away when he was 23. That's how old I was when my mom passed away. I ended up having this nightmare that my mother was alive, but then she passed away again. I woke up with all this emotion and I thought, Elvis would put this in a song. I sat down at the piano and imagined singing to my mom. I was still in my bathrobe and set up the camera and started playing. That's the tape I sent. Six months later, Baz called me—he woke me up, actually—and said, "Hey, Austin. Are you ready to fly, Mr. Presley?"
When was the first time you saw the film?
Cannes was monumental for me. I'd never been before. Everyone in the cast and Priscilla Presley had seen the film. Baz had said, "You wanna watch it before Cannes?" I thought, "You know, I'm only ever gonna get to see this movie for the first time once."
My dad got to be there. He'd never been out of the country. He had his tuxedo on and was on the Cannes red carpet. That was very special.
Did you keep any of the Elvis wardrobe?
I kept one of the leather jumpsuits. He had times when he'd bust the seat of the pants. And that did happen to me a couple of times. But when you wear that jumpsuit, and you get the fabric right, you feel like a superhero.
Did you have any famous crushes growing up?
I had a crush on Topanga from Boy Meets World. I watched that a lot as a kid. I feel like that's the first time I remember having a crush.
Did you ever meet Topanga?
No, I never met her.
Hair for portfolio by Anthony Turner at Streeters; makeup for portfolio by Lucia Pica for Byredo at Art Partner. Senior style editor Allia Alliata di Montereale; senior fashion market editor Jenna Wojciechowski. Manicure for portfolio by Michelle Saunders. Set Design by Gille Mills at 11th House.
Produced by Connect the Dots; executive producer: Wes Olson; producer: Zack Higginbottom; production manager: Nicole Morra; photo assistants: Cecilia Byrne, Jack Buster, David Gurzhiev; retouching: Simon Thistle; fashion assistants: Julia McClatchy, Tori López, Jacqueline Chen, India Reed, Nycole Sariol, Derek Ezra Brown, Karla Garcia, Rosa Schorr; production assistants: Khari Cousins, Tchad Cousins, Kelsey Swope Romero, Mateo Calvo, Juan Calvo, Rayon Pollard, Gina York, Peter Ditzler, Nico Robledo; hair assistants: John Allan, Dylan Michael, Ramdasha Bikceem, Malika Palmer; makeup assistants: Kate O'Reilly, Lilly Pollan, Bailee Wolfson; manicure assistants: Pilar Lafargue and Victoria Valenzuela, Jolene Brodeur; set assistants: Cory Bailey, Dirk Knibbe, Joel Garcia, Matt Day; tailors: Irina Tshartaryan, Ripsime Vartanyan at Susie's Custom Designs, Inc.