Remembering Barbara Walters's Glamorous Social Life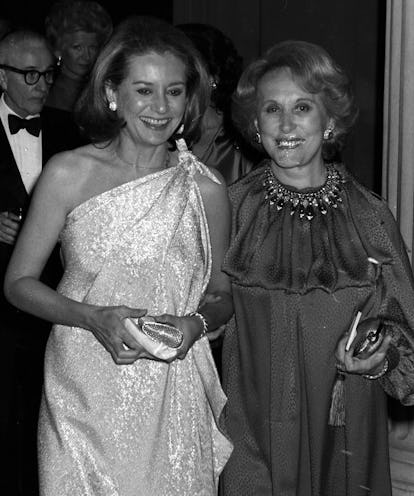 Barbara Walters with Estee Lauder at the 1977 Met Gala. Ron Galella/Ron Galella Collection via Getty Images
Barbara Walters may have been known for her work in TV news, but she moved through the elite world of New York high society with more authority and ease than some glossy magazine editors. In a world where network anchors now regularly enjoy wine on air at 10 AM, Walters reserved her imbibing for power dinners and VIP soirées after dark.
Long before the Met Gala became a Kardashian fest, Walters was a regular attendee—since back in the day, when Diana Vreeland held court and the guest list included more actual socialites than reality stars. She was a member of a legendary lunch set known as "The Harpies," a group of Manhattan career women whose rotating informal membership included Nora Ephron, Bette Midler, publicist Peggy Siegal, and the late gossip columnist Liz Smith, one of Walter's closest friends. Walters also dated powerful men, including two senators; she admitted to an affair with Sen. Edward Brooke in her memoir, "Audition," and later dated Sen. John Warner about a decade after his divorce from Elizabeth Taylor. (Liz, apparently, never minded—and continued to be interviewed by Walters). Among her three husbands were Broadway producer Lee Gruber and TV magnate Merv Adelson.
A recently resurfaced clip of Kathy Griffin recalling Walters artfully evading the comedian by claiming she had an Oscar de la Renta show to attend rings true. Walters was close friends with the designer—but also sat front row at Ralph Lauren, Diane von Furstenberg, and Ralph Rucci over the years (not to mention the countless galas, benefits, screenings, and openings where the journalist was a regular attendee). Legendary socialites Brooke Astor and Pat Buckley, feminist icon Gloria Steinem, tycoon Barry Diller, actor Michael Douglas, and Estée Lauder herself also ran in Walters' social circles.
Walters could be counted among the likes of Andy Warhol and Truman Capote for her ability to seamlessly integrate herself into Manhattan's top-tier circles—while also chronicling them. She did have something of a leg up, however. Her father, Lou Walters, was the owner of several popular nightclubs in New York and Miami, but had both a financial and personal meltdown during his daughter's youth.
Walters' closeness with some of her subjects didn't escape the skepticism of more hard-nosed journalism purists. Her obituary in The New York Times, naturally, makes much of that dichotomy; she covered the circus by day and drank Champagne with the elephants at night. But what Walters may have lacked in pristine objectivity, she made up for with her professionalism and preparedness on the job. She conducted intense research before all of her major interviews, and wrote out dozens more questions than she had the time to ask. She also wasn't afraid to ruffle feathers. Although she could be seen pictured at events with Donald Trump back when he was the kind of publicity-seeking businessmen who'd attend a letter opening, she also grilled him on air in a 1990 interview, all but outright attacking his actual business acumen. She might not have been Walter Cronkite, but she wasn't pitching all softballs, either. She conducted herself with a sense of professionalism and purpose.
While Walters has helped inspire the careers of so many journalists that followed her, few today have matched her knack for hobnobbing around the Big Apple. Perhaps we're missing just a little something because of it. It's hard to be blinded by the glamour of the latest hot celebrity when you were seated across from someone 10 times more powerful at dinner the week prior.