Beanie Feldstein Dressed Up as Monica Geller for a Zoom Trivia Night
The "How to Build a Girl" actress spoke to W about preparing for her role with immersive accent training and how she and her friends unwind in quarantine.
---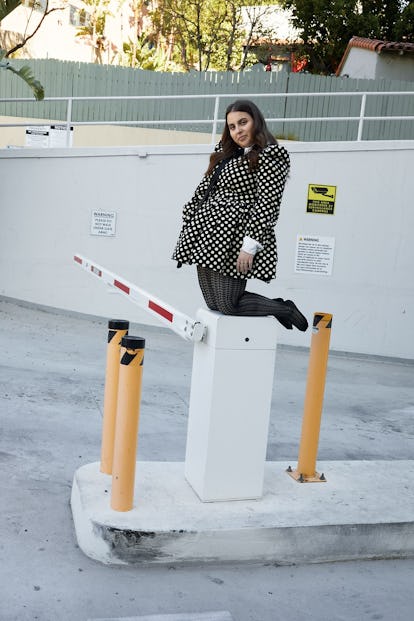 Photograph by Juergen Teller; Creative Partner to Juergen Teller: Dovile Drizyte; Styled by Sara Moonves. Hair by Mark Townsend for Dove Hair at SWA-Agency.
In her new film "How to Build a Girl," the actress Beanie Feldstein plays an English teenager named Johanna Morrigan, whose quest is to reinvent herself as Dolly Wilde, a slick music critic who lives in London in the 1990s. In reality, Morrigan is trying to drum up enough cash to support her family, all of whom are struggling financially, but very few of the fabulous characters that Morrigan encounters along the way know this. To them, she's just a vivacious girl with bright red hair and an out-there wardrobe.
The movie, which was released on demand today, marks Feldstein's first solo starring role—in Lady Bird, she played the sidekick best friend to Saoirse Ronan, and in Booksmart, she costarred alongside Kaitlyn Dever. Had the coronavirus pandemic not struck this year, Feldstein's publicity trail for "How to Build a Girl" would have looked quite different than it does: She's moved back into her childhood home in Los Angeles with her mother and father, and their dog. ("Sorry if you can hear her making noise," Feldstein says during our call, her voice cheerful and sweet. "She really makes an entrance when she walks in the room.") It may not be the environment for a "full-time lady sex adventurer" as her character describes herself in "How to Build a Girl." But Feldstein said she's using it as an opportunity to get back to herself—spending time with her family, watching new movies and old favorites, and hosting Zoom trivia sessions with friends like Ben Platt and Molly Gordon that call for intense dedication (participants come ready to play with costumes, props, and personalized backgrounds). Here, Feldstein shares the elements of her Culture Diet—Abba, Mindy Kaling, and the Golden Girls included.
How to Build a Girl is set in the 90s British music scene. Do you have any favorite rock bands from the era?
The Manic Street Preachers holds a very special place in my heart now, because it's the first gig that my character Johanna goes to in the film. We had this incredible cover band as The Manics [in the scene], and it was electric. I think that might have to be my favorite, in the context of "How to Build a Girl" because it is the thing that hooks her.
How hard was it to nail down the accent, and how did you do it?
I moved to Wolverhampton, England, for three weeks—the producers and our director Coky Giedroyc got me a job working in a gift shop. These 25 local female artists in Wolverhampton, and in other areas of the Midlands, come together and sell their work in a cooperative. They opened the doors of their store to an American girl who wanted to learn to speak like them. I was a sociology major in college, so it was like living in ethnography class. If I had gone on a different career path, I could have come to something like this in a purely academic sense, and this could not be farther from that. It was this really surreal experience, it's actually such an avant-garde sort of tale. It was this completely immersive experience in a city I couldn't have pointed to on a map when I first got the e-mail with the script.
As Americans, we're very naive—from Los Angeles to San Francisco, for instance, that's seven or eight hours, approximately. And I think we sound exactly the same, to my ear. There's no difference. Whereas I don't think England would even be eight hours to drive north to south, tip to tip—and there are thousands of accents within this tiny country. The regional specificity of the accent is incredibly important to identity. So I really wanted to honor the Wolverhampton accent and honor [writer Caitlin Moran's] roots, and the people that were so welcoming to me to get it right.
Were you working front of house and interacting with customers?
I had, I guess, up to 12 different coworkers throughout the experience, maybe even more. It's a tiny shop, so typically two of the women that sell their work are there each day. So I just was the third girl. I would set up if new inventory came in, I helped people check out, I gave change, I talked them through their gift decision-making process. It was everything you would do if you were working retail.
And all the while, you were taking notes.
I had to speak in the accent the entire time I was working. Coky was like, "You will not drop the accent, from the moment you walk in the door for your shift." Whether I was grabbing lunch on my break or talking to a customer, or talking to Charlotte, who's the owner of the shop, or any of the other girls, I had to speak in the accent the whole time. Which is really intimidating, especially at the beginning. When I moved to Wolverhampton, I had only had about two dialect coach sessions before my audition, which was in January. After I got the role, I filmed Booksmart, and then right after, I moved to Wolverhampton the same week. So I hadn't had lessons in months. It was such an intimidating experience when I first walked in the door trying to imitate them in a way that was honest and truthful. But they are such sweet women—they all were like, "Are we allowed to be harsh on you?" I was like, "Please, that's why I'm here! Rip the accent apart!" They're like, "Okay, well then, you have to say that again."
Your character moves to London to work as a music critic. Have you ever considered moonlighting with another career—possibly writing?
I don't exactly believe the myth that you should only be an actor, it's the only thing you could ever want to be. I was just talking to students from the high school I went to on a Zoom call that I did yesterday. They asked me a similar thing: "Did you know you always wanted to be an actor?" I was born with jazz hands. I knew I was going to be an actor from age three. It was clear as day—it gave me confidence, and community, and doing musical theater, I could not have been luckier that I knew my whole life that I was a performer. But I also think I would have been incredibly happy being a pre-school teacher, or a sociology professor, working in a nonprofit organization, or owning a summer camp. I love working with kids, and before I was acting full time, I was a babysitter and a nanny. So I think something in education or childcare, definitely. There are so many things I would have loved to do—but I think they all fold into the projects I take on, or the characters that I inhabit.
Is there a particular song or album that defined your youth?
I think my answer would not be at all from the decade in which I grew up. Carole King, James Taylor, and Joni Mitchell would be the soundtrack of my life. But definitely my teenage years is when I fell deeper in love with those three artists. I see them as the trifecta. But I was born in 1993, so they're obviously not from that era. They continue to be incredible artists now, but their music wasn't originally written when I was born.
What albums or playlists are you listening to right now?
My best friend from high school is a music supervisor, so I get most of my new music insight from her. I have to be honest when I say—I don't mean this to sound self-deprecating at all, because I actually think it's a good thing—I don't have a taste in music. I'm really open. The only thing I tend to love is, as I said, Carole King, James Taylor, that era of music, and of course, musical theater and show tunes, The Beatles and classics like that. I'm open to anything. Way before the pandemic happened, my friends and I became obsessed with this Muna album, "Saves the World." We were addicted to it, so I've been listening to it a lot in quarantine because it makes me think of us dancing together and being silly and enjoying each other. We're a group that loves to dance. And in the last couple of years, Maggie Rogers and Kacey Musgraves would probably be my most played.
What's your go-to karaoke song?
Abba. I'm pretty open to if people are in the mood for "Dancing Queen," if they're in the mood for "Waterloo," but it has to be an Abba moment.
What books are on your bedside table right now?
I've had them all at my parent's house because I read them when they first came out, but I have Bossy Pants by Tina Fey and Yes Please by Amy Poehler, and both of Mindy Kaling's books. I'm re-reading them. They're just so thoughtful, but also, of course, hysterically funny. When it comes to reading, that's what I've been gravitating toward.
What is the last thing you Googled on your phone?
Oh god. "The Golden Girls." I'm just going to leave it at that, I'm not going to even explain it.
What's the last movie you streamed?
Bad Education on HBO. I thought it was brilliant. That's the last film I streamed—I've been watching a lot of television around that, but for film, it would definitely be Bad Education.
What's the last play you saw?
It's taking me a minute to think of what the last play I saw was. Oh, it was West Side Story, opening night.
That's kind of a bittersweet question, actually.
I know. Usually, when I'm in New York and I'm not working, I see as many plays as I can get tickets to. That's sad, that it took me a second to remember.
How are you getting your Broadway fix during quarantine?
I'm in an incredible group of friends, many of whom are in the musical theater and Broadway space. Which is crazy because we all met in high school, so it's not like we all met doing this, we met as kids who wanted to do this. It's really special to grow up with Ben Platt and Katherine Gallagher, and Molly Gordon, and our best friend Natalie is an incredible playwright. Our friend group is so talented. But I knew that at 13. Now the whole world knows it. Anyway, we have been doing trivia on Zoom, and each week has a different theme, and one of the weeks was Broadway.
From that group of friends, who's the best at trivia? Who do you want to be on your team?
Here's the thing, when you're the expert on the subject, you create the questions so that you're not on any team. We didn't find these questions online, we crafted them all. So two people who are experts on a certain topic write the questions for a particular week. My roommate in New York who's my best friend, Melanie, and I, did Harry Potter, because we're obsessed with Harry Potter people. We created the trivia, and weren't on a team. The best person for each subject will have created the game.
And then they act as the proctor.
Game master, yeah. You have to come in costume, too, which is always a big laugh. Because we're always home, we're just grabbing random stuff if we can find it, making it work. The virtual backgrounds on Zoom help a lot.
What was the last thing you dressed up as?
I was Monica Geller from Friends. And we won by knowing all the names of Joey Tribbiani's sisters. I never felt more proud and also shocked at my own knowledge. I am very type A and obsessed, so I did prepare a little bit beforehand, and I thought of questions they might ask. And I happened to be really on the money.
You're defending your title.
I felt pressure because all my friends were like "Beanie's the biggest Friends fan," but I wasn't the one who made the quiz, so I was like, I have to be good!
What's the last thing you do before bed?
Watch Gilmore Girls or Friends. They're my two favorite shows. They make me feel calm, and cozy, and safe, and ready to go to sleep—which is why I know those shows and their characters like the literal back of my hand. I grew up on Friends—my family, we would all watch it together, specifically me and my mom. Gilmore Girls I think I found a little bit later in high school, and devoured. I love Amy Sherman Palladino's writing style so much, and all the women on it are so brilliant. And the men, too.
Related: Taylor Russell Reads Three Books at Once, Throughout the Day