Victoria and David Beckham's Third Family Vacation of the Summer Is at Bali's Nihi Sumba Resort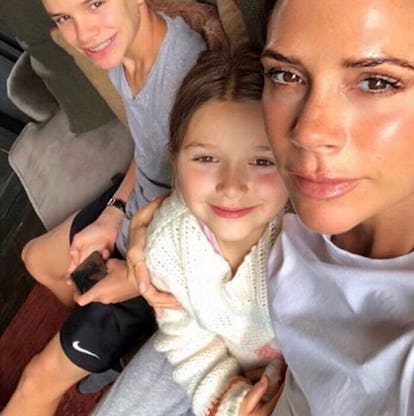 instagram.com/victoriabeckham
Victoria and David Beckham excel at many things—fashion, sports, hairstyles—but traveling may be one of their greatest unsung talents. This summer alone, the Beckhams have embarked on three family trips, and each one has been better. After jet-setting to Montenegro and Croatia, the Beckham family has landed in Bali, where they're staying at one of the most luxe resorts in the world, Nihi Sumba.
Luckily for the rest of us, the Beckhams have made it pretty easy to live vicariously through them on their vacation, as they've been posting moments from it on social media. Aside from taking in the resort's wanderlust-inducing views, and nearby surfing, the Beckhams have been sampling the local culture, including taking a cooking class that focuses on the area's cuisine. This past Friday, Victoria shared a photo from the cooking class she took with seven-year-old Harper Beckham — someone sign her up for Top Chef Junior.
"Cooking lesson in Bali!," the matriarch captioned her post on Instagram Stories. "Harper loves to cook! (She gets it from me!!)" Her go-to dish? Marinated prawns. Considering Harper was scouring tide pools in Croatia, she's already learning the ropes of ocean-to-table cuisine.
Meanwhile, 15-year-old Romeo has been spending most of his time going on adventures, like visiting nearby temples and catching up on some relaxation before school starts. His favorite part of the resort? The infinity pool that overlooks the sea. "What a view," he captioned a photo of himself sitting on the edge of it, before sharing a few other photos of him around the pool, including one alongside Harper.
The hotel the Beckhams are staying at offers plenty of other things to do, too, from cliffside yoga to seaside horseback riding.
The Beckhams aren't just blessed for getting to take trips like these, though; they narrowly escaped a 7.0 magnitude earthquake on the nearby island of Lombok over the weekend. "They certainly felt the earthquake," a source close to the Beckhams revealed to The Sun. "The children, especially, were a little bit shaken but they are all fine. Their thoughts are obviously with the victims…They will want for nothing and will lap up the luxury of an exquisite villa with private pool and spa and a top surfing beach reserved exclusively for guests. It's one of the best spots on earth to chillax."