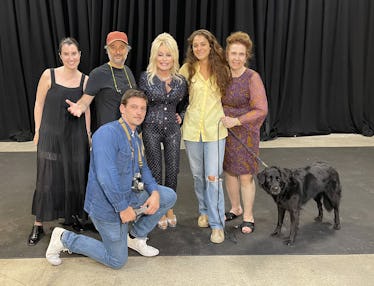 From left: Visuals and Content Director Alexandra Ben-Gurion, photographer Harmony Korine, photo assistant Sam Haynes, Dolly Parton, Special Projects Editor Allia Alliata di Montereale, Editor at Large Lynn Hirschberg, and Hirschberg's dog, Zora, on set in Nashville.
Lee poses for photographer Quil Lemons on location in Greenwood Heights, Brooklyn. Left: Photo assistant Alexander Cody Nguyen.
Photographer and W alumna Emily Lipson (center) took a moment to dance to the party-ready playlist Papi Juice brought to their shoot for "The Originals." Left: Makeup artist William Scott consults with Papi Juice members Mohammad Fayaz (standing) and Oscar Nñ.
Visuals Assistant Hannah Westbrook captured Lead Accessories Assistant Amir La Sure as they were packing up after the Precious Lee shoot.