The Best Documentaries to Watch in 2023
From historical deep dives to fresh perspectives on some of the world's most famous stars.
---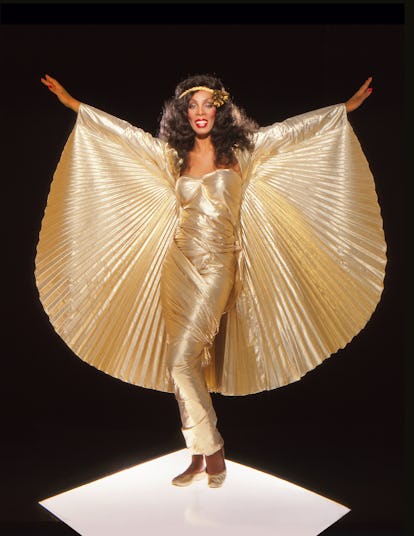 Donna Summer is the subject of the HBO's 'Love to Love You, Donna Summer.' Harry Langdon/Archive Photos/Getty Images
Documentaries are thriving in the age of streaming, as supply meets the endless demand for deep dives into new worlds. This year is shaping up to be a great one for documentaries and docuseries, including many in the pop culture and fashion space. Just a few examples include Pamela, A Love Story, in which the sex symbol finally gets to tell her own story; a still-untitled film on the legacy of Marvel mastermind Stan Lee; a harrowing look at the dark side of sorority recruitment at Southern universities with Bama Rush; and Pretty Baby, a nuanced look at the life and career of Brooke Shields.
Read on for W's best documentaries of 2023 (so far).
Beckham
Release date: October 4, 2023
Where to stream: Netflix
This four-part documentary series chronicles the rise of David Beckham from his humble beginnings in east London to his status as one of the biggest athlete celebrities on the planet and how his name alone has become synonymous with the sport of soccer itself. Beckham includes interviews with Beckham himself, his friends, family, former teammates and coaches—as well as a section dedicated to his highly-publicized relationship with wife Victoria Beckham. In the first trailer for the series, Victoria recounts trying to keep their early courtship as private as possible, meeting in "car parks" to evade the public eye.
AKA Mr. Chow
Release date: October 22, 2023
Where to stream: HBO Max
Mr. Chow's iconic restaurants have been part of the cultural zeitgeist since first popping up in the 1960s, setting a new standard for Chinese-American cuisine and becoming synonymous with an upscale dining experience. A new documentary tells the fascinating story of the man behind the food empire, Michael Chow himself. Born Zhou Yinghua in 1930s Shanghai, Mr. Chow overcame incredible odds to make a cultural impact worldwide. The film takes us on this deeply personal journey, unveiling Chow's personal philosophies and life story, and featuring the major players across the creative industries who came to be part of his world.
Ghosts of the Chelsea Hotel (And Other Rock & Roll Stories)
Release date: TBD
Where to stream: TBD
Ghosts of the Chelsea Hotel is an insightful look into pop culture's favorite hotel. Directed by filmmaker Danny Garcia, the documentary explores the legacy of the iconic building, which has a rich history of being a place where creative minds from all walks of life came together. Featuring interviews with past and present residents—including artists, musicians, writers and actors like The Sopranos' Michael Imperioli, author Sherill Tippins, Harley Flanagan, Richard Barone and Cynthia Ross, the buzzy doc is filled with stories of old New York and the vibrant, chaotic scenes that unfolded at the hotel.
Donyale Luna: Supermodel
Release date: September 13, 2023
Where to stream: HBO Max
"Donyale Luna was the first Black woman to be on the cover of Vogue. Why don't we know more about her?" This is the central question of the HBO Max documentary titled after the '60s model who, despite her striking beauty, presence and skill as a model was overlooked and thwarted due to her race. The film chronicles Luna's remarkable life and career; despite discrimination, she was the first Black model to cover not just Vogue (1966) but also Harper's Bazaar (1965). It also tells the story of the fashion industry during 1960s and '70s, putting Luna's career in context of the sociopolitical and cultural mores of the times.
Read W's review of Donyale Luna: Supermodel here.
Ladies First: A Story of Women in Hip-Hop
Release date: August 9, 2023
Where to stream: Netflix
With 2023 marking the 50th anniversary of the birth of hip-hop, this four-part limited documentary celebrating the pioneering women of the genre is right on time. Hip-hop icons like Queen Latifah and Da Brat appear in the first trailer for Ladies First, as they recall the trials they had to go through to make their mark in a male-dominated industry. According to Netflix, the series "recontextualizes the irrepressible women of hip-hop and their role in the genre's 50 years by reinserting them into the canon where they belong: at the center, from day one to present day."
Sometimes When We Touch
Release date: January 3, 2023
Where to stream: Paramount+
The oft-maligned subgenre of soft rock, also known in some circles as yacht rock, has its moment in the sun with Paramount+'s three-part docuseries. Artists such as Hall and Oates, Kenny Loggins, Michael McDonald, Lionel Richie, the Carpenters, and Captain & Tennille are all discussed in Sometimes When We Touch: The Reign, Ruin and Resurrection of Soft Rock. A blurb for the series notes that soft rock is "experiencing one of the most unlikely comebacks in music history."
Break Point
Release date: January 13, 2023
Where to stream: Netflix
Netflix's popular Drive to Survive series, which provided a behind-the-scenes look at Formula 1 racing, now takes viewers inside the highly competitive world of tennis. The docuseries, released just ahead of the 2023 Grand Slam season, follows athletes—including Nick Kyrgios, Iga Swiatek, Sloane Stephens, Frances Tiafoe, Casper Ruud, and Stefanos Tsitsipas—as they compete in the Australian Open, French Open, Wimbledon, and the U.S. Open.
The 1619 Project
Release date: January 26, 2023
Where to stream: Hulu
Pulitzer Prize-winning journalist Nikole-Hannah Jones hosts Hulu's expansion of her "1619 Project," originally created for The New York Times. The series, executive produced in part by Oprah Winfrey, seeks to reframe the history of the United States by examining the enduring legacy of slavery and the contributions of Black Americans.
Pamela, A Love Story
Release date: January 31, 2023
Where to stream: Netflix
When Hulu's Pam & Tommy series premiered last year, it was rumored that Pamela Anderson herself was not thrilled with unauthorized retelling of her infamous 1990s sex-tape scandal with then husband Tommy Lee. Now the actress and activist gets the chance to share her story herself with Pamela, A Love Story, an intimate look at the trajectory of Anderson's life and career from small-town girl to sex symbol.
Stolen Youth: Inside the Cult at Sarah Lawrence
Release date: February 9, 2023
Where to stream: Hulu
This three-part series investigates the story of Larry Ray, the father of a student who managed to coerce Sarah Lawrence College students into a "sex cult" on campus starting in 2010. The series features interviews from the students themselves, detailing what happened, how they survived, and how the experience continues to effect them.
Pretty Baby: Brooke Shields
Release date: April 23, 2023
Where to stream: Hulu
Brooke Shields may have become known as "the face of the eighties" with Calvin Klein jean ads and leading roles in The Blue Lagoon and Endless Love, but even before that, the model and actor became the center of controversy at the age of 12 with her provocative performance in Louis Malle's controversial 1978 film Pretty Baby. The Hulu documentary of the same name, directed by Lana Wilson (Miss Americana) and made in partnership with ABC News, takes a galvanizing look at Shields' life and career from child model to her current day status as an American icon. Pretty Baby follows Shields' story "as she transforms from a sexualized young girl to a woman discovering her power. Holding a mirror up to a society that objectifies women and girls, her story shows the perils and triumphs of gaining agency in a hostile world."
Read W's interview with Shields and Wilson here.
Love to Love You: Donna Summer
Release date: May 20, 2023
Where to stream: HBO Max
Disco icon Donna Summer became famous for wildly popular songs like "She Works Hard For the Money" and the titular "Love to Love You Baby," even becoming the first Black female artist to debut a music video on MTV. But like any great artist, there's far more to Summer than the stage persona that the world has come to know and love. Love to Love You: Donna Summer combines Summers' reflections )and lots of her archival, self-shot footage from over the years), the memories of close family, friends and colleagues and her own songs to take a look at Summers' life and impact. Direct by Oscar and Emmy-winning filmmaker Roger Ross Williams and Summer's daughter, Brooklyn Sudano, the film "provides a rich perspective on her complexity, talent, and the adversity she faced while examining the impact that fame can have on love, art and family."
BAMA RUSH
Release date: Tuesday, May 23, 2023
Where to stream: HBO Max
If you've ever watched one of those spooky videos of identical-looking girls stacked up in a pyramid doing unison hand claps and cheers, this one is for you. The relatively insular world of sorority rushing was burst open for the world to see when videos of the high-pressure process went viral on TikTok in August of 2021, specifically at the University of Alabama. According to HBO Max, the streamer behind a new documentary about rushing, more than 2 billion people have watched #BamaRush content to date. HBO's documentary, directed by filmmaker Rachel Fleit (Introducing, Selma Blair) follows four young women during sorority recruitment at U of A in the fall semester of 2022. The film "explores the emotional complexities and stakes of belonging in this crucial window into womanhood."
The Stroll
Release date: June 21, 2023
Where to stream: Max
In The Stroll, director Kristen Lovell revisits her life as a transgender sex worker in the 1990s in the Meatpacking District of lower Manhattan, in an area known as "The Stroll." She reunites with the women she knew at the time to talk about how they protected each other from harassment and discrimination, while also providing an intimate look at archival material of New York from the 1970s through early 2000s. The film is about transgender life, but it's also a stark look at how gentrification changed the city, as NYC Mayor Giuliani enacted "quality of life" initiatives that forever changed its neighborhoods.
Read W's review of The Stroll here.
Taylor Mac's 24-Decade History of Popular Music
Release date: June 27, 2023
Where to stream: Max
A look at the making of performer Taylor Mac's acclaimed, 24-hour immersive stage show that took place in 2016 at St. Ann's Warehouse in Brooklyn. The concert provided an alternative take on US history, narrated through the nation's popular music from its founding to the present, with Mac transforming hourly into elaborate, decade-specific costumes made by Mac's longtime collaborator, Machine Dazzle. The documentary combines footage of that performance with other shows on Mac's tour, and examines how the audience's commitment to the 24-hour experience is in itself an expression of community.
Rock Hudson: All That Heaven Allowed
Release date: June 28, 2023
Where to stream: HBO Max
As one of Hollywood's most celebrated leading men of the 1950's and '60s, Rock Hudson exemplified the kind of heterosexual American male that, as the documentary trailer puts it, women wanted to be with and men wanted to be. But Hudson, now famously, was actually gay, and his diagnosis and eventual death from AIDS in 1985 shocked the world. It also shifted the way the public perceived the AIDS epidemic, and Rock Hudson: All That Heaven Allowed takes a look at Hudson's life, career and impact through this lens.
Stephen Curry: Underrated
Release date: July 21, 2023
Where to stream: Apple TV+
Stephen Curry: Underrated is the coming-of-age story of one of basketball's most influential and unexpected players. The A24 and Ryan Coogler-produced doc blends archival footage, cinéma vérité and on camera interviews to tell the story of Curry's rise from "an undersized college player at a small town Division I college to a four-time NBA champion, building one of the most dominant sports dynasties in the world."
Invisible Beauty
Release date: September 15, 2023
Where to stream: TBD—will first have a theatrical release
From Frédéric Tcheng, the director of 2019's Halston comes another fashion documentary about model-turned-industry titan (and co-director of the film), Bethann Hardison. Invisible Beauty charts Hardison's legendary life and career, especially her endless advocacy for diversity on and off the runway. The film, which premiered at Sundance and will also play at Tribeca, is filled with archival footage and interviews with fellow fashion heavy-hitters like Naomi Campbell, Iman and Zendaya, serving as both an nuanced look at Hardison's impact and the fashion industry as a whole.
Stan Lee
Release date: June 16, 2023
Where to stream: Disney+
The Marvel Cinematic Universe has become a driving force in pop culture—and now, Disney+ has announced a documentary about the endlessly creative mind behind it all. On December 28, 2022, which would've been Lee's 100th birthday, the streamer announced a new project detailing the life and legacy of the creator of such legendary characters as Spider-Man, Black Panther, the X-Men, and the Fantastic Four. From his comics to his many on-screen cameos in Marvel movies, Lee has had an indelible impact on pop culture.
This article was originally published on