The Documentaries We're Looking Forward to Watching in 2023
From Pamela, A Love Story to a tribute to the legendary Stan Lee.
---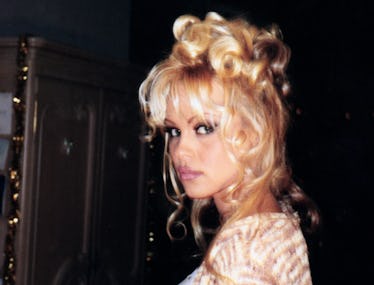 Netflix
As 2023 kicks off, here's a look at some of the best documentaries headed to screens. While the list will be updated as more docuseries and films are announced, the roster looks promising so far: There's ID's The Price of Glee, which takes a look at the tragic circumstances that befell some of the cast of Ryan Murphy's 2009 hit show; Pamela, A Love Story, in which the sex symbol finally gets to tell her own story; a still-untitled film on the legacy of Marvel mastermind Stan Lee; and the long-awaited, six-part docuseries about the rise of Nicki Minaj. Read on for W's best documentaries of 2023 (so far).
Sometimes When We Touch
Release date: January 3
Where to stream: Paramount+
The oft-maligned subgenre of soft rock, also known in some circles as yacht rock, has its moment in the sun with Paramount+'s three-part docuseries. Artists such as Hall and Oates, Kenny Loggins, Michael McDonald, Lionel Richie, the Carpenters, and Captain & Tennille are all discussed in Sometimes When We Touch: The Reign, Ruin and Resurrection of Soft Rock. A blurb for the series notes that soft rock is "experiencing one of the most unlikely comebacks in music history."
Break Point
Release date: January 13
Where to stream: Netflix
Netflix's popular Drive to Survive series, which provided a behind-the-scenes look at Formula 1 racing, now takes viewers inside the highly competitive world of tennis. The docuseries, released just ahead of the 2023 Grand Slam season, follows athletes—including Nick Kyrgios, Iga Swiatek, Sloane Stephens, Frances Tiafoe, Casper Ruud, and Stefanos Tsitsipas—as they compete in the Australian Open, French Open, Wimbledon, and the U.S. Open.
The Price of Glee
Release date: January 16
Where to stream: Discovery+ (or on the ID channel at 9/8c)
During its six-year run, Ryan Murphy's musical comedy Glee was rife with off-screen controversies and tragedies, including the eventual deaths of three major cast members, Cory Monteith (who died at 31 from a drug overdose in 2013), Mark Salling (who died by suicide in 2018), and Naya Rivera (who died at 33 in a drowning accident). ID's The Price of Glee focuses on these three events, the effect they had on the cast and Glee community, and how fame may have contributed.
The 1619 Project
Release date: January 26
Where to stream: Hulu
Pulitzer Prize-winning journalist Nikole-Hannah Jones hosts Hulu's expansion of her "1619 Project," originally created for The New York Times. The series, executive produced in part by Oprah Winfrey, seeks to reframe the history of the United States by examining the enduring legacy of slavery and the contributions of Black Americans.
Pamela, A Love Story
Release date: January 31
Where to stream: Netflix
When Hulu's Pam & Tommy series premiered last year, it was rumored that Pamela Anderson herself was not thrilled with unauthorized retelling of her infamous 1990s sex-tape scandal with then husband Tommy Lee. Now the actress and activist gets the chance to share her story herself with Pamela, A Love Story, an intimate look at the trajectory of Anderson's life and career from small-town girl to sex symbol.
Stolen Youth: Inside the Cult at Sarah Lawrence
Release date: February 9
Where to stream: Hulu
This three-part series investigates the story of Larry Ray, the father of a student who managed to coerce Sarah Lawrence College students into a "sex cult" on campus starting in 2010. The series features interviews from the students themselves, detailing what happened, how they survived, and how the experience continues to effect them.
Nicki: A Six-Part Documentary Series
Release date: TBD
Where to stream: TBD
Nicki Minaj's long-awaited documentary has been on fans' minds since it was first announced in November 2020. The rapper shared a trailer for the six-part series on her Instagram in July 2022, promising that the revealing look at her life and career as an innovator of hip-hop was "coming sooner than you think." Originally slated to premiere on HBO Max, the series has since been dropped by the streamer, but hopefully it will be coming to screens sometime this year. In the trailer for the series, Minaj talks about her experience handling fame, the unsupportive music industry, and how she "takes the art form of rap very seriously," despite how little respect female rappers have historically been given.
Untitled Stan Lee Documentary
Release date: TBD 2023
Where to stream: Disney+
The Marvel Cinematic Universe has become a driving force in pop culture—and now, Disney+ has announced a documentary about the endlessly creative mind behind it all. On December 28, 2022, which would've been Lee's 100th birthday, the streamer announced a new project detailing the life and legacy of the creator of such legendary characters as Spider-Man, Black Panther, the X-Men, and the Fantastic Four. From his comics to his many on-screen cameos in Marvel movies, Lee has had an indelible impact on pop culture.