DISPATCH FROM THE CROISETTE
The Best Films Debuting at Cannes Dive Deep Into Trauma
A critic's notebook from the annual film festival in France, whose premieres are gaining more eyes than ever this year.
---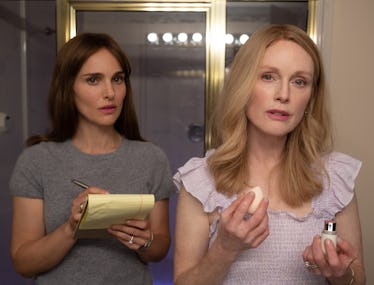 Courtesy of Cannes Film Festival
The annual Cannes Film Festival is once again full of glamour, serious cinema, and strivers crowding the sidewalk of the Croisette. Yet the best film at Cannes so far, Todd Haynes's May December starring Julianne Moore and Natalie Portman, can best be described as a combination of Ingmar Bergman's Persona mixed with Adam Sandler's That's My Boy. Like the Sandler vehicle, it is loosely based on Mary Kay Letourneau, who seduced and raped a 13-year-old boy in the 1990s and later married him. Moore plays Gracie, a baker in her late 50s now married to 36-year-old Joe (Charles Melton), a sweet husband and father who has a fascination with breeding monarch butterflies. As their twin children are graduating high school, the family is visited by well-known actress Elizabeth (Natalie Portman), about to embark on playing Gracie in a film. Elizabeth's presence unsettles the household, unearthing every family member's traumas.
Portman gives her biggest, harshest, and best performance yet in a role that combines the odd coolness of Jackie with a tinge of the pathos of Black Swan. Haynes brings bizarre humor to the film without ever mocking the deep pain in every character. Melton is a standout. After charismatic performances in Riverdale and The Sun Is Also a Star, Melton seemingly delicately cracks here. "If we're as in love as we say we are…" he tells his wife, slowly realizing how much their idyllic life is a shield, both internally and externally, from their relationship's foundational act of violence. The film is shot in an understated way. Only the macro shots of caterpillars turning into butterflies seem too metaphorical, and closer to the work Moore and Haynes did most recently in Far From Heaven. Haynes's latest is less lush and better.
Two other auteur directors, Martin Scorsese and Wes Anderson, combine previous styles and stars to mixed but fascinating results. Scorsese's Killers of the Flower Moon stars both Leonardo DiCaprio and Robert De Niro, representing two different approximately twenty-year phases of his own oeuvre. The stark difference in the two actors' abilities and styles puts into high relief why Scorsese's De Niro era is so strong.
De Niro plays William Hale, a rich white cattleman and pillar of his local community in Oklahoma. Secretly, he is also methodically murdering the richest members of the Indigenous Osage Nation for their money and rights to the oil-rich land. Part of his plan is to marry off Osage women to his relatives, including DiCaprio. This criminal plot thread of the almost 3 1/2 hour film feels like Goodfellas redux, with DiCaprio dominating screen time as a thick Ray Liotta character, scowling and blundering. De Niro gives a more subtle performance, mixing self-righteousness, racism, and charity in a way that feels terrifying and archetypically American.
A more interesting thread is the relationship between DiCaprio's Ernest and his wife Mollie, played beautifully by Lily Gladstone. They are in love, and he is slowly killing her, and neither of these things cancels out the other. The tone is reminiscent of the kind of classic Hollywood tragic Women's Pictures that Scorsese knows well but has never overtly tackled (though came close in both The Age of Innocence and New York, New York). Gladstone gives what may be the best female lead performance in a Scorsese film.
Like the Haynes, Wes Anderson's 1955-set Asteroid City features an actress playing an actress, Scarlett Johansson as Midge Campbell, a movie star in the kind of bright orange-red lipstick once ubiquitous in technicolor films but now impossible to find (I've tried). She has brought her daughter to Asteroid City, Arizona for a science contest where they meet widower Jason Schwartzman, a photographer, and his "brainiac" son. Asteroid City is a tourist town for "star gazers and space cadets" marked by the site of an asteroid crater, with nuclear mushroom clouds in the distance. After an incident, all visitors to the local motel are in lockdown, subsisting on pie, flapjacks, and automat martinis that only come with a twist, no olive.
The colors are dominated by tangerine, terra cottas, mints, and pajama pale blues, with the look of a painted souvenir plate from the era. The film alternates between that and black-and-white scenes of Edward Norton as the playwright of this story. The world-building of this strange film is as detailed and askew as we've come to expect from Anderson, with characters putting boxes over their heads to watch an ellipsis instead of an eclipse. What's missing is the humor mixed with sadness that identifies Anderson's best work. Here, the sadness is an existential dread. It feels like a film on the verge of a breakdown or breakthrough, and at one point that breakthrough comes via a musical number. It made me realize all of Anderson's films are like musicals drained of singing. It is an odd film that I loved precisely for the way it dives deep into its weirdness.